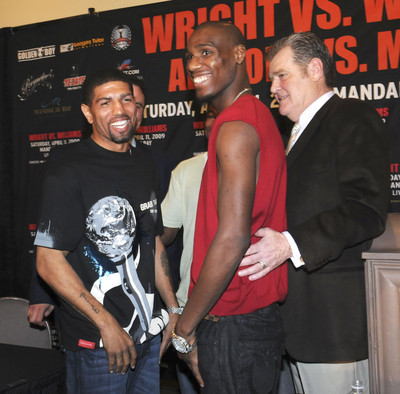 Winky Wright has complained for years about fighters ducking him.
Coincidentally, Paul Williams, one of the few middleweights willing to fight Wright, has had the same problem.
Williams' last opponent of note was Antonio Margarito in 2007. He faces arguably the biggest challenge of his career Saturday against Wright, who hasn't fought since July 21, 2007, when he lost to Bernard Hopkins in the same Mandalay Bay ring where he'll meet Williams.
"I'm at the point where I'm tired of calling guys out and asking for the biggest fight," Williams said. "I want to fight these guys, but it never happens."
With an 82-inch reach and considerable punching power, it's little wonder Williams (36-1, 27 knockouts) struggles to find opponents. But he also wants to fight quality people.
"If they build their reputation up like I did and maybe get a world title, then I'm looking to fight them," Williams said. "But until then, I'm not going to get in there with them. Why should I work hard to take on somebody that's not on my level?"
Yet he was forced to do just that in 2008. Williams fought four times, avenging his Feb. 9 loss to Carlos Quintana with a first-round technical-knockout victory June 7. He then stopped Andrew Kolle in the first round Sept. 25 and scored an eighth-round TKO over Verno Phillips on Nov. 29.
Williams fought in three weight classes last year: welterweight, super welterweight and middleweight. He said that can only help him Saturday.
"It allows me to fight any style, and I can adjust to anything," Williams said.
To prepare for Wright, Williams has used a variety of sparring partners in his Washington, D.C., training camp, including heavyweights.
"We've used a lot of guys with a lot of different styles," Williams said. "We've sparred with everybody who has come into the gym."
Williams, 27, isn't buying the notion that the 37-year-old Wright (51-4-1, 25 knockouts) could be rusty after a 20-month layoff.
"You can't play into that ring rust stuff," Williams said. "He's been coming in the gym, working out, sparring and all that. In a way, it seems like he's been in a two-year training camp for this fight.
"My plan is to do my work and make him work."
It's an intriguing fight on paper. But the public might not be buying it, and Mandalay Bay Events Center, which seats 12,000 for boxing, figures to be scaled back considerably.
Sources connected to the fight said fewer than 1,000 tickets have been sold. Richard Sturm, the MGM's president of entertainment and sports, claims that number is higher but refused to say how much higher.
Williams said whoever shows up will be treated to an action-packed fight.
"I'm going to take it to him and make him fight," Williams said. "I've been training four months for this. They say old dogs can't run with the new dogs. It was his time; now it's my time."
• NOTES — Williams is a 2-1 favorite at MGM Mirage sports books. The fight is minus-300 odds to go all 12 rounds. … The HBO telecast will begin at 7 p.m. and, in addition to Wright-Williams, will show the NABF heavyweight title fight between Chris Arreola and Jameel McCline. After the live card at Mandalay Bay, HBO will show the first installment of "Pacquiao-Hatton 24/7" followed by "Thrilla in Manila," a documentary on the third fight between Muhammad Ali and Joe Frazier in 1975.
Contact reporter Steve Carp at scarp@ reviewjournal.com or (702) 387-2913.