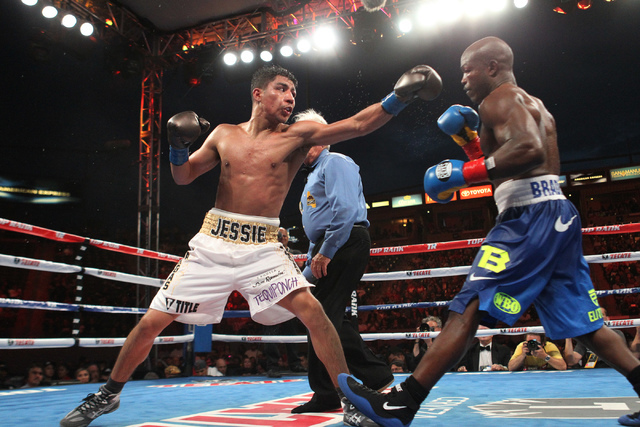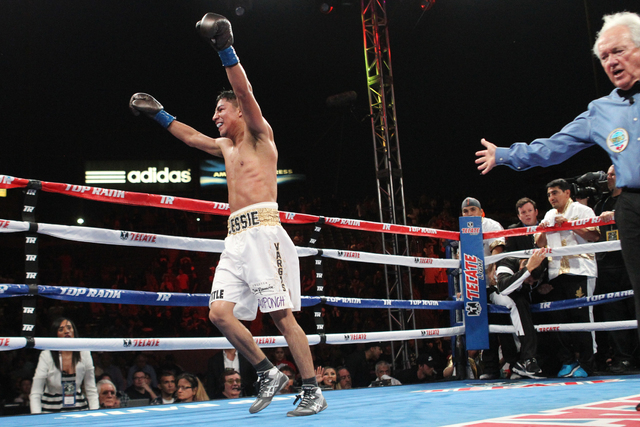 Jessie Vargas signed a contract to fight Kell Brook in England for a welterweight unification bout six weeks ago. The Las Vegas boxer was just waiting on the Englishman to sign on the dotted line.
Brook, the IBF champion, eventually found his pen, but it wasn't used for a contract to fight Vargas.
In a stunning turn of events, Brook agreed last week to move up two weight classes to fight the power-hitting Gennady "GGG" Golovkin for his middleweight belts Sept. 10 in London, leaving Vargas without a bout.
"It was quite a surprise," Vargas said. "I knew that negotiations weren't going well, and everything on my side was all confirmed, signed and sealed, ready to be delivered. And we were just waiting for his side.
"I thought the fight was still going to happen. Then it became definite it wasn't when the Triple G news happened."
Vargas, the WBO champion at 147 pounds, was set for a career-high payday and excited about the opportunity of fighting in England for a second world title.
"I wasn't mad," Vargas said. "In boxing you get used to it, things change. I said that's fine. I have faith in my manager and promoter, and I know something is going to come up."
Vargas said Brook's camp tried changing the contract last week and asked him to take less money.
"I believed they used that as an excuse not to fight me," Vargas said. "They knew I wasn't going to agree to those terms. Once we signed the contract, we stick by it, and two days after that he gets the Triple G fight."
Vargas' promoter, Bob Arum of Top Rank Boxing, already is working on Plan B and hopes to announce an opponent this week.
"That came out from like nowhere," Arum said of Brook fighting Golovkin. "That was the last thing I expected, but it is what it is. I'm not angry about anything; these things happen.
"We're working on finding Jessie a new opponent. Jessie won't be disappointed."
The 27-year-old Vargas (27-1, 10 knockouts) said a fight with Manny Pacquiao or a rematch with Timothy Bradley Jr. are possibilities for an October bout. If that doesn't work out, he could try to unify his belt against WBO champion Keith Thurman or WBC titleholder Danny Garcia.
The date between Vargas and Brook (36-0, 25 KOs) kept moving from late August to early September. Brook's promoter, Eddie Hearn, didn't want the bout to interfere with another British pay-per-view fight he had in the works. Hearn was close to a Chris Eubank Jr.-Golovkin match, but that also hit a snag.
To make things easier on the English promoter, he offered the Golovkin fight to Brook last week, and he accepted it two days later.
"I sympathize with Eddie Hearn," Arum said of the Matchroom Sport promoter. "I understand where Eddie was coming from. He had a deal with us, then the pound went (down) after Brexit and so he couldn't afford it, so he was having trouble with Eubank fighting Golovkin, so Kell Brook stood up.
"Instead of doing two events, which is sort of dicey, he's going to do one."
Arum and Vargas said Brook doesn't stand a chance against Golovkin, who has knocked out his past 22 opponents.
"(Brook) was just looking for a big payday," Vargas said. "It's a low-risk, high-reward situation. No one expects him to beat Triple G. What happens if he would have lost to me? He goes back to London without his title and no more significant paydays."
Contact Gilbert Manzano at gmanzano@reviewjournal.com or 702-383-0492. Follow him on Twitter: @gmanzano24