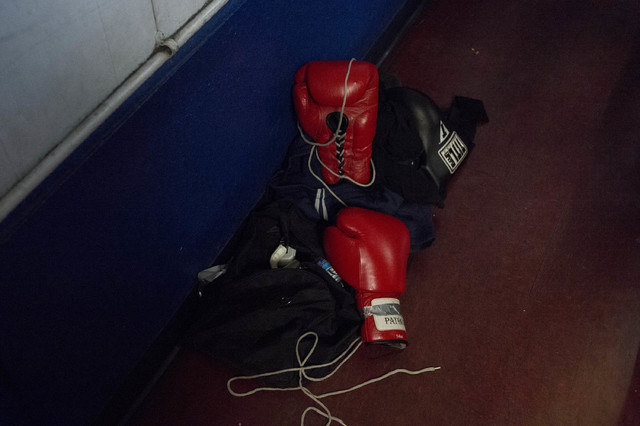 Joey Giambra, boxing's "Uncrowned Champion" who fought the best middleweights the 1950s had to offer without ever getting a title shot in that division, died Friday in Las Vegas. He was 86.
Giambra's son, Joey Jr., confirmed the death on his Facebook account. The cause of William Joseph Giambra's death is still unknown, according to family friend Johnny Jackson.
The fighter known as "Buffalo Adonis" was one of the most popular boxers during the sport's transition from radio to television and is best remembered for his three battles with Joey Giardello. Giambra, who grew up in Buffalo, New York, and spent his final years in Las Vegas, had a record of 65 wins, 31 knockouts, 10 losses and two draws. He was never stopped in a fight.
Giambra defeated Giardello twice and had notable victories over Rocky Castellani, Florentino Fernandez, Bernard Docusen, Ralph Jones, Rory Calhoun and Gil Turner. His lone title shot came in 1962 when he lost a decision to Denny Moyer for a junior middleweight belt.
The boxer with movie star looks told the Los Angeles Times in 1989 he fought on television 33 times.
"The thing I remember most about Joey was that he had a face that belonged on movie screens," Don Dunphy, the announcer for many of Giambra's televised bouts, told the Times.
"Women loved the guy. He was a good fighter, too — not a rugged fighter like, say, Joey Giardello, but a wonderful boxer. Tough guy to hit. But I never figured out why he was a fighter instead of a movie actor."
Giambra is survived by his son, Joey Jr., his wife, Jennifer, and his daughter, Gina. A tribute and fundraiser will be announced soon.
Contact Gilbert Manzano at gmanzano@reviewjournal.com. Follow @GManzano24 on Twitter.