Jose Ramirez hopes to have bigger punch outside boxing ring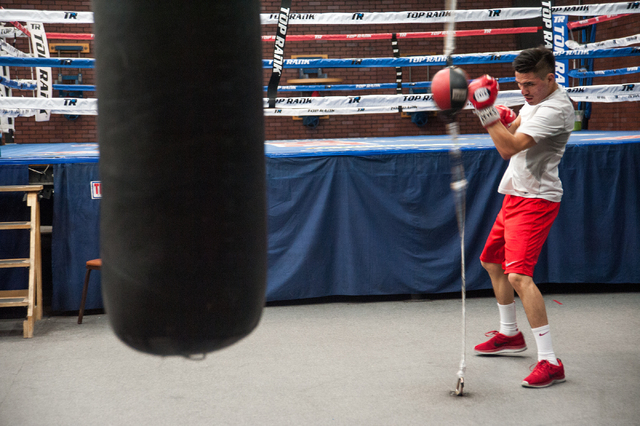 Not that he needs any additional motivation for tonight's fight with Manny Perez, but maybe someone should download one of Donald Trump's stump speeches and play it for Jose Ramirez before he enters the ring at the MGM Grand Garden.
The undefeated junior middleweight from Avenal, Calif., would no doubt enter the ring ready to kill.
Like many Mexican-Americans, Ramirez is infuriated by Trump's stance on immigration. Ramirez, 23, has already found his activism voice as someone fighting for water rights in Central California's San Joaquin Valley so farmers have a fighting chance against the longtime drought. And while he's not ready to run for office like his friend Manny Pacquiao, Ramirez will use his celebrity to spread the word throughout his home state that the idea of Trump in the White House would be dangerous when California holds its primary on June 7.
"It's definitely something to worry about," Ramirez (16-0, 12 knockouts) said earlier this week at the Top Rank Gym as he wrapped up preparations for tonight's scheduled 10-round fight with Perez (25-11-1, six KOs) which will be for the WBC Continental Americas title. "He doesn't seem presidential to me. He sounds like a dictator.
"Politics is something I'm not really into. But I'd rather stand behind a cause I believe in. I'm going to vote and advocate for those who can't."
The undercard, which also has Mexican fighters Gilberto Ramirez and Oscar Valdez on it, is being billed the "No Trump Undercard" by Top Rank's Bob Arum in what is a not-so-subtle shot at the Republican presidential candidate. Arum hopes the Latinos will purchase the PPV and support the Mexican fighters.
As for his fight, Ramirez said he put in extra work because he knows how important winning is for his career to move forward.
"We did a 10-week camp with more sparring," he said. "I was more consistent with my strength and conditioning. It feels like everything fell into place and I'm definitely ready."
HANEY'S HOME DEBUT
Local super featherweight Devin Haney already has four wins in his brief professional career. But he gets to fight in his hometown as a professional for the first time today after the Nevada Athletic Commission voted to grant him an exemption to receive a license last week even though he doesn't turn 18 until November.
Haney opens today's Pacquiao-Bradley card at the Grand Garden at 3 p.m. as he faces Rafael Vazquez is a four-round bout.
"To be only 17 and fight at the MGM, it happened faster than I dreamed it could," said Haney (4-0, three KOs). "I'm real excited. But I'm not nervous. I don't believe in pressure. It's all in the head."
Haney, who is not yet tied to a promoter, has been working with Floyd Mayweather Sr. for the past few months and Mayweather has emphasized defense.
"I want him to hit and not get hit," Mayweather said. "We've got him moving, get in, get out. He picks things up quick."
DLVEC CARD
The Downtown Las Vegas Events Center will host a fight card next Saturday with welterweight Steve Claggett facing Chris Van Heerden in the 10-round main event.
The card is being promoted by Roy Jones Jr. and will be televised by CBS Sports Network.
In the co-feature, Neeco Macias meets Limberth Ponce Jr. in an eight-round junior middleweight bout. First bell is 6:30 p.m.
Contact reporter Steve Carp at scarp@reviewjournal.com or 702-387-2913. Follow on Twitter: @stevecarprj
Calendar
Saturday — Manny Pacquiao vs. Timothy Bradley Jr., 12 rounds, welterweights, 6 p.m., MGM Grand Garden (HBO PPV)
April 16 — Steve Claggett vs. Chris Van Heerden, 10 rounds, welterweights, 7 p.m., Downtown Las Vegas Events Center (CBSSN)
May 6 — Pablo Cesar Cano vs. TBD, 10 rounds, welterweights, 6 p.m., T-Mobile Arena (Estrella TV)
May 7 — Canelo Alvarez vs. Amir Khan, 6 p.m., 12 rounds for Alvarez's WBC middleweight title, T-Mobile Arena (HBO PPV)
May 13 — Premier Boxing Champions, 6 p.m., Sam's Town (SHOBox)