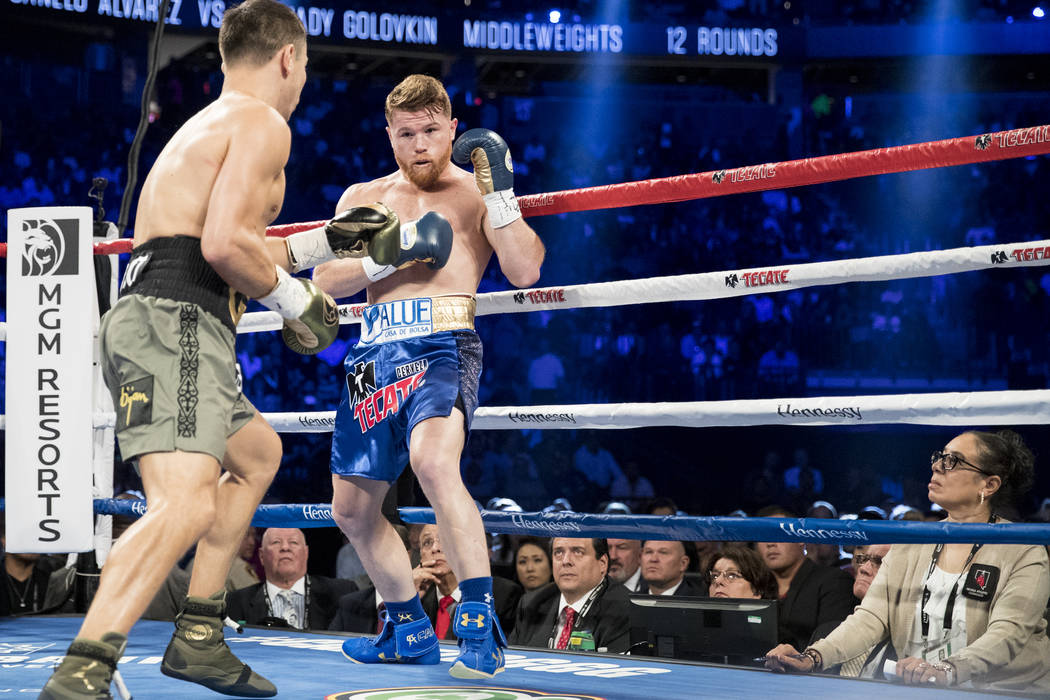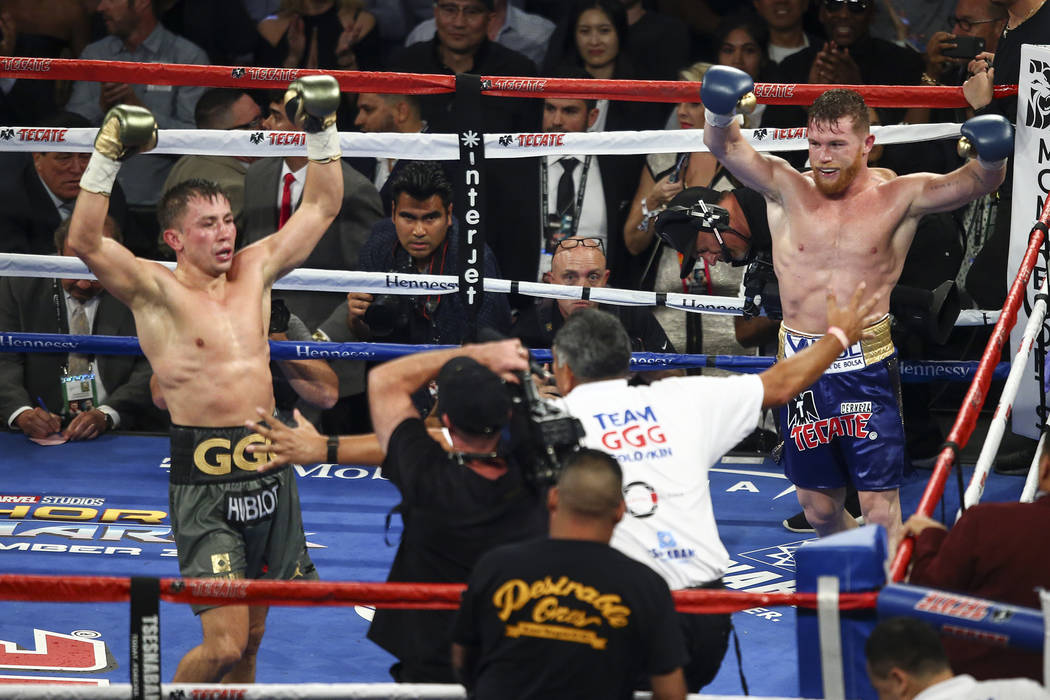 Adalaide Byrd, the judge who produced a controversial scorecard following the megafight between Saul "Canelo" Alvarez and Gennady Golovkin on Saturday, is under review, according to the head of the Nevada Athletic Commission.
NAC executive director Bob Bennett on Monday disputed media reports that she had been suspended.
"She is not under suspension or been reprimanded in any way," he said. "We had a debriefing after the event. She feels terrible that she saw it differently from the other two judges.
"She explained what she saw and she feels shattered. We'll review everything in the next few days with the commission and (NAC chairman) Anthony Marnell."
The commission doesn't allow its boxing officials to speak to the media. Byrd's scorecard, 118-110 in favor of Alvarez, prompted the fight be ruled a draw and immediately drew criticism on social media.
The two other judges, Dave Moretti and Don Trella, scored the fight much closer. Moretti scored it 115-113 for Golovkin and Trella scored it at a 114-114 draw.
"Adalaide and I will sit down and watch the fight and go over it round by round," Bennett said. "She'll articulate to me what she saw and we'll move forward.
"She's an outstanding judge who had one bad night. She's a professional who always wants to get it right. She looks forward to watching the fight again and seeing what she missed."
Scrutinized previously
Byrd, a boxing judge for more than 30 years, has been under scrutiny multiple times before for her questionable scorecards. Golovkin's trainer, Abel Sanchez, said Byrd had her scorecard filled in before the fight, and ESPN boxing analyst Teddy Atlas called it corruption.
"Anyone reporting corruption couldn't be any further from the truth," Bennett said. "Adalaide is a woman of integrity and a judge many around the world have requested for."
Byrd, who is married to boxing referee Robert Byrd, has judged more than 115 world title or world title eliminator bouts during her career, according to Bennett. Her husband was not the referee for Saturday night's fight.
Bennett said Byrd was was paid $2,950 to judge the fight as promoters pay the judges per fight.
Last year, Top Rank tried removing Adalaide Byrd from scoring the Vasyl Lomachenko-Nicholas Walters bout at the Cosmopolitan. The NAC denied the request. It wasn't the first time Top Rank requested to have Byrd removed from one of its fights.
"We have a whole history with Adalaide Byrd, who I like very much. She's a wonderful person, but her scorecards have been, in many cases, off the wall," said Bob Arum, Top Rank's promoter.
Top Rank protests
Top Rank officials weren't pleased with Byrd's scorecard during the Manny Pacquiao-Jessie Vargas co-main event at the Thomas & Mack Center in November, which led to their request before the Lomachenko-Walters fight.
Byrd scored it 118-110 in favor of Jessie Magdaleno over Nonito Donaire, a bout many considered to be much closer. Another controversial Top Rank bout Byrd scored was Jose Benavidez against Francisco Santana. Byrd had it 100-90 in favor of Benavidez, the two other judges had it for Benavidez also but much closer.
"The complaint wasn't that she was against us or that she was prejudiced in any way," Arum said. "The complaint was she wasn't a good judge, and we thought, it wasn't appropriate to have her because we didn't have any confidence in her ability to judge."
Arum said he has never considered Byrd to be a competent judge.
"This is what they get," Arum said of Saturday's controversy. "(Bennett) had to know that she had some very questionable scorecards in the past. He had to know that because we told him."
Arum said a big reason why his Las Vegas-based company hasn't hosted a fight in Las Vegas this year is because of the commission denying their requests.
"It's the arrogance that they know everything," Arum said of the NAC. "They think that we are the peasants that care for nothing other than making a buck, and therefore, they're not going to pay attention to anything we have to say."
MMA controversies, too
Byrd also has been no stranger to controversy in her work scoring mixed martial arts bouts.
She was part of one of the most disputed decisions in UFC history when she and Tony Weeks scored a 2010 fight in favor of Leonard Garcia over Nam Phan. The third judge, Junichiro Kamijo, gave Phan all three rounds.
Byrd also awarded Melvin Guillard all three rounds of a 2012 UFC bout against Jamie Varner, while fellow judges Cecil Peoples and Mark Smith both gave Varner all three rounds. According to MMADecisions.com, none of the major media outlets scoring the fight gave it to Guillard.
Golden Boy Promotion officials, who promote Alvarez, were baffled by Byrd's wide-margin scorecard Saturday night.
"I had heard that the media or some writers were blaming Golden Boy, and they had nothing to do with this," Bennett said. "They brought the fight here, and anybody held accountable should be us, and it's not the promoter's fault.
"The Nevada State Commission takes great pride in our work, and we happen to be wrong on Saturday, and we'll make adjustments and move forward."
Canelo-Golovkin Score Card by Las Vegas Review-Journal on Scribd
More boxing: Follow all of our boxing coverage online at reviewjournal.com/boxing and @RJ_Sports on Twitter.
Contact Gilbert Manzano at gmanzano@reviewjournal.com. Follow @GManzano24 on Twitter.
Related
Gennady Golovkin's trainer has suspicions about boxing judge Adalaide Byrd
Canelo-GGG middleweight title fight ends in draw