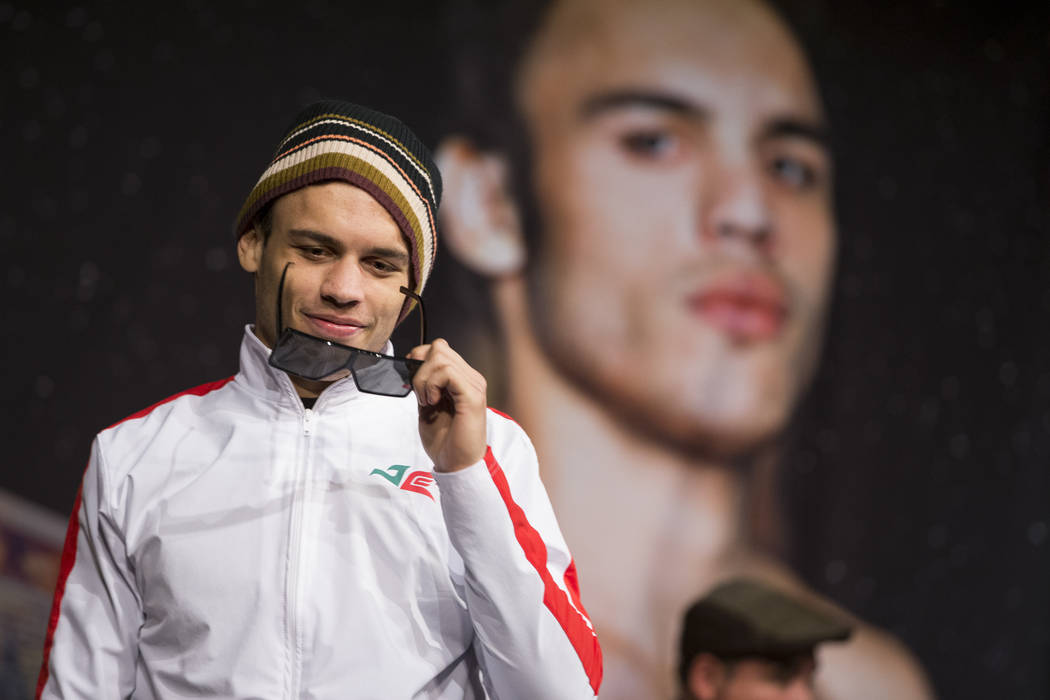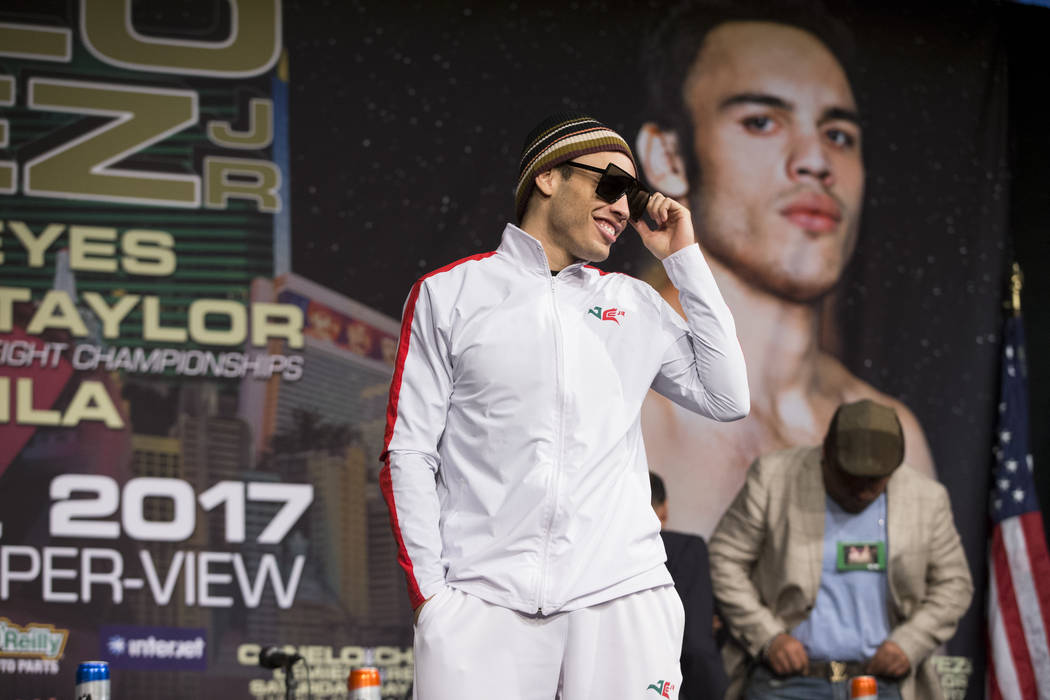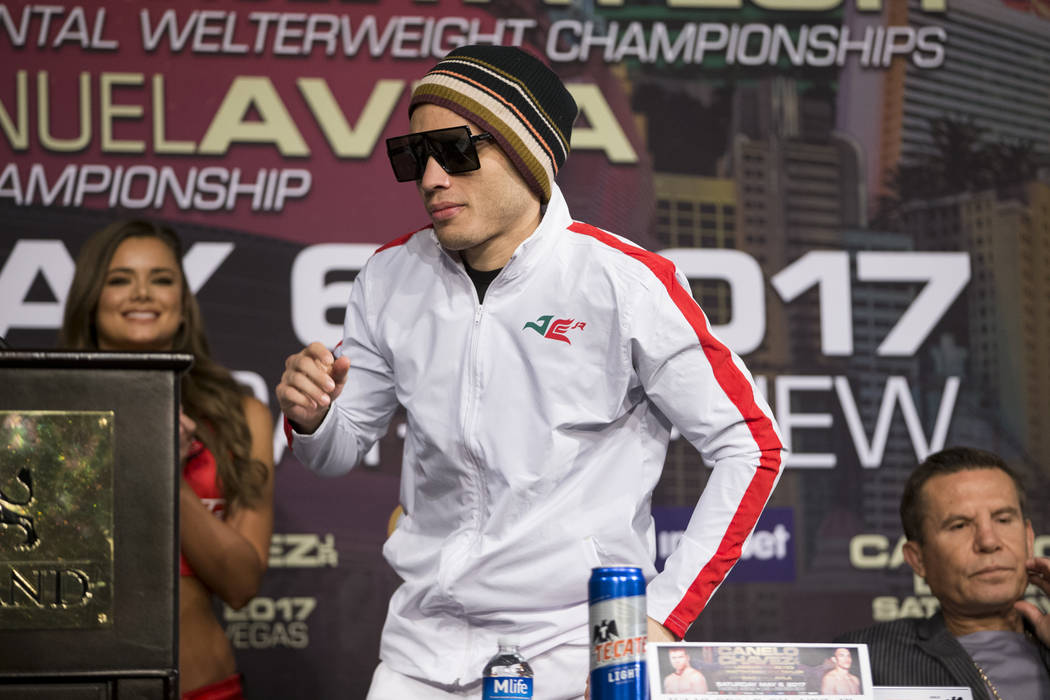 Saul "Canelo" Alvarez gasped in disgust at a question from a reporter this week.
No, the reporter didn't talk bad about the Mexican boxing superstar's mother. But an appalled Alvarez reacted that way.
The question: Do you think Julio Cesar Chavez Jr. can represent Mexico better than you?
"I think that question, not even you should ask, because … and I'll tell you why," Alvarez responded. "You can't put a fighter like him who has embarrassed the sport with his lack of discipline, with what has happened with his drug tests and other things he has done to hurt boxing.
"You can't put a fighter like him and say he can represent an entire country better than me."
It was a harsh answer, but Alvarez was speaking the truth about his opponent and fellow countryman. Alvarez (48-1-1, 34 knockouts) will meet Chavez (50-2-1, 32 KOs) on an HBO pay-per-view bout Saturday at T-Mobile Arena.
Chavez was on his way to superstardom five years ago when he was the face of Mexican boxing. But everything changed when he walked out of the Thomas &Mack Center on Sept. 15, 2012.
That was the night Chavez lost his WBC middleweight belt to Sergio Martinez along with his hunger for the sport. Chavez turned in 10 uninspired rounds to lose by unanimous decision. Chavez, however, did display his Mexican pride during the final two rounds, and even knocked down Martinez twice in the 12th round, but it was too late.
It was supposed to be Chavez's grand moment on the big stage, but he lost during training camp. He goofed around when his father, Mexican icon Julio Cesar Chavez Sr., tried to give him pointers while watching film. He disappeared for days when he was supposed to be training with Hall of Fame trainer Freddie Roach.
Chavez went on to disappear for half a decade — forgotten from the boxing landscape.
The son of the legend is now back and hopes to become the face of Mexican boxing by defeating the current king of the sport. Alvarez, 26, is a minus-600 favorite, and Chavez, 31, is listed as a plus-450 underdog, according to VegasInsider.com.
"This could be like my big second opportunity," Chavez said. "I've lost a lot after that fight (Martinez), but I can recover that now, and every fight is different, and what I did that night was wrong, and I need to be better in this fight.
"I can't afford to give rounds away. This is my grand opportunity and I need to capture it."
Chavez said he has put in the work for this training camp with legendary trainer Ignacio "Nacho" Beristain. The boxing world will find out Friday if Chavez was telling the truth when he steps on the scale for the weigh-in.
Like a man facing his fears, Chavez's first step to prove he belongs with the best fighters again is by making the 164.5 catchweight limit. Chavez has struggled to make weight often since losing the 160-pound belt.
Chavez hasn't competed under 168 pounds since his loss at the Thomas &Mack, and has fought as high as light heavyweight since then.
"I'm at 168 pounds today," Chavez said Wednesday. "We'll get to the limit. I feel great. I can get to 160 pounds again if I needed to."
Chavez said he's motivated for this fight to get the respect back from his country, but if he doesn't make the weight, it's going to cost him, literally. Chavez will be fined $1 million for every pound he's over.
"I've seen the response from the people here and in Mexico," Chavez said. "The support is still there. I'm going to fight for them."
Chavez had issues with the Nevada Athletic Commission the last time he was in the ring in Las Vegas. The NAC suspended Chavez for nine months and fined him $900,000 for testing positive for marijuana after the Martinez fight.
Ricardo Jimenez, who was Chavez's publicist for more than 10 years, offered an explanation for what led to Chavez's downfall.
"He was one of those kids that didn't need to fight," Jimenez said. "I always wondered why are you doing this? You have the money. But for him, it was to prove everyone wrong. That he could handle the pressure of being Chavez Sr.'s son.
"Once he became a champion, he was satisfied. The fire was gone."
The fire is burning again for Chavez, and Step 1 in his comeback is beating the scale.
Contact Gilbert Manzano at gmanzano@reviewjournal.com or 702-383-0492. Follow @gmanzano24 on Twitter.
Related
Lucas Matthysse eager to make ring return on Alvarez-Chavez Jr. undercard
Oscar De La Hoya, Julio Cesar Chavez get flashbacks of their fights
Bad blood boils as 'Canelo,' Chavez Jr. arrive in Las Vegas
David Lemieux wants to fight 'Canelo' Alvarez next