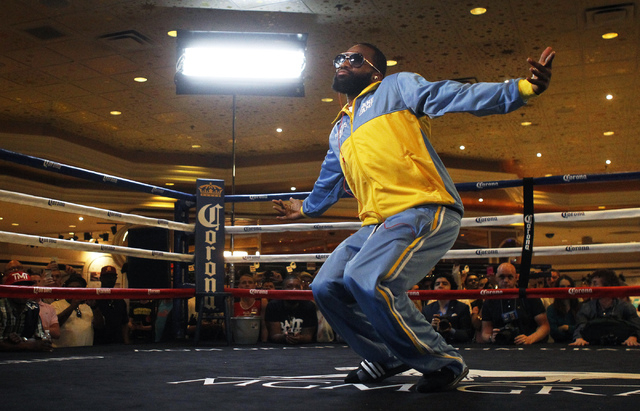 Maturity can be a tricky course to navigate. Especially for those blessed with God-given skills and large amounts of success and celebrity along the way that have made them feel invincible.
Adrien Broner is one of those athletes who was able to tap into those superior skills and achieve greatness early on. But the 24-year-old boxer from Cincinnati may be facing a crossroads in his life. He is a former three-division champion (super featherweight, lightweight and welterweight). He's also someone who has alienated a good number of fans and people within the sport with insensitive remarks that hit below the belt.
Broner (29-1, 22 knockouts) faces John Molina Jr. on Saturday at the MGM Grand Garden in a 10-round junior welterweight bout as part of Al Haymon's new television venture — Premier Boxing Champions — on NBC. It's not only a chance to cement his stature at 140 pounds and perhaps get a title shot this year, but an opportunity to give his image a needed makeover in front of a nationwide audience, including many who will be seeing him fight for the first time.
"I was once told that if a 40-year-old guy is still living like he's 25, that's 15 years of his life that he lost," Broner said Wednesday. "Of course, I'm not living now like I was 19 or 20. I've changed a lot. It's definitely helping me in my workouts and helping me in my performance."
The last time Broner fought at the Grand Garden on May 3, his mouth got him in trouble. He had just beaten Carlos Molina in a 10-round unanimous decision in Broner's first sight since his lone professional defeat by Marcos Maidana, which cost Broner his World Boxing Association welterweight title. Speaking to Showtime's Jim Gray after defeating Molina, Broner tagged off the interview by saying, "But at the end of the day, I'm still Adrien 'The Problem' Broner — the Can-Man — anybody can get it. Africans … I just beat the (expletive) out of a Mexican."
The World Boxing Council promptly suspended Broner from its rankings and demanded a public apology. The Nevada Athletic Commission didn't fine or suspend him, but warned him to clean up his act.
Broner also used sexually offensive language during the run-up to his June 22, 2013 fight against Paul Malignaggi, a fight Broner won while WBA welterweight champion. That discord, while perhaps adding to his street cred, offended many.
Don't expect an X-rated post-fight interview Saturday, Broner vowed.
"I promise that I'll keep it PG," he said. "There are certain things I don't do no more. I don't need to give any examples. I've learned from that.
"I know I'm on a bigger stage with a bigger fan base. There are people who've never seen me fight so I want to come out and make a good impression."
Broner said for now, his home is at 140 pounds.
"I can go back to 147 if I want to," he said. "But I feel very comfortable at 140. I feel strong and that's where I probably should be, get some big fights and get back on top."
He'd be fine facing Maidana again and attempt to avenge his only defeat.
"If it happens, great," Broner said. "But I'm not really thinking about Maidana at this point. My focus is on John Molina and Saturday."
As for Molina (27-5, 22 KOs), who is not related to Carlos Molina, Broner said he expects him to come out winging and try and land a big punch.
"We know what he brings and we're ready or whatever he tries to do," Broner said. "We know this is an important fight, that the entire country will be watching. You're going to see the best of Adrien Broner so it won't really matter what (Molina) does."
There's still a bit of braggadocio with Broner and he still talks in the first person. But perhaps Broner is charting a new course. He said he doesn't have to choose between what he is and what he's striving to be outside the ring.
"It's not a balance," Broner said. "I'm still Adrien Broner. I'm just a more mature Adrien Broner."
Contact reporter Steve Carp at scarp@reviewjournal.com or 702-387-2913. Follow him on Twitter: @stevecarprj.