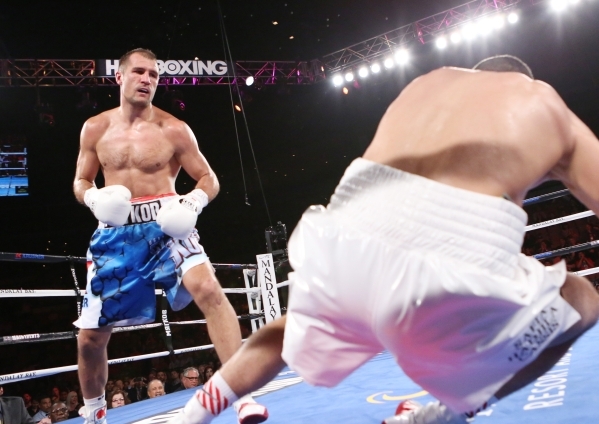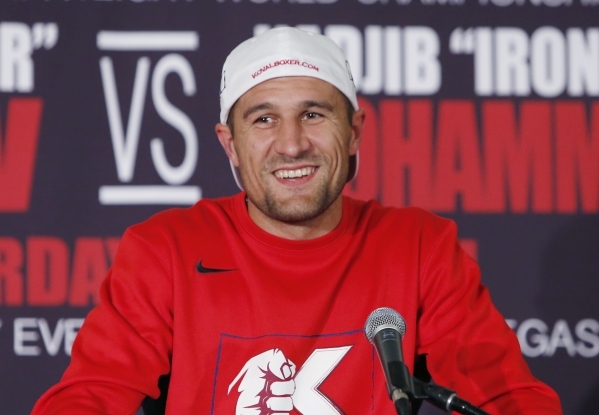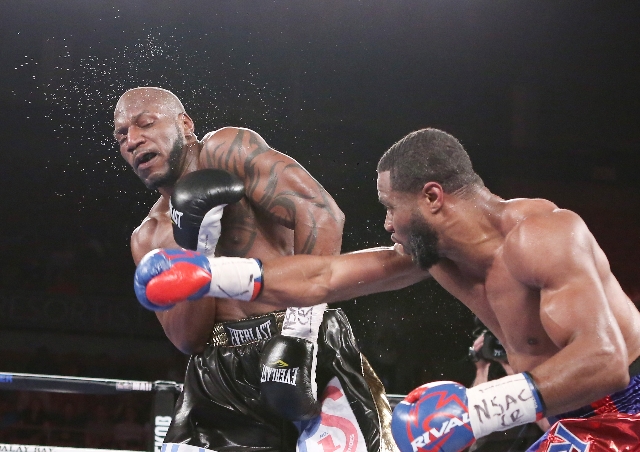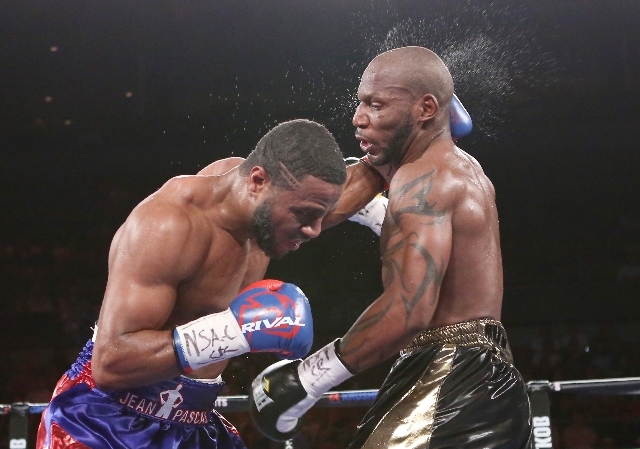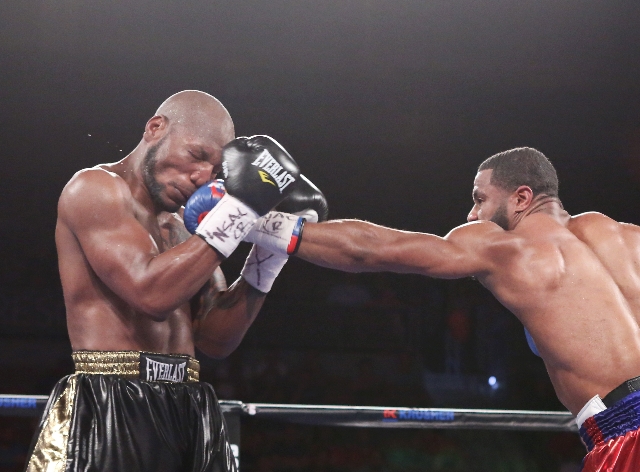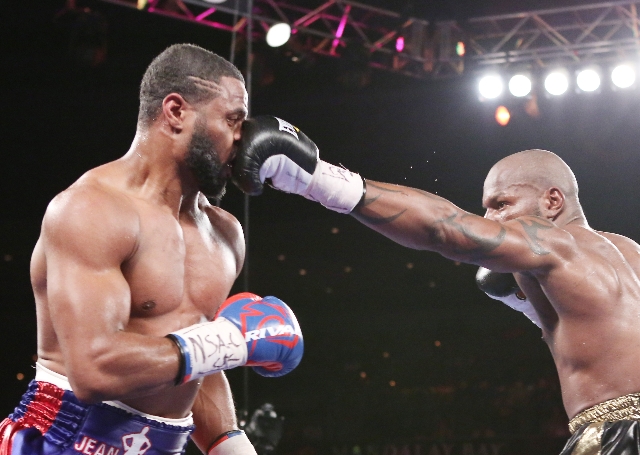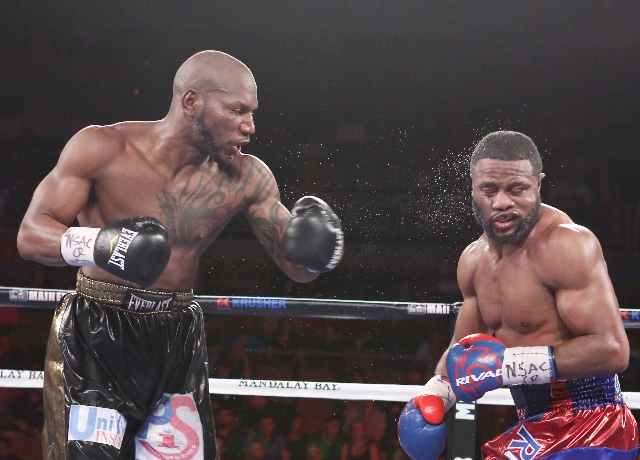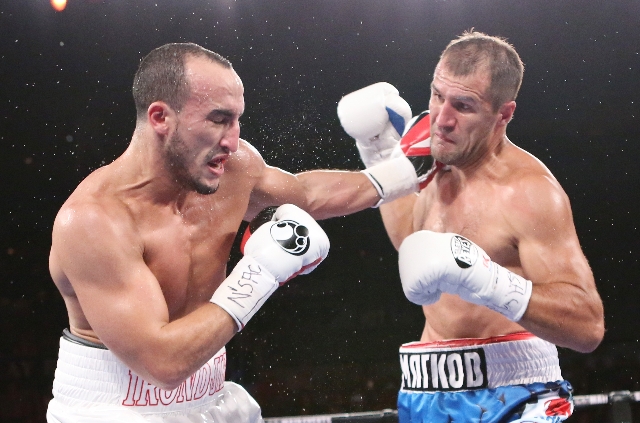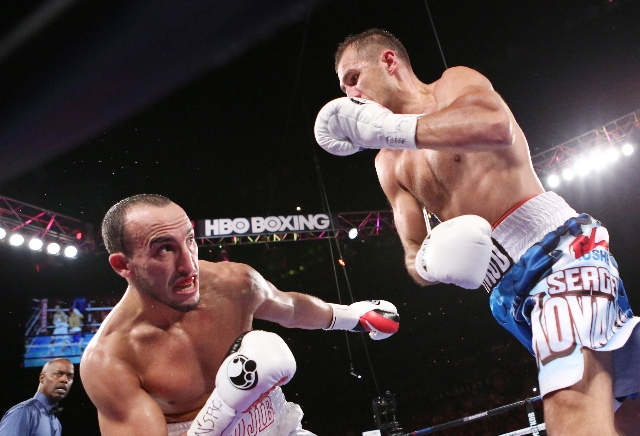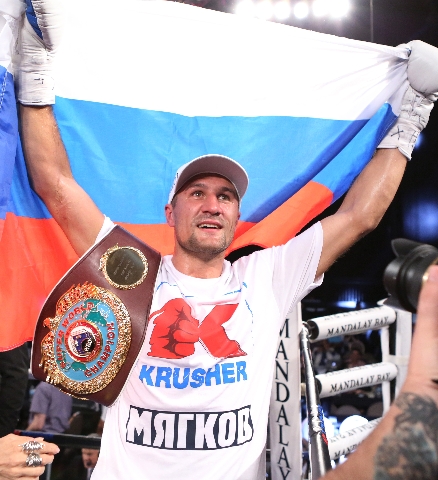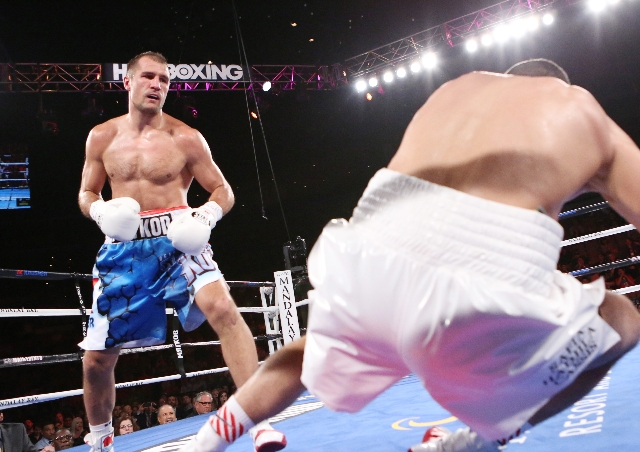 The first time Sergey Kovalev fought in Las Vegas, it took him just 5 minutes, 39 seconds to leave his mark, stopping Douglas Okola in the second round.
That was on July 29, 2011 at The Cosmopolitan of Las Vegas.
On Saturday, things were a lot hotter at the Cosmopolitan with a fire at the hotel's roof pool causing quite a commotion. Down the Strip, later in the evening at the Mandalay Bay Events Center in front of a crowd of 4,351, Kovalev extinguished the fire that fueled Nadjib Mohammedi, knocking out the Frenchman in the third round of their International Boxing Federation light heavyweight title fight televised on HBO.
"I know I hurt him early," Kovalev said. "It's a little disappointing I didn't fight him longer. I was hoping for seven rounds but it was less than three. I wanted to make him look like a fool."
While it took Kovalev a little longer to finish the job Saturday than the only other time he fought here, he looked impressive in doing so in improving to 28-0-1 and retaining his IBF belt. Kovalev is also the World Boxing Association and World Boxing Organization light heavyweight champion.
"Every fight, I learn something that makes me better," Kovalev said. "He deserved the opportunity. He was the No. 1 contender. But it's not my problem the fight didn't last long."
A right hook followed by a left jab did the damage in the third round as Mohammedi went down and didn't seem to want to take any more punishment. Referee Kenny Bayless ended it at the 2:38 mark.
Mohammedi (37-4) wasn't looking to engage the champion and Kovalev realized that immediately. He dropped Mohammedi in the second round with a combination of blows and while Mohammedi got up, he didn't seem willing to battle on as he was hopelessly outclassed by one of the sport's elite fighters.
Mohammedi did not appear at the postfight news conference; he was taken to the University Medical Center Trauma Center to have his left eye checked after Kovalev hit him with the final punch in the third round.
His manager, Vince Caruso, said Mohammedi couldn't see at that point and decided not to keep going.
"We knew it would be a tough fight for him and he was taking a big step up in class," Caruso said.
If you bet Kovalev to win by knockout, you had to invest $2,200 to win $100. That's how lopsided the fight was expected to be.
Perhaps Kovalev's next fight will be a rematch with Jean Pascal, who prevailed in the co-feature with a 10-round unanimous decision win over Cuba's Yuniesky Gonzalez.
Pascal, who had his hands full throughout the fight, managed to convince judges Eric Cheek, Ricardo Ocasio and John McKaie that he was the better man as all three had him winning by identical 96-94 scores. He improved to 30-3-1 with the victory.
But like Mohammedi, Pascal also found himself at UMC after his fight to have his right hand examined. He hurt it in the third round.
"I was never in trouble," Pascal said before heading to UMC. "I was controlling the fight. The fight followed the rhythm exactly as I wanted.
"It was a great fight, very close. It was another candidate for Fight of the Year."
Gonzalez, who suffered his first professional loss with the decision and fell to 16-1, was beside himself after the decision was announced. Tears were rolling down his face and he banged his gloves against the top rope in frustration. He had appeared to have done enough, particularly over the first half of the fight, to win.
"When I heard unanimous decision, I absolutely thought I won the fight," Gonzalez said through an interpreter. "Had it been a split decision or something, I would've been worried.
"I had the power. I had the aggression. I felt I had hurt him. I took the aggressiveness away from him."
But Pascal is resilient, if nothing else, and he landed his share of scoring blows and at times, had the bigger Cuban in trouble.
Pascal, who lost to Kovalev on March 4 in Montreal when Kovalev scored an eighth-round TKO victory, has been clamoring for a rematch. With Saturday's win, he will no doubt keep that conversation in play.
Kovalev was noncommittal about a Pascal rematch. He said he would leave things up to his manager Egis Klimas, and his promoter, Kathy Duva of Main Events as to who he fights next.
"I hope to be back in the ring before the end of the year," he said. "Against who. I don't know. We'll see. I just hope I will be able to come back to Las Vegas and fight many more times in the future. I love it here.""
Contact reporter Steve Carp at scarp@reviewjournal.com or 702-387-2913. Follow @stevecarprj on Twitter.