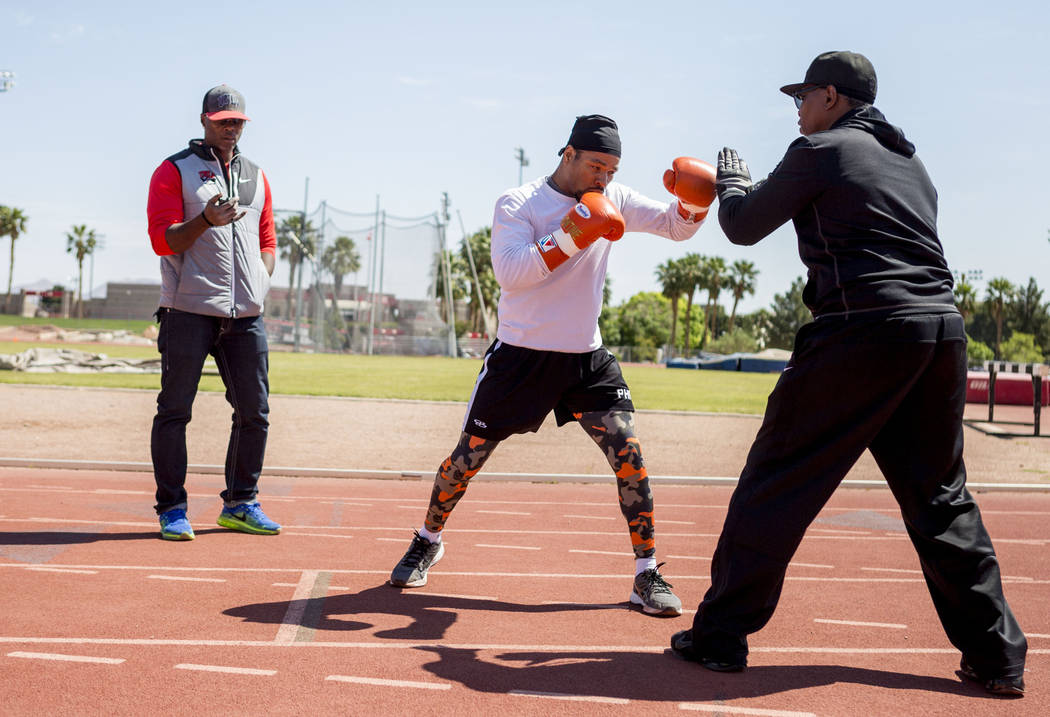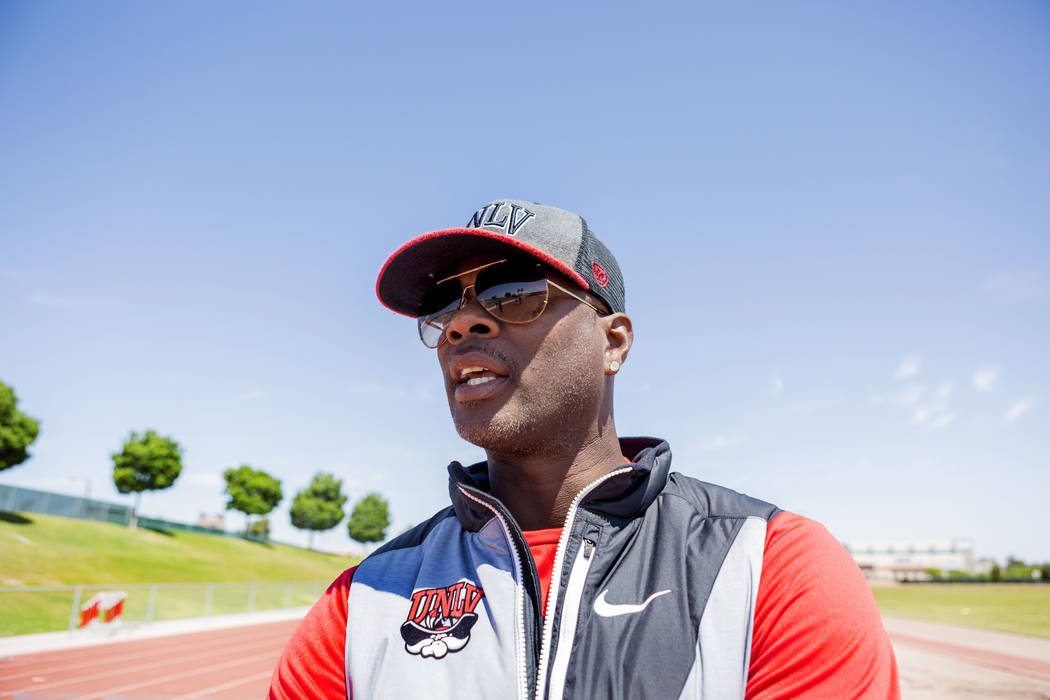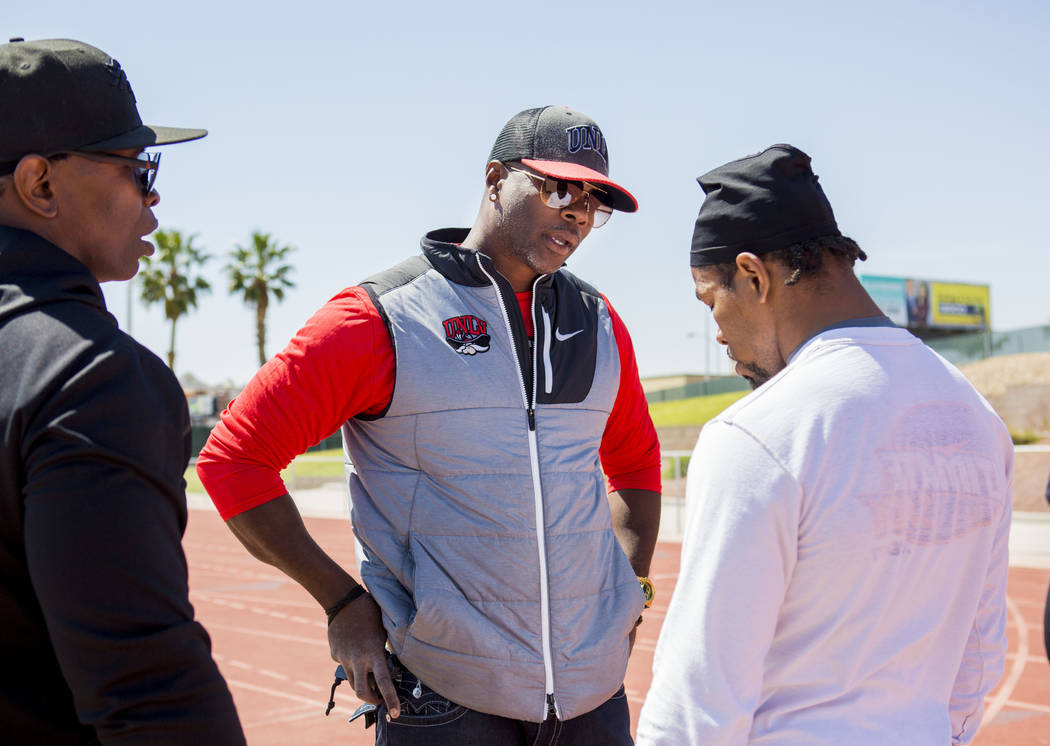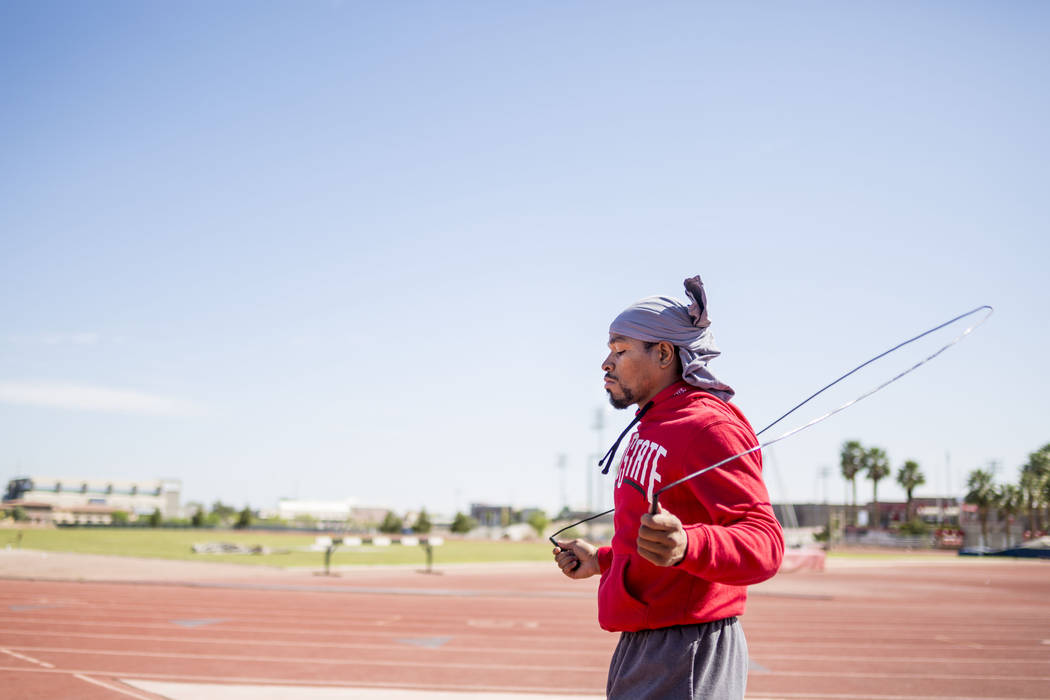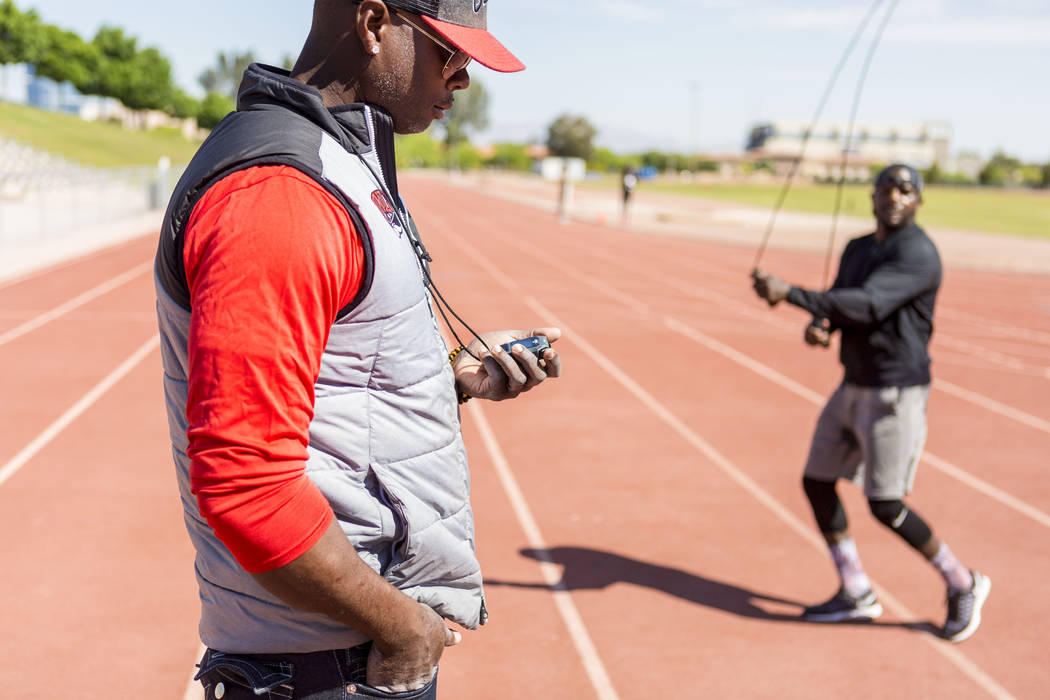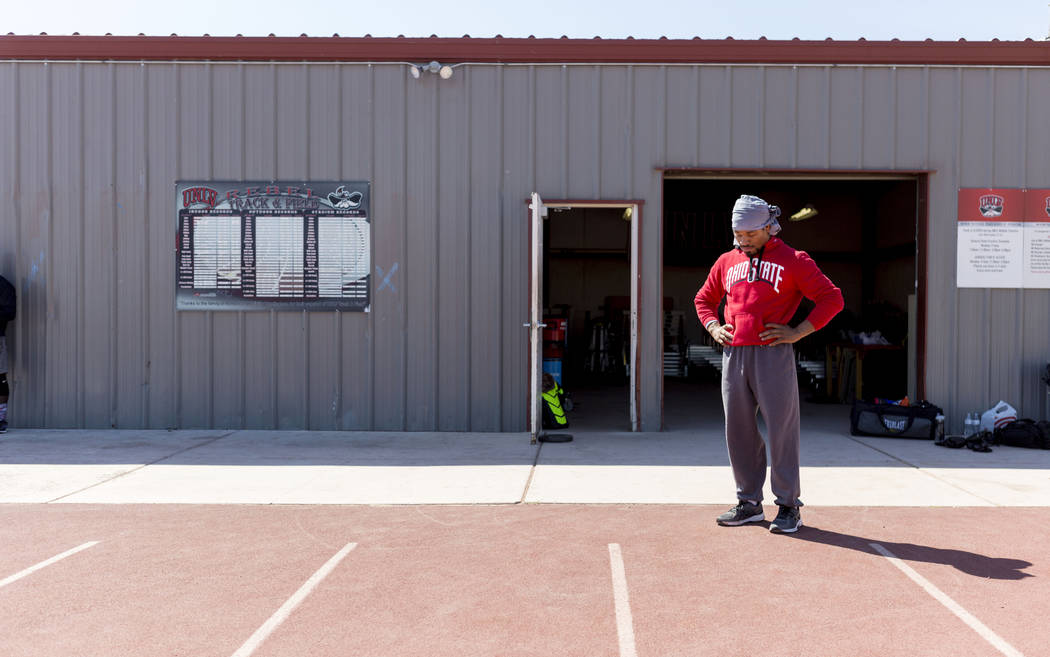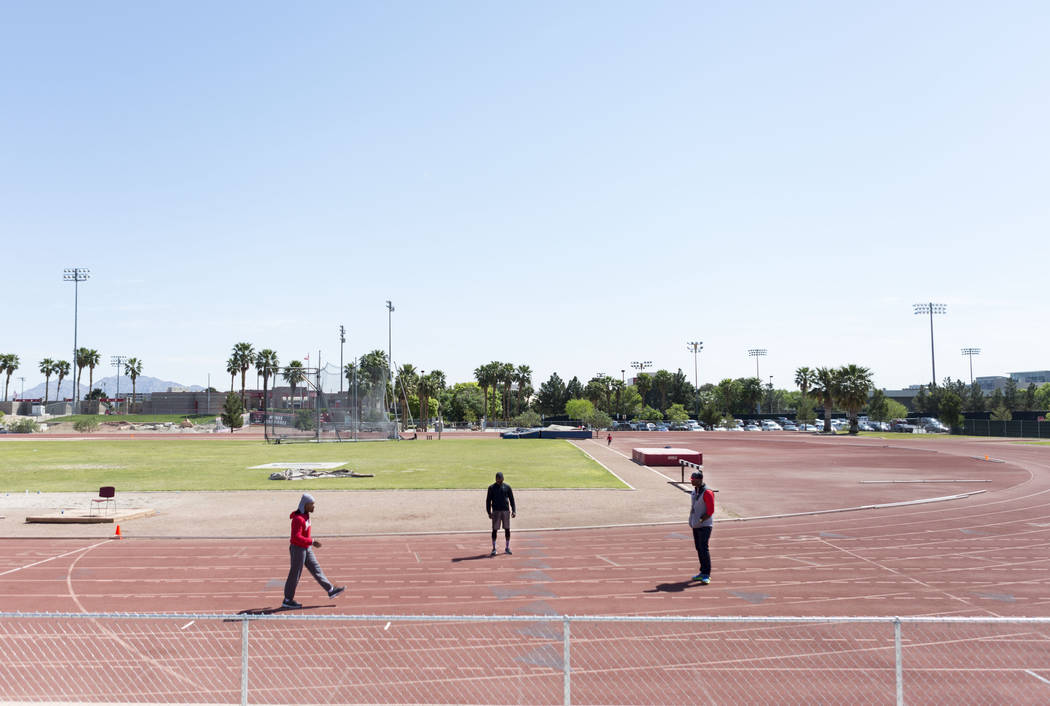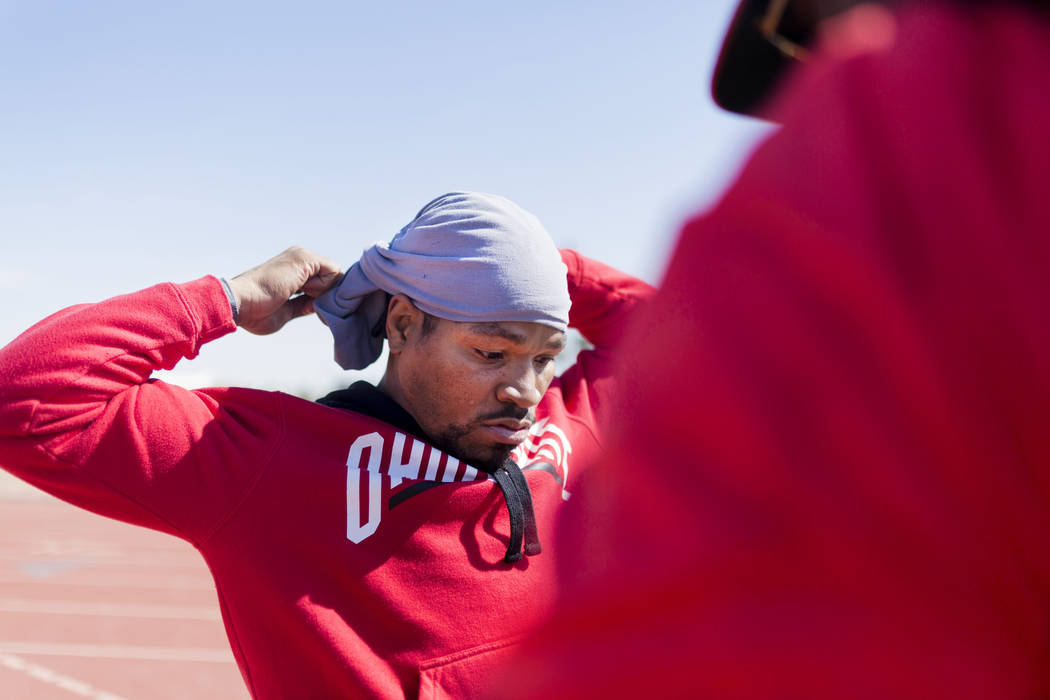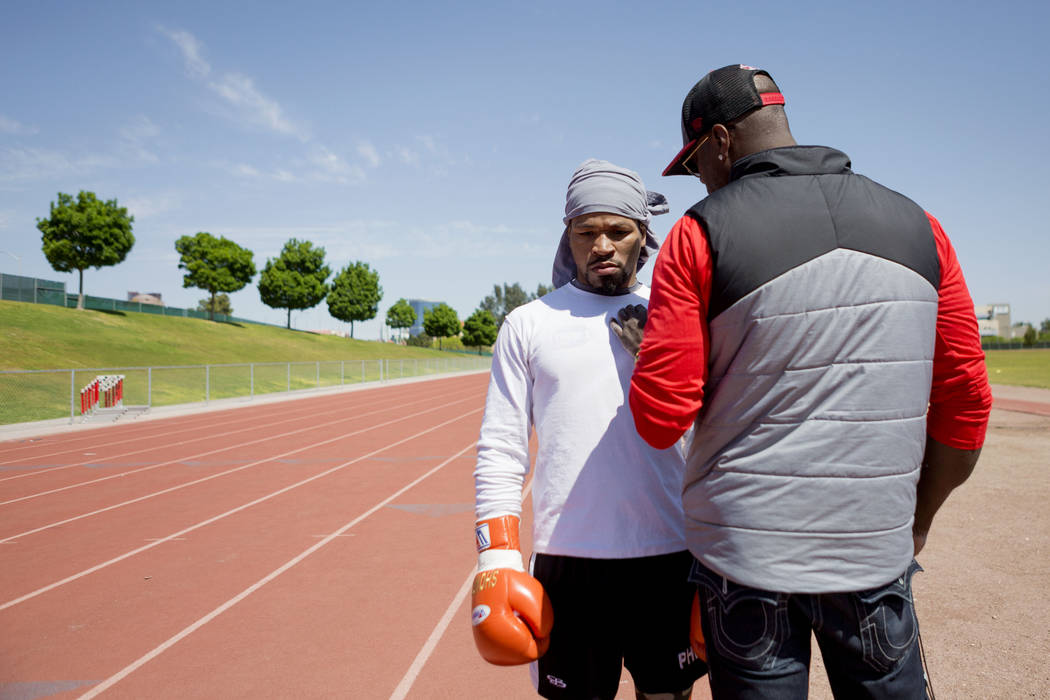 Kenny Porter held up the mitts for his son, Shawn, during their media day workout this month, and if you don't know how the Porter family operates, they never put on a halfhearted performance for a crowd.
But the older Porter wasn't going to be part of the full workout, at least not for the hard part.
"Mr. Wade, you're up!," Kenny Porter shouted.
Larry Wade, sporting a UNLV cap, got into the ring with protective padding around his upper body to meet Shawn Porter, a hard-hitting former welterweight champion.
"Oh, oh, Larry," a few people in the crowd murmured.
Shawn Porter unleashed a fury of hooks to Wade's body as the older Porter shouted directions.
"Don't lose him, Mr. Wade," Kenny Porter said. "The other guy who usually does this weighs about 300 pounds, but he's not here today. And I'm not going to take those hits. I have put in my time. I don't need that."
"I need some medical insurance," Wade jokingly told the crowd. "You see me trying to lose him (Shawn Porter)."
Kirk Franklin's gospel music was blasting from the speakers inside the Porter Hy-Performance gym, but there was nothing kind about what Shawn Porter was doing to Wade's ribs.
Porter had no time to go easy on Wade. He was preparing for Saturday's showdown against Andre Berto in a WBC title eliminator, and for Porter, a second shot at unified titlist Keith Thurman. Porter and Berto will headline a Showtime-televised main event at the Barclays Center in Brooklyn, New York.
Wade, a coach for the UNLV track and field team, never imagined he would be in the ring with a world-class boxer four years ago.
Training a boxer on the track had crossed his mind before. Wade, a certified strength and conditioning trainer, had coached elite track athletes, and former NFL and NBA players. But Wade never envisioned taking a punch.
"I've done that often," Wade said about being Porter's punching bag. "I don't like it, but it's part of the job. I've spit out blood from it before. I've also peed blood."
Wade's wife, Yvonne, the UNLV track and field coach, never questioned why her husband took up a second job, and one that required pain.
"My husband could never half do anything," Yvonne Wade said. "If he's going to do something, he's going to commit full heartedly to understand the sport."
Quick learner in the gym
Wade's credentials as a strength and conditioning coach are impeccable.
Carmelita Jeter became the world's fastest woman in the 100 meters under the guidance of Wade. Dominique Arnold broke the world record in the 110 hurdles with Wade as his coach.
Wade, 42, wasn't bad on the track, either. He was undefeated in 1998 as a 110 hurdles specialist for Texas A&M. He won the national title and was an All-American.
Wade, who grew up in Elgin, Texas, added boxing coach to his lengthy resume when he met the Porters on the UNLV track four years ago.
"I get a phone call late at night from Kenny about can I train the next day with them," Wade said. "Mr. Kenny Porter liked what I did, and he said, 'I want to sign you up for this camp. We got a world championship fight in three months,' and I'm like, OK, what did I get myself into."
For the next few weeks, Wade was the conditioning coach.
"He wasn't even doing strength with us," Shawn Porter said. "My dad just wanted my times on the track to get better. Larry kept wanting to learn more, and he made a quick impression on my dad."
Wade asked if he could watch the Porters train in the gym. He didn't get paid for being there, he just wanted to take notes.
Kenny Porter gradually gave Wade more responsibilities in the gym until he became a full-time coach and a certified boxing trainer.
"Larry was the only guy who took the test to get 100 percent without looking in the book," Porter said.
The 6-foot-2-inch Wade, who never forgets his UNLV hat on fight night, was in Shawn Porter's corner when he defeated Devon Alexander for the IBF title. Wade was there when Porter beat Adrien Broner at the MGM Grand Garden. Wade was there when Porter won over the crowd at the Barclays Center when he came up short against Thurman.
"Larry went from joining one camp to now actually walking into the ring with us," Shawn Porter said. "Since 2013, he's been full force. Larry is family to us."
Wade has become a rising trainer in boxing, and also is a coach for Badou Jack, a Las Vegas resident and super middleweight titlist.
Wade said he has turned down at least 15 requests from boxers asking him to join their camps.
"I just don't have time," he said. "I'm committed to UNLV and working with Shawn and Badou."
UNLV's favorite couple
It wasn't love at first sight for Larry and Yvonne.
Yvonne Wade, who was a hurdler at Colorado, couldn't stand her future husband when she would see him at college track meets.
"She hated me," Larry Wade said. "Absolutely hated me. I annoyed her. I got on her nerves. She didn't like me. I was very brash and abrasive, and at the same time arrogant, and she hated that."
Larry and Yvonne reconnected when they were track coaches in the Los Angeles area during the early 2000s.
Yvonne still couldn't stand Larry, but was starting to develop a soft spot for him. She became the coach at UNLV in 2007 and recommended Larry for a position at San Diego State.
"We were rivals once again," Yvonne said. "We wanted to beat each other. We were both coaching the same events."
"We beat her," Larry didn't fail to mention.
However, this time, Larry wasn't arrogant. The two began dating in 2009 and got married in 2012.
The couple tried a long distance relationship for a year when Larry was the track coach at Pasadena City College. Yvonne asked Larry to coach at UNLV.
"I was kind of hesitant at first," Larry said. "I don't know about this. But after six months, I gave in. It was too hard being away from her and our son."
Yvonne eventually gave Larry full control of the sprints, hurdles and jumping events. This is the first year Larry is a full-time track coach at UNLV.
"I trusted Larry," Yvonne said. "Yes, I know those events well, but I had other responsibilities to take care of. The results have shown that Larry is a great coach. The sprints are the best they've ever been."
Yvonne and Larry led the Rebels to a second-place finish in the Mountain West indoor championships in February.
"Moving here was the best decision," Wade said. "Now I think we really have one of the best teams in the nation."
Follow all of our boxing coverage at reviewjournal.com/boxing and @RJ_Sports on Twitter.
Contact Gilbert Manzano at gmanzano@reviewjournal.com or 702-383-0492. Follow @gmanzano24 on Twitter.