Las Vegan Hunter falls in narrow decision in Olympic boxing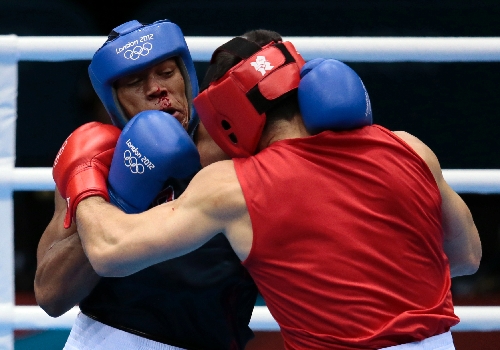 LONDON – Michael Hunter doesn't regret the journey or the promise he made several years ago.
But he could be cursing a little cold for some time.
The Las Vegas heavyweight had a brief stay at his first Olympics, losing a round-of-16 match to Artur Beterbiev of Russia in a countback decision Wednesday at ExCeL Arena.
The score was 10-10 after three rounds, which in the Olympic world means that of the five judges present, the highest and lowest scores are thrown out and the middle three are averaged.
The math didn't break Hunter's way.
"He was the better man and deserved it," Hunter said. "It was a close fight. He was able to put his game plan in more than I was."
Hunter's goal was to move and jab throughout three rounds against the much slower Beterbiev, but the Palo Verde High School graduate has been under the weather since arriving here, and his legs didn't oblige late.
He led 4-3 after the first round and 8-7 after the second, but then began clutching and breathing hard and trying to hold on more than finish the bout.
The jab disappeared. Hunter took a shot to the nose that drew blood. Things fell apart. It was a bad fight for both. Slow. Sloppy. Unimpressive on both sides.
The electronic scoring system used in amateur boxing has been criticized for years, and there have been more and more calls to return to the 10-9 round system. In the latter case, Hunter probably would have won the fight.
"No excuses," Hunter said. "My legs got fatigued, and my foot placement wasn't there, and I wasn't able to turn as I wanted. That's the name of the sport, being able to execute.
"It's very disappointing. I promised my father before he passed I would win a gold medal. But I have to keep moving, turn professional and get on with the next chapter in my life."
Hunter's father, Mike Sr., was shot and killed by undercover officers in 2006 in Los Angeles, and his son has spent the past seven years training for this moment, to climb into an Olympic ring and pursue gold.
He failed to qualify for the 2008 games in Beijing.
"It was all worth it," Hunter said. "I got here and am grateful for the opportunity to be at this big a stage.
"It wasn't the performance I wanted, but I think my professional career will turn out for the better in the long run for having done it."
In two other bouts involving U.S. boxers, Joseph Diaz Jr. lost to top-seeded bantamweight Lazaro Alvarez of Cuba 21-15, and super heavyweight Dominic Breazeale dropped a 19-8 decision to Russia's Magomed Omarov.
Las Vegas Review-Journal sports columnist Ed Graney can be reached at egraney@reviewjournal.com or 702-383-4618. He can be heard from 11 a.m. to 2 p.m. Monday through Friday on "Gridlock," ESPN 1100 and 98.9 FM. Follow him on Twitter: @edgraney.