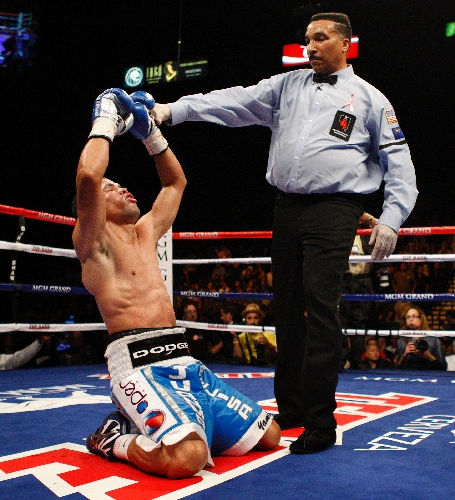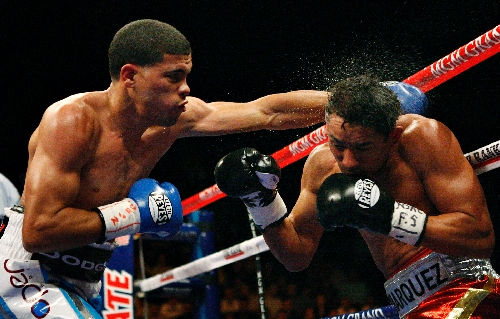 Juan Manuel Lopez not only wanted to win, he wanted to look good doing it.
After all, if he's going to have his featherweight division showdown with Yuriorkis Gamboa next spring, he couldn't come across as inferior.
As it turned out, inferior was the last tag anyone would place on the undefeated Lopez after the way he dominated veteran Rafael Marquez on Saturday and retained his WBO title with an eighth-round technical knockout in front of a small but enthusiastic crowd of 4,813 at the MGM Grand Garden.
Marquez, who said he injured his right shoulder during the third round, had taken a considerable amount of punishment. He and his corner decided he'd had enough, and he didn't come out for the ninth round.
"He's the best fighter I've ever fought," Lopez said. "If I'm No. 1, then he's No. 2.
"I couldn't tell he had a bad shoulder. Every time he hit me, it was like being hit by an ox. He hurt me."
Marquez said had he not hurt his shoulder, the outcome would have been different.
"It would have been an all-time great fight," said the 31-year-old Marquez (39-6). "I hope to get a rematch."
The 27-year-old Lopez (30-0) said he'd be glad to go again with Marquez if Marquez is willing to fight Lopez on his home turf in Puerto Rico. Lopez said he wants to fight his next fight in his homeland before facing Gamboa, the WBA and IBF featherweight champ, in June.
Lopez, who closed as a minus-340 betting favorite, originally was scheduled to meet Marquez on Sept. 18. But a thumb injury to Marquez suffered while in training pushed the fight back to Saturday.
It didn't seem to matter.
With just less than a minute to go in the third round, Lopez unleashed a flurry of punches that sent Marquez stumbling backward. He remained upright, but Lopez pursued him and tagged him with a right to the head.
But he still couldn't put Marquez away.
Marquez responded with a beautiful right-left combination that had Lopez in big trouble. Marquez pressed the attack, and Lopez resorted to holding and hitting behind the head, which drew a one-point deduction from referee Tony Weeks.
Lopez knew he suddenly was in a fight. He and Marquez engaged in several wild exchanges as Weeks tried to maintain order.
Marquez took a lot more than he gave. But in the seventh, he landed a big left to Lopez's chin with just more than a minute to go. However, the champion only temporarily flinched before returning to pounding away on Marquez.
By then, Marquez's right shoulder was giving him more trouble than he could handle. As the eighth round ended and he found himself behind on all three judges' scorecards, he and trainer Daniel Zaragoza talked.
When Marquez told Zaragoza that he couldn't move his shoulder, Zaragoza asked Marquez if he wanted to keep going. But after ringside physician Dr. William Berliner checked out Marquez, the decision was made not to continue the fight.
Lopez was hoping the fight would have been stopped sooner.
"The last couple of rounds, I thought he was hurt," Lopez said. "That's why I asked the ref to stop it. I don't want to hurt anyone."
He had done more than enough damage already — but certainly not to his reputation as one of the world's top featherweights.
Contact sports reporter Steve Carp at scarp@reviewjournal.com or at 702-387-2913.