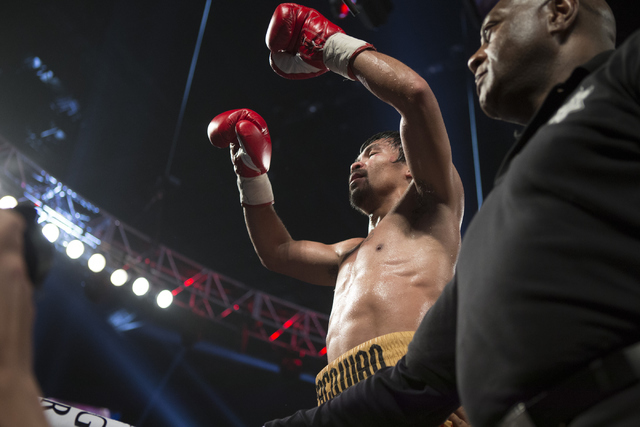 Manny Pacquiao's retirement party was a short one.
Pacquiao is set to return to the ring on either Oct. 29 or Nov. 5, Top Rank promoter Bob Arum confirmed Tuesday to the Review-Journal. Michael Koncz, Pacquiao's longtime adviser, informed Arum about the Filipino boxer's desire for a comeback fight in the fall.
The boxer-turned-senator, however, released a statement Tuesday evening on his Facebook account denying he discussed his future in the ring. The statement didn't say his fighting days are over.
"There is no truth to media reports that I'm planning to take a leave from my senate duties just to fight again atop the ring," the statement read. "I want to make it clear — my priority is my legislative works.
"My next fight has not yet been discussed. Should there be any, I'll make sure it will not interfere with my senate duties."
After seeing the statement, Arum said Pacquiao was speaking like a senator. The former eight-division champion was sworn into the Philippine Senate in June.
"You got to read it like he's a politician now, he's not a fighter. … That part is not true," Arum said of Pacquiao's claim of never discussing his next fight. "I spoke to (Koncz). Manny's statement doesn't really contradict anything (about fighting again)."
Arum said he doesn't have an opponent for the Filipino boxer yet, but his first priority is nailing down a venue for the comeback bout.
Last month, Arum told the Review-Journal he had the Mandalay Bay Events Center saved for Oct. 15 in case Pacquiao decided to return. Koncz told Arum that date wouldn't work because of the boxer's obligations in the Senate, but countered for a fight two or three weeks later.
That left Arum scrambling for a new venue on the Strip. Dates in the fall are filling up quickly with sporting events and concerts.
Arum is expected to hear back from Richard Sturm, the president of MGM Grand Entertainment and Sports, this week about booking an MGM-owned venue.
"The first thing I have to do, is we want to fight in Vegas, and we have to clear an arena," Arum said. "Richard Sturm is working hard to secure one of the MGM arenas for the fight. He wants to do the fight, and they have other events in there, and they're doing what they have to do to make it happen."
The Top Rank promoter also is looking at the Thomas & Mack Center as a possibility. He would like to have the fight there Nov. 5, but the UNLV basketball team is booked to host an exhibition game against New Mexico Highlands.
"I'm hoping they can move the game to Friday or Sunday," Arum said. "If something doesn't open up, we might have to go elsewhere."
As for possible opponents for Pacquiao, Adrien Broner is out of the picture. Broner's asking price was out of Arum's range.
"I worked with Al Haymon (Broner's promoter), we tried to make it happen," Arum said. "Broner was insisting on getting a certain amount of money. It was more than we could afford. Broner thinks he's entitled to a lot of money, and, God bless him, he can get it from someplace else."
Arum will consider the winner of the Terence Crawford-Viktor Postol unification bout July 23 at the MGM Grand Garden. Las Vegan and WBO welterweight champion Jessie Vargas is another candidate.
Pacquiao retired after defeating Timothy Bradley Jr. by unanimous decision in April at the MGM Grand Garden.
Arum said he never thought Pacquiao was ready to walk away from fighting.
"I knew he would come back if his senatorial duties allowed it," Arum said "The message that I had is if we could schedule the fight appropriately, then the senatorial situation would be resolved."
Contact Gilbert Manzano at gmanzano@reviewjournal.com or 702-383-0492. Follow him on Twitter: @gmanzano24