Manny Pacquiao wants to fight in 2016 Olympics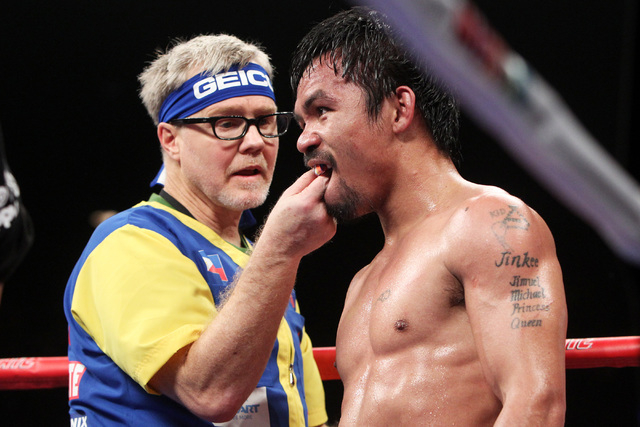 At first, it sounded as if Manny Pacquiao was playing an April Fool's Day joke on everyone when he said he would consider fighting in the Olympics.
But the eight-time world champion was serious.
"I am thinking about it," Pacquiao said on a conference call Friday to promote next week's trilogy fight against Timothy Bradley Jr. at the MGM Grand Garden. "It would be a chance to represent my country, and I'm not closing the door on it."
AIBA, amateur boxing's world governing body, wants to include pros in the Olympics beginning this summer at Rio de Janeiro. Pacquiao, 37, is running for a seat in the Philippine Senate. The election is in May, and if he wins, it would make fighting in the Olympics a tricky proposition, as he would be in office come August. If he waits until the 2020 Games, he would be 41.
Bob Arum, Pacquiao's longtime promoter, said he thinks the idea is absurd.
"It's not only insane, it's dangerous," Arum said. "You're going to put professionals in the ring with a 17- or 18-year-old kid? Someone's going to get seriously hurt. These people need their heads examined."
Pacquiao turned pro in 1995 and is 57-6-2 with 38 knockouts. He said he and his longtime trainer, Freddie Roach, discussed fighting in the Olympics. Roach, who briefly worked with USA Boxing during the 2012 London Games, said he wouldn't try to talk Pacquiao out of it, and if Pacquiao wanted him in his corner for the Olympics, he would be there.
"I told him he has a couple more fights left in him," Roach said. "We talked about him fighting in the Olympics. How realistic is it that it would happen? I have no idea.
"But if Manny decided it was something he wanted to do and could do, I told him I'd support him and help him."
Arum said he can't see boxers such as Pacquiao or Andre Ward fighting in the Olympics.
"It makes no sense," Arum said. "It's a ridiculous idea. What, so they (AIBA) can make money off these guys? I don't see it happening."
Contact reporter Steve Carp at scarp@reviewjournal.com or 702-387-2913. Follow on Twitter: @stevecarprj
RELATED
Manny Pacquiao to fight Timothy Bradley on April 9 at MGM Grand
Pacquiao says old foe Bradley presents new challenge
Bradley surprised Pacquiao called about third fight
Like Vegas Sports News on Facebook: