Manny Pacquiao works double shifts to prepare for Jessie Vargas
October 30, 2016 - 10:54 pm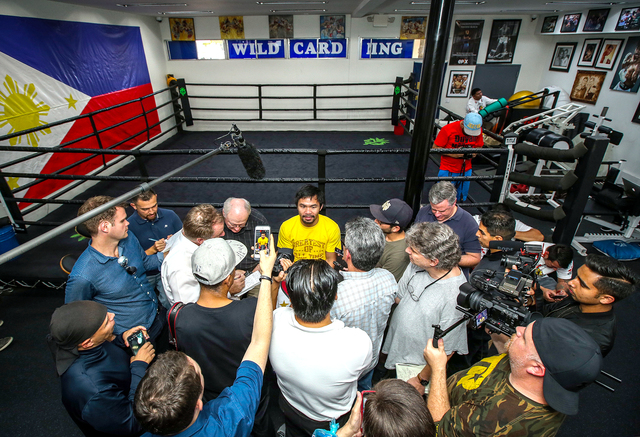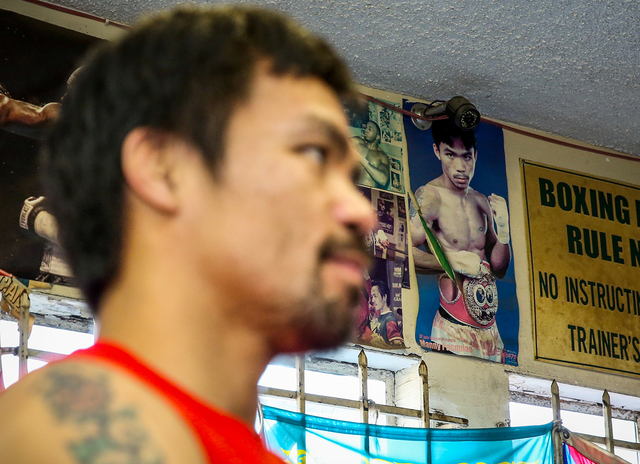 Most can relate to Manny Pacquiao's rags-to-riches story.
Well, at least the rags part. Not many have made the type of money that Pacquiao has accumulated through boxing. But success is a common outcome, whether it's getting that college degree or having enough fortune to provide for a family.
Sometimes that triumph comes after working 12-hour shifts on a daily basis with little money to show for it.
As a child in the Philippines, Pacquiao spent long days on the streets looking or working for money so he could help his single mother feed him and his siblings.
The long hours are back for Pacquiao, but this time he's a senator by day, boxer by night, and boxer again at dawn.
Pacquiao is coming off his first training camp while serving in the Philippine Senate. The former eight-division champion, who regularly trained in Los Angeles, had his trainer Freddie Roach and his camp move to Manila, the capital of the Philippines, to prepare for his welterweight match against WBO champion Jessie Vargas on Saturday at the Thomas &Mack Center.
Pacquiao knew his work schedule would be a lot busier as a senator, the primary reason he decided to retire after defeating Timothy Bradley at the MGM Grand in April. But in a surprise to no one, Pacquiao opted to return to the ring.
No one would have doubted Pacquiao's full workload five to 10 years ago. But the future Hall of Famer turns 38 in December.
"I want to prove that I am still one of the best pound-for-pound fighters," Pacquiao said. "I feel I still have a lot to prove. I am not done with boxing. I will continue to keep fighting as long as I love boxing and boxing still loves me. I do not feel old. I feel like I am still 27."
Roach said he didn't notice any issues of fatigue during the eight-week training camp.
"Manny Pacquiao is still the most dedicated fighter I have ever seen," Roach said. "We have never ended a workout early. He is busier than usual, but he always likes a full plate, and he has a full plate right now."
Pacquiao, like he promised, didn't miss a day at the Senate. Sometimes he would be at the office for 14 hours and then get a sparring session in with Roach to end the day. Pacquiao would end his nights by playing a game of chess and wake up at 5 a.m. for a long run before heading back to the Senate.
Roach had to force Pacquiao to take one day off from the gym.
"There was a couple of days I told him to stay home and get some rest when sparring days were the next day, and he didn't listen to me, and he shows up anyway," Roach said.
Pacquiao, who is one of 24 senators in the Philippines, has filed 17 bills since being sworn in five months ago. The former two-term congressman also serves on 15 Senate committees.
The legendary boxer only has one job to worry about for the next week with the Senate out of session, and that's to get the WBO belt back.
"(Vargas) is the champion and he is wearing my championship belt," said Pacquiao, who lost the WBO belt to Floyd Mayweather Jr. last year after defending it for many years. "I want that belt back, which is the reason why we are doing this fight."
Pacquiao (58-6-2, 38 knockouts) will make his 19th "Grand Arrival" in Las Vegas on Tuesday when he greets fans at the Wynn Las Vegas.
Pacquiao wouldn't commit to fighting again after the Vargas fight. Roach would like to see Pacquiao get another shot at Mayweather.
"One fight at a time," Pacquiao said. "I take them one at a time. I cannot say yes right now."
Roach and Pacquiao could see themselves going through another training camp in the Philippines.
Pacquiao said he prefers staying busy than having free time. It's been well-documented that Pacquiao used to enjoy wild nights before devoting his life to religion.
"The most difficult part of training in the past has always been when I do a bad job of managing my time," Pacquiao said. "This time I managed my time and disciplined myself from going to my work to my training."
The dedicated training habits are still there for Pacquiao, but does he still have the flawless footwork in the ring and the relentless punches coming from all angles? That's for Vargas to find out on Saturday.
Contact Gilbert Manzano at gmanzano@reviewjournal.com or 702-383-0492. Follow @gmanzano24 on Twitter.