Marquez battles back in win over Katsidis
November 28, 2010 - 12:00 am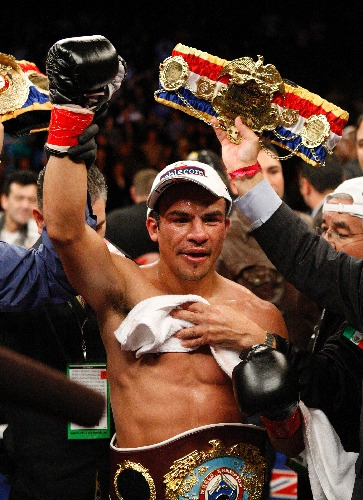 He's 37 years old, but Juan Manuel Marquez still has something left.
The WBA and WBO lightweight champion retained his titles Saturday night by stopping Michael Katsidis at 2:14 of the ninth round in their 12-round title fight in front of 4,920 at the MGM Grand Garden.
Marquez, a minus-370 betting favorite at the MGM sports book, needed all his experience as he survived a third-round knockdown and took a lot of punishment to improve to 52-5-1.
"It was a tough fight, the fight of the year," said Marquez, who was leading on all three judges' scorecards (78-74, 77-74, 76-75) at the time of the stoppage. "He has a lot of resistance and he's valiant.
"But we worked really hard to prepare for this fight, and I could tell my body shots were slowing him down."
Katsidis (27-3) said there wasn't much more he could do in his attempt to wrest the titles from the Mexican veteran.
"He was stronger than me, and I ended up getting stopped," Katsidis said. "Juan Manuel did a great job."
Marquez established himself early, using his left hand effectively to Katsidis' body and head. In the second round, he countered beautifully after Katsidis tried to pick up the tempo. He blocked the majority of the 30-year-old Australian's punches, then hammered him in return.
Just when it appeared Marquez was taking total control of the fight, he got careless and Katsidis made him pay. Nearly a minute into the third round, Marquez missed with a big right and left himself open to a counterpunch that Katsidis delivered — a left to Marquez's chin that sent him to the canvas.
Marquez got up, but he was hurt. Katsidis tried to press the issue and tagged Marquez with a big right hand to the face.
"I always thought it was in the cards to knock him down," Katsidis said. "But this is boxing, and he has a lot of experience."
Marquez admitted his carelessness cost him.
"I was surprised by his left hand," he said. "I didn't protect myself, and I got caught.
"But I know how to manage my combinations and my conditioning. That's why I was able to get up so quickly after he knocked me down."
Katsidis and Marquez continued to relentlessly bang on each other from close range, each trying to land the big shot. Katsidis tried to take control of the fight but wound up taking several clean blows in the seventh round as Marquez, who appeared to be tiring going into the round, might have found his second wind.
In the ninth round, Marquez saw his opening and went for it. He began with a flurry, and Katsidis was unable to stop him. But the big blow was a left uppercut that clearly hurt Katsidis.
From there, Marquez went into full attack mode and unleashed his entire arsenal, throwing punches from every conceivable angle until referee Kenny Bayless stopped the fight.
"I'm not disappointed," Katsidis said of Bayless' decision. "I did the best I could, but it wasn't enough."
The final PunchStats showed Marquez landed 52 percent of his punches to 31 percent for Katsidis and scored with 63 percent of his power punches to 32 percent for Katsidis.
After the fight, Marquez repeated his demand for a third meeting with Filipino superstar Manny Pacquiao.
"That's the fight I want," he said. "That's the fight the people want to see."
Contact sports reporter Steve Carp at scarp@reviewjournal.com or at 702-387-2913.