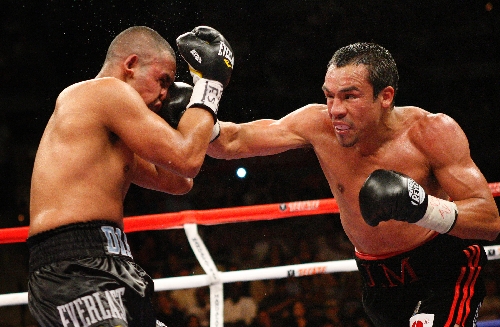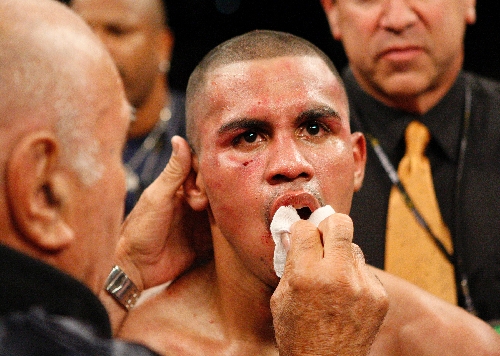 As sequels go, the second go-round between Juan Manuel Marquez and Juan Diaz was a good one.
But don't expect it to be the Fight of the Year in 2010.
That honor will have to belong to another bout after Marquez impressively scored a one-sided, 12-round unanimous decision over Diaz to retain his WBA and WBO lightweight titles Saturday before a crowd of 8,383 at Mandalay Bay Events Center.
"The first fight was difficult, but this one was, too," said Marquez, 36, who bounced back from his 2009 loss to Floyd Mayweather Jr. and improved to 51-5-1 while making $1 million. "(Diaz) is a great fighter and has good technique, but I was the better fighter tonight."
When Marquez and Diaz met in Diaz's hometown of Houston on Feb. 28, 2009, Diaz was very much in the fight, and it took a big right uppercut by Marquez to stop him late in the ninth round. This time, Diaz managed to stay upright, but it did him little good, as Marquez dominated from start to finish.
Judge Glenn Trowbridge scored Marquez the winner, 118-110, Patricia Morse-Jarman had Marquez ahead 117-111 and Jerry Roth scored it 116-112.
Diaz, a 3-1 underdog, said he did his best, but it wasn't enough. He made $540,000.
"I fought the best fight I could," said Diaz (35-4). "We were trading punches. We fought in, and we fought out. I didn't stand there. I wanted to get in there and get out. But it was hard, and I got hit with a couple of good shots.
"I did the best I could. I followed the game plan, worked off my jab. But it was a very tough fight. And he's a great fighter. He was the better man."
Marquez showed his cards early, displaying everything in his arsenal. His jab, uppercut, hook and overhand punches were working, and Diaz appeared stunned.
Marquez had established the jab, and with Diaz unable or unwilling to use his jab early, Marquez constantly beat him to the punch.
Diaz found his rhythm in the third round, throwing punches in bunches and landing many of them. But his success was short-lived. Marquez rocked Diaz with two stinging lefts early in the fourth and stayed on the attack throughout the round.
Marquez began to pile up points by consistently winning the exchanges in the middle of the ring. He hardly needed to display his superior counterpunching skills; he was constantly first in landing blows to Diaz's head.
Marquez's only cause for concern came between the seventh and eighth rounds when his right eye began to swell, requiring ice from trainer Nacho Beristain. Marquez seemed unbothered by the swelling and remained in control.
The final statistics showed Marquez's domination. He had a 672-579 edge in punches thrown and landed 43 percent compared with 27 percent by Diaz. Marquez had a 348-243 edge in power punches. Diaz had the edge in jabs thrown (336-324), but Marquez landed more (120-81).
"He's a very good boxer," Marquez said. "Like every Mexican warrior, he fought with the heart and left it all in the ring."
Marquez made it clear what he wants to do next — a third fight against Manny Pacquiao. Their first meeting in 2004 ended in a draw. The rematch in 2008 was a split-decision win for Pacquiao.
"The trilogy with Pacquiao is what I want," Marquez said. "Everyone wants to see it. It's a good fight for all fight fans, and for the Mexicans and for Filipinos.
"That's the most important fight for me now. I'll be ready in November. And hopefully Pacquiao will take the fight."
Diaz's future is full of question marks.
"I don't know what I'm going to do," said Diaz, 26, who plans to attend law school at some point. "I'm going to consider all the facts. I'm going to take the LSAT (Law School Admission Test). That's another fact.
"I've been fighting for 10 years, longer than a lot of fighters. I'll just have to sit down and figure out what I want to do. But I'm not going to sit here (Saturday) and say I'm never going to fight again or not."
Contact reporter Steve Carp at scarp@reviewjournal.com or 702-387-2913.
SLIDE SHOW: Marquez beats Diaz