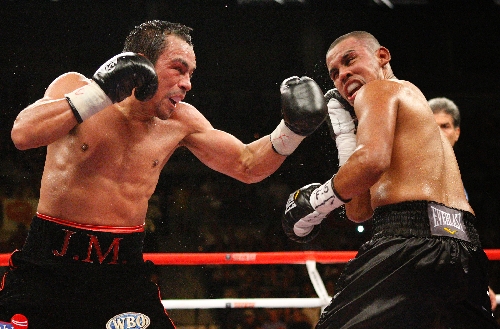 Juan Manuel Marquez became the pre-eminent Mexican boxer of his generation with his virtuosic win over Juan Diaz, and he feels his impressive career would be complete after one more fight with Manny Pacquiao.
Marquez also realizes he'll probably never get that fight — not while Golden Boy Promotions and Top Rank are embroiled in a feud that essentially prevents their fighters from meeting in the ring.
Boxing's top two promotional companies are increasingly bad-tempered rivals who just won't work together.
Pacquiao, the top fighter in Top Rank's collection, stands on the opposite side of that divide from Marquez, who is backed by Golden Boy.
Marquez punctuated his thrashing of Diaz on Saturday night at the Mandalay Bay Events Center with a call for a third fight against Pacquiao, the pound-for-pound champion.
But Golden Boy CEO Richard Schaefer responded with a chuckle when asked if he would call Top Rank boss Bob Arum about putting Marquez and Pacquiao together.
"Well, we all know Bob (Arum) wants to do the in-house stuff, and that's his choice," Schaefer said. "It's clearly unfinished business there, but it's all right.
"Marquez is not a beggar. We're not going to go on our knees. There are so many other great fights out there."
Arum has made the same complaint about Golden Boy in the past two years, and the companies have scarcely worked together in that time. Arum has decried Golden Boy's cozy relationship with HBO, while Schaefer has criticized Arum for only entertaining Top Rank-backed foes for Pacquiao's next bout, likely to be against Antonio Margarito on Nov. 13.
"We all know it isn't Manny Pacquiao that doesn't want the fight," Schaefer said. "It's his promoter that doesn't want to fight Marquez, and that's fine."
There's another very good reason for Pacquiao to stay away from Marquez, however: The 36-year-old Mexican star is the only man who even came close to beating him in the past 5½ years, and Marquez proved his skills haven't eroded even slightly with his unanimous decision over Diaz on Saturday.
"When you prepare yourself the way I do, age doesn't matter," Marquez said. "I'm going to keep pressing on and doing my best, and if I get a chance with Pacquiao, I'm going to use it."
Marquez erased any notion he had lost his edge after a lopsided loss to the much bigger Floyd Mayweather Jr. in September, battering Diaz in a rematch of their acclaimed February 2009 bout.
Marquez made $1 million and a pay-per-view cut to beat Diaz — a hefty payday for a lighter-weight fighter, but a fraction of his $4 million-plus for moving up two weight classes to meet Mayweather.
Marquez and Pacquiao fought to a draw in 2004, in a fight many observers believed Marquez won.
Pacquiao then won a razor-thin split decision over Marquez in 2008, by far Pacquiao's closest result during his
12-fight winning streak.
"Juan Manuel Marquez is fully licensed and approved to fight in Nevada on Nov. 13, just in case Bob is wondering," Schaefer said with a grin, poking at Margarito's inability to get licensed in Nevada after getting caught with plasterlike inserts in his hand wraps before a fight against Sugar Shane Mosley last year in California.
Instead, Marquez is likely to fight in December against Amir Khan, Michael Katsidis or Robert Guerrero — all fighting for Golden Boy.
Pacquiao's showdown with Floyd Mayweather Jr. wasn't a victim of that divide — the blame appears to rest on Mayweather's reluctance now — but Marquez's dreams are among many sacrifices to the promoters' stubbornness.