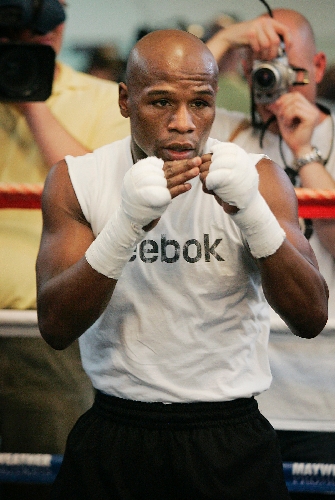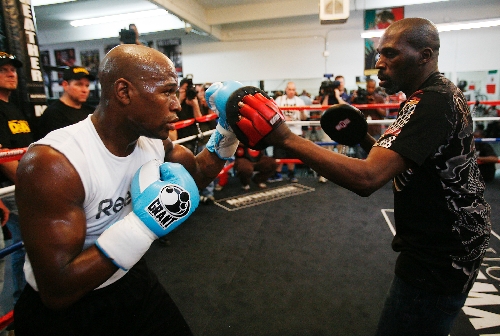 Floyd Mayweather Jr. didn't need to be told it was showtime as cameras whirred and clicked all around the undefeated welterweight during a 2½-hour workout Wednesday in front of the media at his Spring Mountain Road gym.
When Mayweather wasn't belittling opponent Shane Mosley, he was gabbing about his favorite subject — himself.
"I don't think anyone has a chance to beat me," said Mayweather (40-0 with 25 knockouts), who will meet Mosley (46-5, 39 KOs) on May 1 at the MGM Grand Garden. "But there is a blueprint to beating Shane Mosley. It's been done five times.
"They're going to try to bull-rush me or outbox me, and they can't do neither."
Mayweather pulled up about an hour late Wednesday in a white Ferrari. He went right to work in the gym, hitting the pads with trainer and uncle Roger Mayweather, throwing 1,000 punches on the heavy bag in a 2:20 span, jumping rope, doing sit-ups and pull-ups — all the time talking and joking.
"What's the score of the game?" Mayweather asked in the middle of his workout as the Chicago Bulls and Charlotte Bobcats neared tip-off. "I got the Bulls."
Mosley's WBA welterweight title won't be at stake in the fight because Mayweather doesn't care enough about it to pay the sanctioning fee. "Why should we give someone 3 percent of our money?" Mayweather manager Leonard Ellerbe said.
Mayweather, 33, appears to be in the best shape of his career, his upper body looking bigger than in the past.
He said every fight requires different physical training depending on the opponent. Fighting someone such as Mosley requires more strength.
Mayweather, like Mosley, has submitted to Olympic-style random drug testing for this fight. He has been tested six times and passed each screening.
Told he was a 4½-1 betting favorite against Mosley, Mayweather said: "Think how much money you would have made if you had bet on me from the beginning (of my career). You'd be so rich."
Mayweather, who soundly beat Juan Manuel Marquez on Sept. 19, will be fighting for only the second time since he left the sport in December 2007. He said he's not taking Mosley lightly.
"When I got off the plane following the news conference, I ran six, seven miles," Mayweather said, referring to six weeks ago when the promotion for the fight began. "I try to push myself harder and harder. I always want to look better than before."
Contact reporter Steve Carp at scarp@reviewjournal.com or 702-387-2913.
Floyd Mayweather Jr. Media Day