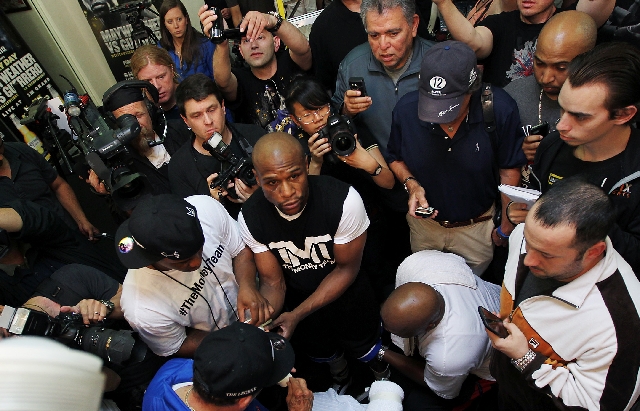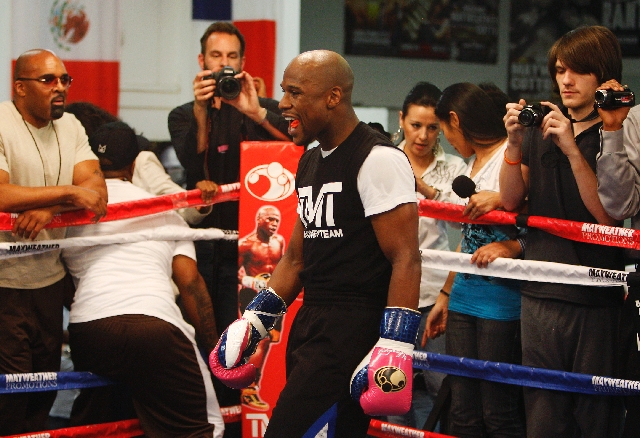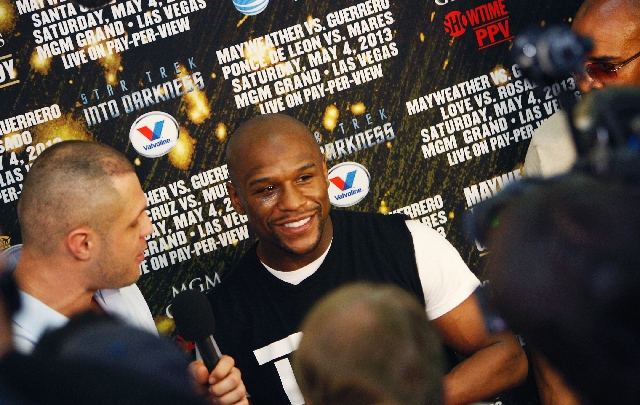 Despite the chaos and pandemonium that is a normal Floyd Mayweather Jr. media day, the object of everyone's desire appeared calm and at peace.
Freedom tends to do that to a person. So can $200 million or so. That's what Mayweather stands to make at minimum for the six-fight deal he struck with Showtime Pay Per View this year, one that begins with his May 4 WBC welterweight title defense against Robert Guerrero at the MGM Grand Garden.
"It's been a long time, but I'm back," Mayweather said Wednesday at his gym off Spring Mountain Road, filled with close to 200 people with cameras stacked six deep to capture every word and movement. "I'm happy I'm free. I'm happy to be home. That's very important."
Mayweather served 60 days in the Clark County Detention Center last summer after pleading guilty to domestic battery. He said he came out of his incarceration a changed man.
"There's nothing cool about being locked up," Mayweather said. "No one wants to lose their freedom."
He's glad he'll be fighting again soon. His last fight was May 5, when he won a unanimous decision over Miguel Cotto at the MGM Grand Garden.
He's excited about having his father, Floyd Sr., train him again while retaining his uncle Roger, who has worked with him the past 16 years. And he's looking to build on his legacy and stay undefeated while remaining boxing's pound-for-pound king.
"I'm grateful to be the face of boxing, and I always want to attach my name to success," said Mayweather (43-0, 26 knockouts). "Having my dad can't do nothing but help me. It can only be good to have another great trainer to work with me."
Mayweather, 36, said as he got older, he got wiser. He still trains hard, but he also has learned to get his rest. He doesn't have to worry about making 147 pounds come May 4 because he's already there (he weighed 148 Wednesday). And he knows better than any other fighter how to adjust with each round.
"I think you mature with time," Mayweather said. "I can handle taking a long layoff. I've done it before. But I train smarter now. When I was young I never took a day off from training, and I would go hard every day. Now I've learned that when you get some good rest, you feel better, and you get more accomplished. I'm getting a lot of rest now, and I can see the difference.
"I'll take (today) off completely. Friday, I'll do 10 (rounds) and have a grueling workout. But I still feel young, and I still work like a young man."
Mayweather said his experience will come in handy against the 30-year-old Guerrero (31-1-1, 18 KOs). He watched Guerrero's impressive win over Andre Berto in November, but he's smart enough to know that one fight doesn't define someone.
"Robert Guerrero is someone I can't overlook," Mayweather said. "I don't know Robert Guerrero's best attributes. Once I get in the ring and see what he's got, I'll do what I have to do.
"I can go into the ring and take away what my opponent does well. I'm one of the smartest fighters around. Being smart is what matters."
Being free to fight and earn a living matters more, and Mayweather said that is something he doesn't take for granted these days. It allows him to flaunt and add to his ample affluence: He showed up Wednesday in a white Ferrari.
But Mayweather said he's not trying to be brash while raking in hundreds of millions while trying to keep his sport relevant.
"I'm not bitter; I have a positive heart," Mayweather said. "You take the good with the good and the bad with the bad. You try to live each day as it comes and try to be the best person I can be."
Contact reporter Steve Carp at scarp@reviewjournal.com or 702-387-2913. Follow him on Twitter: @stevecarprj.