Mayweather born to be champ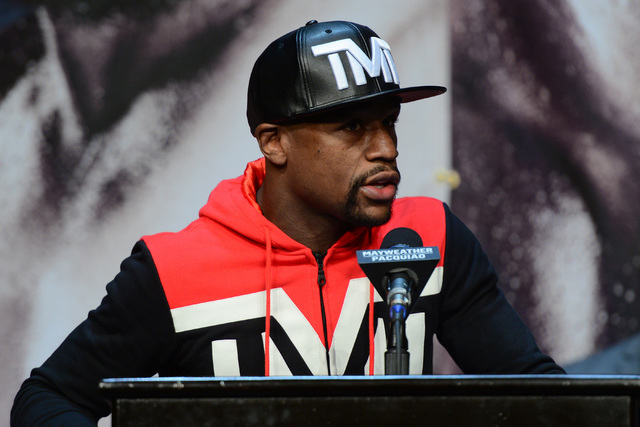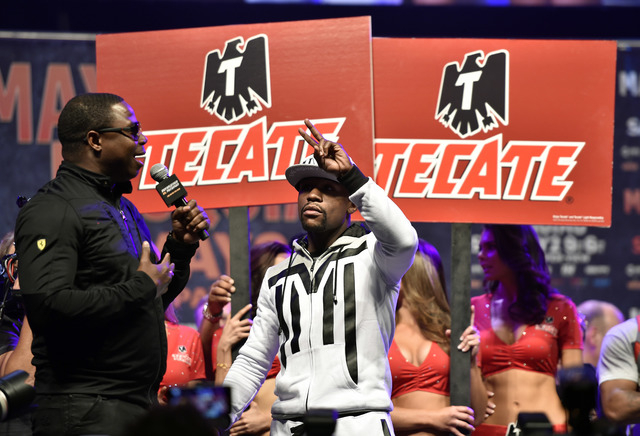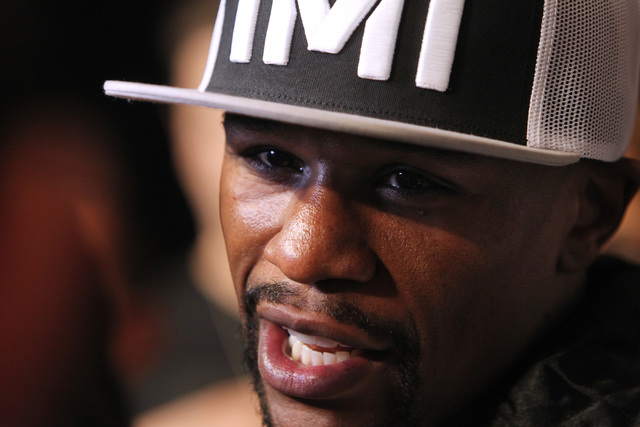 Floyd Mayweather Jr. was born to become a champion.
Before he could even walk, his father, Floyd Sr., had him in boxing gloves throwing punches. He was participating in organized boxing at age 7. By the time he was 14, he was winning national tournaments. He won three national Golden Gloves titles and went 84-6 as an amateur, which included a trip to the 1996 Olympics in Atlanta where he lost a narrow decision in the semifinals and wound up winning the bronze medal.
He has yet to lose as a professional. He brings a 47-0 record with 26 knockouts into the ring at the MGM Grand Garden on Saturday for the biggest fight of his career as Mayweather faces Manny Pacquiao in a world welterweight unification title fight on pay per view.
He turned pro shortly after the 1996 Olympics and won his debut, stopping Roberto Apodaca in the second round at Texas Station on Oct. 11. Dubbed "Pretty Boy Floyd" because of his charismatic good looks and his killer instinct inside the ring, Mayweather racked up victory upon victory. He would win his first world title in 1998 when he stopped Genaro Hernandez in the eighth round of their WBC super featherweight title fight at the Las Vegas Hilton.
It would be the first of many championship nights for Mayweather, whose speed and defense was simply too much for the majority of his opponents. Occasionally, an opponent would give him a challenge and make him work, as the late Diego Corrales did when they fought in 2001 or Jose Luis Castillo did in 2002.
"I always find a way to win," Mayweather said. "I never think that I can lose. It never enters my mind."
He met each and every challenge. He out-brawled the late Arturo Gatti. He rumbled with Zab Judah and DeMarcus Corley and Shamba Mitchell. He outgunned Carlos Baldomir.
By 2007, Mayweather was 37-0 and left Top Rank to promote himself. The boxing world was stunned. But Mayweather knew what he was doing. Along with manager and longtime friend Leonard Ellerbe and music magnate and adviser Al Haymon as his adviser, he set out to make himself a crossover star.
He appeared on ABC's "Dancing With the Stars." He participated in the WWE's "Wrestlemania." He struck up friendships with NBA players and music stars, adding to his own celebrity.
And he kept winning.
In May 2007, Mayweather faced Oscar De La Hoya at the MGM Grand. It was a highly anticipated fight between an established legend in the sport and one of boxing's newest superstars. The fight, which did a record gate at the time of $18 million and sold a still-record 2.45 million pay-per-view buys, was close. The judges saw it Mayweather's way as he defeated De La Hoya by split decision.
Seven months later, Mayweather returned to the ring, this time to face Englishman Ricky Hatton. Despite being on his home turf at the MGM Grand, Mayweather was roundly booed by the sellout crowd. That didn't deter him in the slightest. He dominated and frustrated Hatton, finally finishing him off in the 10th round.
Mayweather was now making tens of millions when he fought and his "Pretty Boy" nickname gave way to a new moniker — "Money."
He strangely decided to take a year and a half off from boxing. He returned to the ring in September 2009 and easily handled Juan Manuel Marquez. The following May, he survived an early onslaught from Shane Mosley and won an easy unanimous decision.
However, Mayweather's life outside the ring was thrusting him into the news. A domestic violence incident with the mother of three of his children led to his arrest. He pleaded no contest to a lesser charge of battery, was sentenced to 90 days in jail and served two months before being released in August 2012.
Mayweather brushed up against law enforcement in several other incidents. At nightclubs. At a roller skating rink. Even at his gated community where he had reported issues with security.
But when it came to boxing, he never lost focus. Mayweather returned to the ring in May 2013 and handled Robert Guerrero with no problem. He had left HBO for Showtime where he had been signed to a six-fight contract for a reported $200 million. He also reunited with his father Floyd Sr. after 11 years. The two had had a falling out years ago and Mayweather elected to have his uncle Roger Mayweather, a former world champion, train him.
In September 2013, Mayweather faced Saul "Canelo" Alvarez, the young Mexican junior middleweight star. The fight, which Mayweather won by majority decision despite dominating from start to finish, set a record for the most money grossed for a pay-per-view boxing match — $150 million. It also set the record for the biggest live gate in boxing history — $20.03 million.
Those numbers figure to be obliterated Saturday when Mayweather puts his perfect record on the line against Pacquiao (57-5-2, 38 KOs).
"It's the best fighting the best," he said. "I know this is the fight everyone wants to see and we listened.
"I've never wanted to win more than I want to win this fight. I'm totally motivated and I plan to put on an unbelievable show."
Contact reporter Steve Carp at scarp@reviewjournal.com or 702-387-2913. Follow him on Twitter: @stevecarprj
FLOYD MAYWEATHER JR. CAREER RECORD
– Oct. 11, 1996 Roberto Apodaca Las Vegas W TKO2
– Nov. 30, 1996 Reggie Sanders Albuquerque, N.M. W UD4
– Jan. 18, 1997 Jerry Cooper Las Vegas W TKO1
– Feb. 1, 1997 Edgar Ayala Chula Vista, Calif. W TKO2
– Mar. 12, 1997 Kino Rodriguez Grand Rapids, Mich. W TKO1
– Apr. 12, 1997 Bobby Giepert Las Vegas W KO1
– May 9, 1997 Tony Duran Las Vegas W TKO1
– Jun. 14, 1997 Larry O'Shields San Antonio W UD6
– Jul. 12, 1997 Jesus Chavez Biloxi, Miss. W TKO5
– Sept. 6, 1997 Louie Leija El Paso, Texas W TKO2
– Oct. 14, 1997 Felipe Garcia Boise, Idaho W KO6
– Nov. 20, 1997 Angelo Nunez Los Angeles W TKO3
– Jan. 9, 1998 Hector Arroyo Biloxi, Miss. W TKO5
– Feb. 28, 1998 Sam Girard Atlantic City, N.J. W KO2
– Mar. 23, 1998 Miguel Melo Mashantucket, Conn. W TKO3
– Apr. 18, 1998 Gustavo Cuello Los Angeles W UD10
– Jun. 14, 1998 Tony Pep Atlantic City, N.J. W UD10
– Oct. 3, 1998 Genaro Hernandez Las Vegas W TKO8 (Won WBC super featherweight title)
– Dec. 19, 1998 Angel Manfredy Miami W TKO2
– Feb. 17, 1999 Carlos Rios Grand Rapids, Mich. W UD12
– May 22, 1999 Justin Juuko Las Vegas W KO9
– Sept. 11, 1999 Carlos Gerena Las Vegas W TKO 7
– Mar. 18, 2000 Gregorio Vargas Las Vegas W UD12
– Oct. 21, 2000 Emanuel Augustus Detroit W TKO9
– Jan. 20, 2001 Diego Corrales Las Vegas W TKO10
– May 26, 2001 Carlos Hernandez Grand Rapids, Mich. W UD12
– Nov. 10, 2001 Jesus Chavez San Francisco W TKO9
– Apr. 20, 2002 Jose Luis Castillo Las Vegas W UD12 (Won WBC lightweight title)
– Dec. 7, 2002 Jose Luis Castillo Las Vegas W UD12
– Apr. 19, 2003 Victoriano Sosa Fresno, Calif. W UD 12
– Nov. 1, 2003 Phillip Ndou Grand Rapids, Mich. W TKO7
– May 22, 2004 DeMarcus Corley Atlantic City, N.J. W UD12
– Jan. 22, 2005 Henry Bruseles Miami W TKO8
– Jun. 25, 2005 Arturo Gatti Atlantic City, N.J. W TKO6 (Won WBC super lightweight title)
– Nov. 19, 2005 Shamba Mitchell Portland, Ore. W TKO6
– Apr. 8, 2006 Zab Judah Las Vegas W UD12 (Won IBF welterweight title)
– Nov. 4, 2006 Carlos Baldomir Las Vegas W UD12 (Won WBC welterweight title)
– May 5, 2007 Oscar De La Hoya Las Vegas W SD12 (Won WBC super welterweight title)
– Dec. 8, 2007 Ricky Hatton Las Vegas W TKO10
– Sept. 19, 2009 Juan Manuel Marquez Las Vegas W UD12
– May 1, 2010 Shane Mosley Las Vegas W UD12
– Sept. 17, 2011 Victor Ortiz Las Vegas W KO4 (Won WBC welterweight title)
– May 5, 2012 Miguel Cotto Las Vegas W UD12 (Won WBA super welterweight title)
– May 4, 2013 Robert Guerrero Las Vegas W UD12
– Sept. 14, 2013 Saul "Canelo" Alvarez Las Vegas W MD12
– May 3, 2014 Marcos Maidana Las Vegas W MD12 (Won WBA welterweight title)
– Sept. 13, 2014 Marcos Maidana Las Vegas W UD12
PROFESSIONAL RECORD 47-0, 26 knockouts
SOURCE: BoxRec.com