Mayweather charged with robbery, domestic battery and other crimes
September 16, 2010 - 11:13 am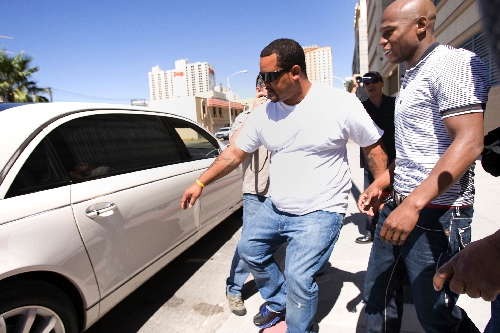 Boxer Floyd Mayweather Jr. has been charged with eight crimes, including four felonies, stemming from a domestic violence incident at his ex-girlfriend's home last week, the Clark County district attorney's office said Thursday.
Mayweather was charged with two felony counts of coercion for threatening to beat his son if he called 911 or left the home, according to the criminal complaint filed against him.
He also was charged with grand larceny and robbery for taking his ex-girlfriend's cell phone, according to the complaint, and four misdemeanors, three counts of harassment and one count of domestic battery.
The boxer was arrested on a grand larceny charge and booked last Friday after turning himself in to Las Vegas police. All charges had been pending as prosecutors reviewed the case. If convicted on all counts, he could face as long as 34 years in prison.
Mayweather posted bail several hours after he was booked at Clark County Detention Center on Sept. 10. A court date was set for Nov. 9.
Richard Wright, Mayweather's lawyer, said he hadn't seen the charges by Thursday afternoon.
"If (the charges) are based upon the same incidents in the (police) report, it seems like it's kind of a bombastic characterization," Wright said. "We'll answer it in court."
Mayweather, 33, is accused of assaulting Josie Harris in the early morning of Sept. 9, after she told him she was dating another man, a police report detailed.
Harris and Mayweather have three children together, and he owns the house in the 3800 block of Tropical Vine Street where Harris lives and where the incident occurred.
According to the report, the couple's 10-year-old son, Koraun Mayweather, saw the boxer assault his mother. He told police he saw his dad "on his mother and was hitting and kicking her."
Harris told police all their children witnessed the attack, in which she suffered minor injuries on her face and arms, the report said. She said Mayweather told them "he would beat their asses if they left the house or called the police."
Koraun told police he tried to run from the house but was blocked at the door by James McNair, a Mayweather associate.
The boy escaped through a back door, where he jumped a security gate and contacted a security guard, the report said.
Koraun reported that Mayweather also took his and his brother's cell phones.
A friend of Harris, Georgia Parker, told police Mayweather used Harris' cell phone to call her about an hour after the incident.
The domestic battery charge is a misdemeanor. A third domestic battery charge in seven years is automatically a felony. Mayweather pleaded guilty to two domestic battery charges in 2002, but those convictions are too old to qualify.
According to the report, Harris returned from bowling at about 2:30 a.m. Thursday to find Mayweather in her home, talking with their children.
Mayweather gave one of his sons an iPhone as a gift and gave Harris $200 to put under his daughter's pillow for the tooth fairy, the report said.
The ex-couple argued about the tidiness of the home, and Mayweather confronted her about a man she'd been with that night, the report said.
As the argument escalated, Harris called police about 3 a.m. and asked that Mayweather be removed from the premises. When officers arrived, Mayweather told police he owned the house and wanted her evicted.
Officers explained the eviction process to the boxer, and he left, the report said.
Harris told police Mayweather returned to the house several hours later. Harris said she awoke about 5 a.m. and Mayweather was standing over her, reading text messages from her phone.
Mayweather asked her if she was sleeping with a man named "C.J."
Harris replied, "Yes, that is who I'm seeing now," the report said.
Harris told police Mayweather then grabbed her by the hair and pulled her off the couch, striking her in the head, face and arms. During the attack, Mayweather yelled, "I'm going to kill you and the man you are messing around with," and "I'm going to have you both disappear," she told police.
She was treated at Southern Hills Hospital and Medical Center that morning and filed a temporary protection order against the boxer later that day.
According to the protection order, Harris said Mayweather also visited the home a week and a half before the incident and threatened her about her new boyfriend. Police were called, but Mayweather left before officers arrived, she wrote.
Harris has accused Mayweather of domestic violence in the past, only to recant or stop cooperating with police.
In December 2003, she told Las Vegas police that he assaulted her outside a nightclub during an argument over another woman. But at the July 2005 trial, Harris testified that she had lied about being beaten. She said Mayweather was a "teddy bear" who had never laid a hand on her. The jury acquitted Mayweather of the felony domestic violence charge.
In 2005, he was convicted in the unprovoked beating of two women in the Ra nightclub at Luxor and received a suspended one-year jail sentence and an order to undergo counseling.
Earlier this year, one of Mayweather's bodyguards was arrested and charged with shooting at another man in a Las Vegas skating rink parking lot in 2009. The shooting happened after Mayweather confronted the victim over a text message from a few months earlier.
Mayweather does not hold a world championship title now but has won nine championships in five weight classes.
He was rated by The Ring Magazine as the No. 1 "pound for pound" fighter from July 18, 2005, to June 2008. The magazine named him Fighter of the Year in 1998 and 2007, and the Boxing Writers Association of America selected him as Fighter of the Year in 2007.
Contact reporter Mike Blasky at mblasky@reviewjournal.com or 702-383-0283.
Criminal complaint against Floyd Mayweather Jr.