Mayweather, Mosley act out animosity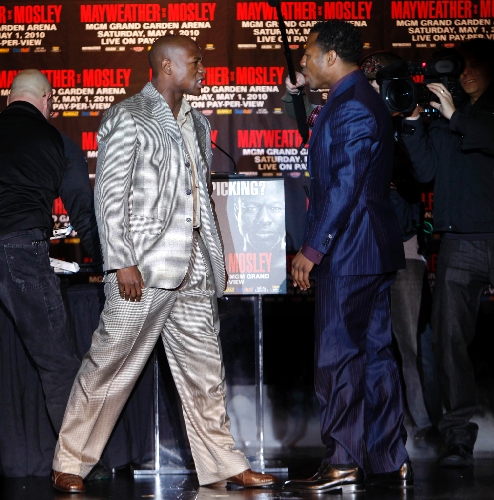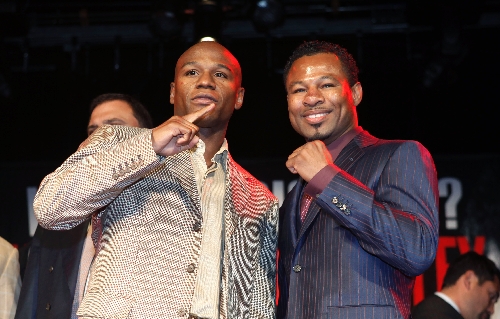 NEW YORK — Music blared, smoke billowed across the stage, and the curtain dropped to reveal Floyd Mayweather Jr. and Shane Mosley dressed to the nines as a crowd of several thousand inside the Nokia Theater let out a roar.
They won't meet in the ring until May 1 at the MGM Grand, but the first stop on a whirlwind, three-city publicity tour Tuesday included plenty of pomp and pizazz.
Fireworks, too.
After lengthy introductions that would have made silver-tongued announcer Michael Buffer blush, the unbeaten Mayweather and the welterweight champion Mosley sauntered to the middle of the stage and stood face to face.
Jawing turned to pointing, pointing turned to shoving, and before long, promoters from both camps were rushing forward to separate them.
Perhaps the altercation was staged, but it's hard to fake the animosity between them.
"The thing is this: He may be the champ, but we all know belts don't do nothing but collect dust," Mayweather said, smiling. "I'm in the check-cashing business, baby."
Both should be able to cash hefty checks after this fight, arguably the biggest in the sport not involving Manny Pacquiao. Mayweather and Mosley have been circling each other for years, and the possibility they would finally meet in the ring gained traction when Mosley crashed a post-fight interview after Mayweather defeated Juan Manuel Marquez in September.
Richard Schaefer of Golden Boy Promotions brazenly predicted the fight will do 3 million pay per views, which would shatter the record set by Mayweather and Oscar De La Hoya in 2007.
"We have the two best American fighters of our generation," Schaefer said. "Mayweather has become a household name, let's face it. Love him or hate him, he's a household name. And with Shane Mosley, you have the perfect dance partner."
The fight came together after weeks of negotiations between Mayweather and Pacquiao failed to produce an agreement. The Filipino fighter refused Olympic-style drug testing — Mayweather's camp has accused Pacquiao of using performance-enhancing drugs — and he will instead fight Joshua Clottey on March 13 at Cowboys Stadium.
When potentially the richest fight in boxing history fell through, Mayweather (40-0, 25 knockouts) turned to the next-biggest attraction in the loaded 147-pound division.
Mosley (46-5, 39 KOs) was supposed to face Andre Berto in a unification fight in January, but Berto's family was severely impacted by the earthquake in Haiti, forcing him to back out.
"It's been a long time since I got a chance to show the world that I'm the best fighter, and that's all that I really want, to be the best," Mosley said. "I'm going to take my hat off to Mayweather, because I didn't think I was ever going to get a fight from any of these top fighters. He said, 'Yeah, man, I'll take that challenge. I'll fight you.' "
Both fighters will undergo random blood testing, which they claim will set a standard for safety in boxing. Such an agreement perked some eyebrows considering Mosley has acknowledged unintentionally using steroids before defeating De La Hoya in 2003.
Mosley claims it was a mistake made by a strength coach connected to the BALCO lab, and insisted again Tuesday that he lives a clean life — even before Mayweather dredged up the past.
"I can't say how many fights Shane has won in the past because we know Shane was using enhancement drugs. That's something we do know," Mayweather said. "It's no different than Pacquiao. I offered Pacquiao the fight. I said, 'We'll give you $25 million.' I never met a man who wouldn't take a $25 million drug test."
The publicity tour moves to Washington, D.C., today before wrapping up Thursday in Los Angeles.