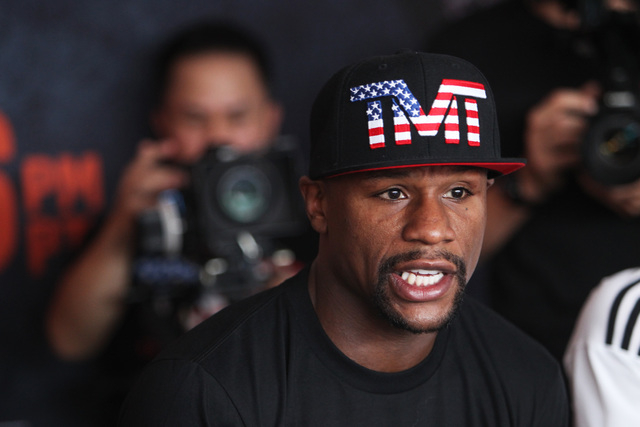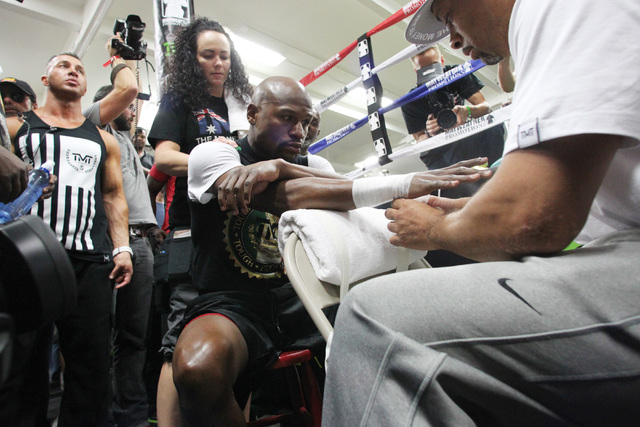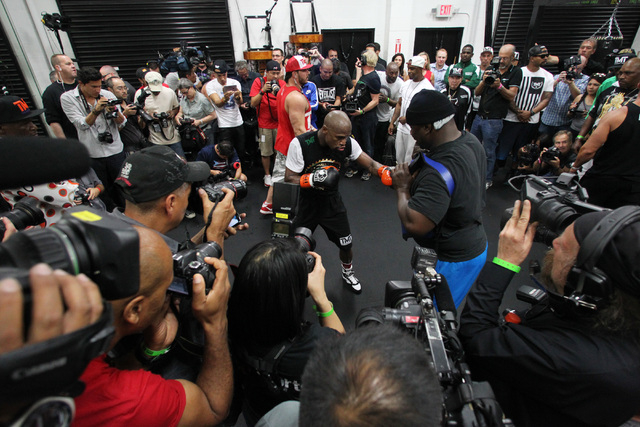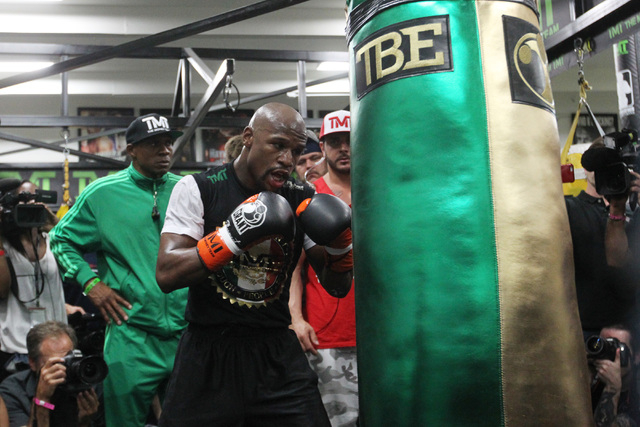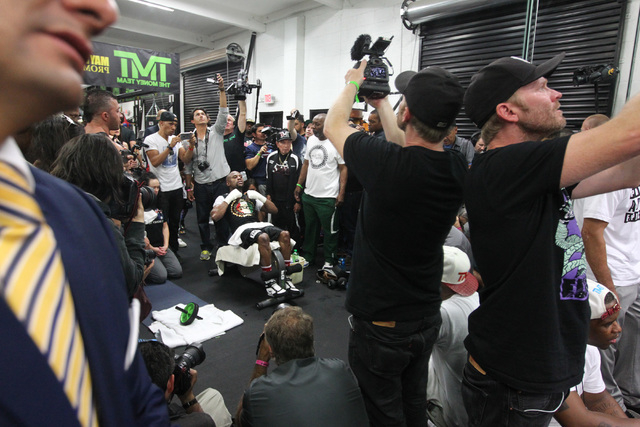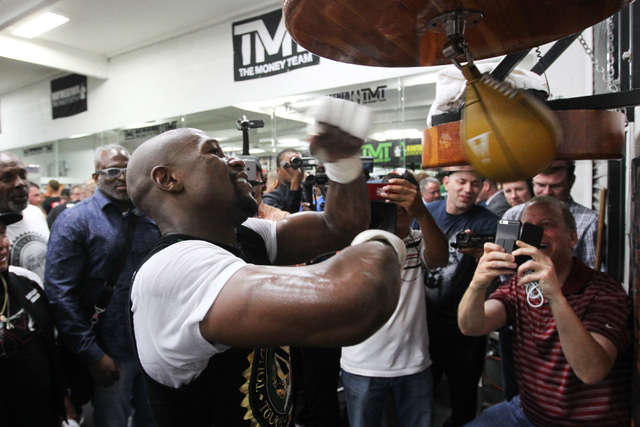 Floyd Mayweather Jr. said one fight isn't going to define his career. Even if that fight is the most anticipated one in decades.
Mayweather held court with reporters outside his Las Vegas gym on a windy Tuesday afternoon as part of his media day to promote his May 2 megafight with Manny Pacquiao at the MGM Grand Garden. And despite his 47-0 record with 26 knockouts. Mayweather refuses to accept that this fight will shape his legacy.
"One fight does not define my legacy," Mayweather said. "If one fight was to define who Floyd Mayweather is, why did I bother fighting all those other fights? I could have just fought one time and that would have been it.
"So one fight does not determine Floyd Mayweather's career."
That said, Mayweather understands that this is not just another fight. People who never watch boxing are expected to plunk down $99.95 to watch him and Pacquiao put on a show.
And when asked if the fight can live up to the gargantuan amount of hype it has received, Mayweather said: "I can't really say. I think we have two entertaining styles that hopefully will produce a good fight. I'm a future Hall of Famer. (Pacquiao) is a future Hall of Famer. I've done record-breaking numbers before. This is not my first dance.
"We did record numbers with Oscar De La Hoya (in 2007). We broke records against Canelo (Alvarez in 2013). I think we're going to do big numbers with this fight. But whether we can live up to the hype? I don't know. I'm not going to tell someone what they can or can't spend. I'm not telling no one what to do. No one is forced to buy anything.
"My job is to go out and be Floyd Mayweather. People can say, 'He's a defensive fighter,' or whatever. But when it's all said and done, when the book is written, people aren't going to say, 'He's a defensive wizard.' They're going to say 'Floyd Mayweather is a winner.' "
Mayweather, 38, proclaimed himself ready to fight and said his training camp, which he has set the tone for in a most businesslike fashion, has been everything he could have asked for.
"It's been a smooth, exciting camp," he said. "I'm happy. Some of the past camps haven't been so smooth. But I've been very pleased with this camp.
"We've had good sparring partners. We have a great game plan, and the one thing you know I can do is I can adjust. Manny Pacquiao is a very reckless fighter. You saw what happened when (Juan Manuel) Marquez knocked him out. I fight with smarts. I'm always five, 10 steps ahead of my opponent. I could have fought as a reckless fighter, but I don't think I'd have had the same success.
"I'm not saying we're going to knock him out. All I'm saying is there's nothing he's going to do inside the ring that I haven't seen before."
Mayweather has changed his training regimen for this fight. He has been in the swimming pool. He has chopped wood. He brought in Alex Ariza, Pacquiao's former strength and conditioning coach, to work with him. Mentally, he felt a need to do things differently.
"I felt I needed to go back to square one," Mayweather said. "I went back to the basics.
"Everyone plays a major role within the camp. Alex Ariza, he's a solid guy. We communicate extremely well. He likes to do certain things his way, I like to do certain things my way. So like anyone, we compromise and get on the same page."
And while Mayweather might not be the same fighter he was five or six years ago, he said to dwell on the past would be a waste of time and energy.,
"I don't think about five or six years ago," he said. "My focus is on today."
The boxing world has clamored for this fight for at least five years, but Mayweather said the time wasn't right then for he and the 36-year-old Pacquiao (57-5-2, 38 KOs).
"I don't regret anything," he said. "Everything in life is about timing. You can't rush things in life. Certain things, they're meant to be.
"I don't think this fight was as big five or six years ago. Me, I was still getting bigger and bigger. The names are much bigger now than they were before. We're both bigger names now than we were five, six years ago. We're meeting at the pinnacle of our careers. The time is right."
Contact reporter Steve Carp at scarp@reviewjournal.com or 702-387-2913. Follow him on Twitter: @stevecarprj.