Mayweather-Pacquiao to fight in 2015, says Floyd Sr.
October 9, 2014 - 7:35 pm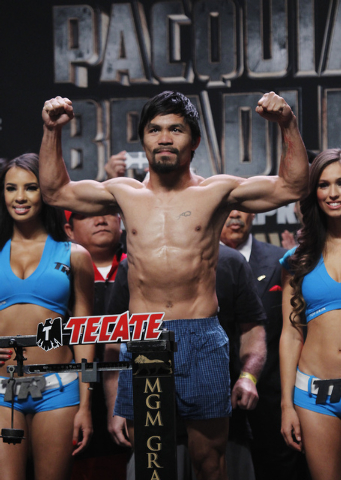 "Money Man" vs. "Pac Man."
The fight that the boxing world has been waiting to see for years will finally take place in 2015.
That's the word from Floyd Mayweather Sr., who said Thursday that his son, Floyd, will put his perfect record and "pound-for-pound best boxer" title on the line against Manny Pacquiao sometime next year.
"It's gonna happen. That fight's gonna happen. Trust me," the elder Mayweather told fighthype.com. "That fight's definitely gonna happen. It's a fight for the world, man, right there. It's the biggest fight that has ever been in life, so like I said, man, that fight's gonna happen."
Mayweather sports a 47-0 record that includes 26 knockouts. The 37-year-old holds the welterweight and junior middleweight titles. He has two fights remaining on his Showtime contract and has indicated he will retire when the contract is fulfilled.
He has not revealed his future fight plans other to say he plans a May fight.
"(I'll) tell you right now, he never told me the fight's gonna happen, but … the fight's gonna happen," Mayweather Sr. told fighthype.com. "You mark my words, and we'll see."
Pacquiao defends his welterweight title Nov. 22 against Chris Algieri in Macau, China.
The 35-year-old Filipino's promoter, Bob Arum, has said that HBO and Showtime/CBS have been talking about working together on a joint pay per view.
RELATED:
A Mayweather-Pacquiao fight in 2015? Maybe, maybe not
Mayweather says he's retiring, again