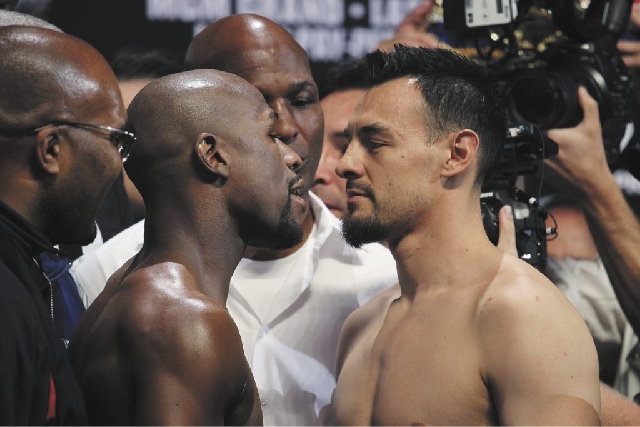 The song has been blasting through the speakers at his gym, so don't be surprised if Floyd Mayweather Jr. walks to the MGM Grand Garden ring tonight as it plays.
"If there's somethin' strange … in your neighborhood … who ya gonna call?
"Ghostbusters!"
Mayweather intends to do some ghost-busting tonight against Robert Guerrero, much the same way Bill Murray and Dan Aykroyd did in the 1984 comedy. But Mayweather will have to rely on his fists and his guile rather than some fancy contraption to beat Guerrero, nicknamed "The Ghost."
"I never go into a fight thinking I'm beatable," said Mayweather, who will put his 43-0 record and WBC welterweight title on the line tonight. "I feel I can adjust to anything Robert Guerrero does."
Mayweather, 36, will be fighting for the first time in a year and making his first appearance on Showtime pay per view. He signed a six-fight deal with the network after appearing on HBO for his entire career.
His last appearance in the ring was May 5, 2012, when he easily outpointed Miguel Cotto at the Grand Garden to win Cotto's WBA junior middleweight belt. A few weeks later, Mayweather reported to the Clark County Detention Center to serve his sentence after pleading guilty to a domestic battery charge from 2010.
Mayweather said the 60 days he spent in jail won't impact him negatively tonight. He looked absolutely ripped at Friday's weigh-in at the Grand Garden — coming in at 146 pounds, with Guerrero at the welterweight limit of 147.
"I've come back from longer layoffs before," said Mayweather, citing the time off between beating Ricky Hatton in December 2007 and Juan Manuel Marquez in September 2009.
"I trained smarter for this fight. When I fought Cotto, I overtrained. I wasn't at my best that night. But I still got the job done.
"For this fight, I got my rest. I didn't overtrain. I'm ready to go out and perform."
He has plenty of incentive to perform. According to the Nevada Athletic Commission, Mayweather will make a minimum of $32 million, matching the record amount he made against Cotto. Guerrero will get $3 million, the most of his career.
Guerrero (31-1-1, 18 KOs) said he never lost focus after his arrest at New York's John F. Kennedy International Airport on March 30 for allegedly trying to bring a gun on his flight to Las Vegas following a three-day East Coast media tour to promote the fight.
"I'm good," said Guerrero, 30. "We've got a great game plan, and we're ready to make history."
Guerrero is coming off a sensational 12-round win over Andre Berto on Nov. 24. Mayweather acknowledged that performance earned Guerrero, who has called out the champion for the past two years, tonight's title shot.
"He deserves this chance," Mayweather said. "But I've been at this level many times before. This is new for him."
Guerrero's best chance might be to use his southpaw skills and power to try to throw Mayweather's timing off and land some solid shots. Guerrero probably will try to keep the fight out of the middle of the ring, where Mayweather's superior speed and elusiveness make him a difficult target.
Mayweather has dealt with southpaws before. DeMarcus "Chop Chop" Corley made him work. So did Zab Judah. But Mayweather ultimately prevailed in both fights, and he said he'll be ready for anything tonight.
"He's not faster than Zab Judah, and he doesn't punch as hard as DeMarcus Corley," Mayweather said. "But everybody has a game plan, and my game plan is to just adjust and adapt once I get in that squared circle. But he'll have to adjust and adapt to me because I control the tempo always."
Mayweather added: "He's a young, tough competitor. He talks a good game, so we'll have to see if he can fight the same way he talks."
As of late Friday afternoon, Mayweather remained the favorite at the MGM Resorts sports books at minus-600, with Guerrero at plus 400.
Contact reporter Steve Carp at scarp@reviewjournal.com or 702-387-2913. Follow him on Twitter: @stevecarprj.
MAYWEATHER VS. GUERRERO
■ WHAT: WBC welterweight championship
■ WHEN: 4 p.m. today
■ WHERE: MGM Grand Garden
■ RECORDS: Mayweather 43-0, 26 KOs; Guerrero 31-1-1, 18 KOs
■ WEIGHTS: Mayweather 146; Guerrero 147
■ OFFICIALS: Referee — Robert Byrd; Judges — Duane Ford, Jerry Roth, Julie Lederman
■ PURSES: Mayweather $32 million; Guerrero $3 million
■ TV: Showtime pay per view (Cable 501), 6 p.m. ($59.95)
■ LINE: Mayweather minus-600; Guerrero plus-400