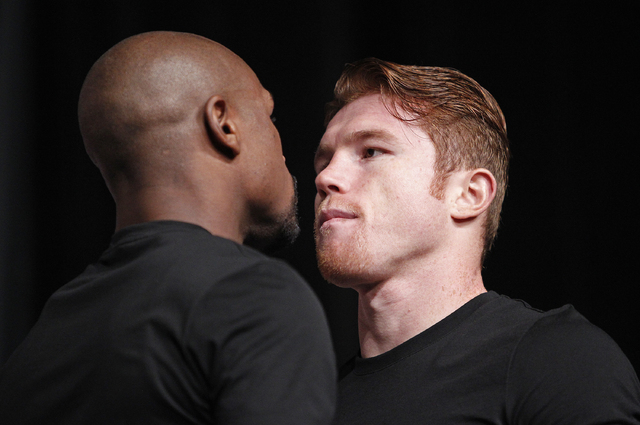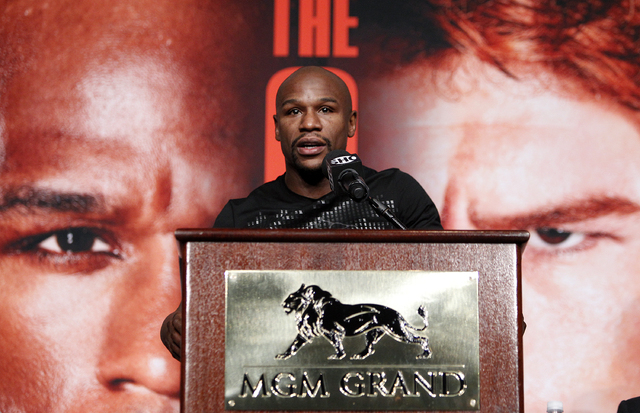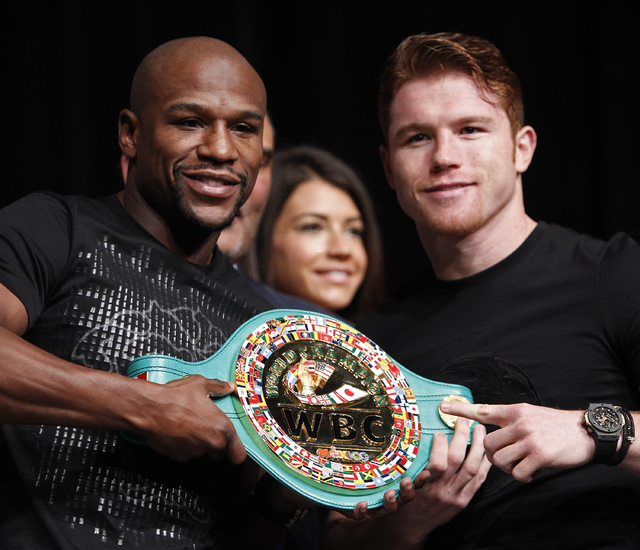 Floyd Mayweather Sr. didn't speak Wednesday during the final news conference to promote the junior middleweight title fight between Floyd Mayweather Jr. and Saul "Canelo" Alvarez. But that doesn't mean he kept quiet.
Kept off the dais at the MGM Grand's KA Theatre probably for peacekeeping purposes, the elder Mayweather didn't mind having the spotlight on his son, who takes a 44-0 record with 26 knockouts into Saturday's showdown with Alvarez (42-0-1, 30 KOs) at the MGM Grand Garden.
"He's the fighter; he should get the attention," said Floyd Sr., who trains his son, the WBA junior middleweight champion.
But the news conference could have used some excitement. Nobody said anything of consequence, and it was a steady stream of thanking sponsors, thanking their teams, thanking Showtime Pay Per View and thanking the MGM.
Had Floyd Sr. been on stage, there's little doubt there would have been verbal fireworks. Even off-stage from the seats, he had plenty to say about the fight.
"Canelo, he ain't no problem," he said of Alvarez, the WBC junior middleweight champ. "My son was sharp when he fought (Robert) Guerrero (May 4), and he's sharper for this fight.
"How's Canelo gonna beat my son? Floyd's faster. Floyd's smarter. Floyd's more experienced. Floyd's in tremendous condition. So how's Canelo gonna beat him? Canelo's going to wind up being his sparring partner."
The elder Mayweather thought his son was tremendous in registering a 12-round unanimous decision over Guerrero. Floyd Jr. was disappointed he didn't knock out Guerrero, but he hurt his right hand during the fight, compromising his chances of scoring a KO.
Years of fighting have taken a toll on the 36-year-old Mayweather's hands, his father said. But he hasn't seen any problems with Floyd Jr.'s hands during training camp. Neither has Rafael Garcia, the assistant trainer whose responsibility is to keep Mayweather's hands intact.
"He's fine," Garcia said. "No problems whatsoever."
Mayweather Sr. said this camp was even smoother than the last one now that he and his son have reunited in the ring. He had been in exile since 2000, with Roger Mayweather, Floyd Sr.'s brother, serving as head trainer.
But with Roger's health in question — he suffers from diabetes — Floyd Jr. brought his father back for the Guerrero fight and they remain a team.
"We picked up where we left off," Mayweather Sr. said. "Me and Floyd, we understand each other. We both want the same thing — for him to win.
"I see him now, he's on top of his game. But it's still about hitting the other guy and not getting hit. We don't need to see him get hit unnecessarily. So all the things I taught him when he was little, how to be great defensively, we're still doing those things."
But it takes more than defense to win fights. And Mayweather Sr. said they have been working on the power combinations that will be needed to stop Alvarez.
"You can't win with just defense; you have to throw punches," he said.
Mayweather Sr. also noticed that Alvarez was thinner than he expected and thinks it could compromise his punching power.
"He's still trying to lose weight, and he's down to just muscle," he said. "Where's the power going to come from?"
Forever the poet laureate, the elder Mayweather made his prediction in rhyme:
"Floyd is the best, I must confess;
For all the rest, there is no contest.
He's going to shock Canelo's mind;
He's one of a kind; He's the greatest fighter of all time."
NOTES — Golden Boy chief executive officer Richard Schaefer said more than 15,000 closed-circuit seats have been sold at MGM Resorts properties along the Strip at $100 per ticket and an additional 12,000 were added. CCTV tickets remain available through mgmgrand.com. … Friday's weigh-in is open to the public. Doors open at noon, with the weigh-in at 2:30 p.m.
Contact reporter Steve Carp at scarp@reviewjournal.com or 702-387-2913. Follow him on Twitter @stevecarprj.