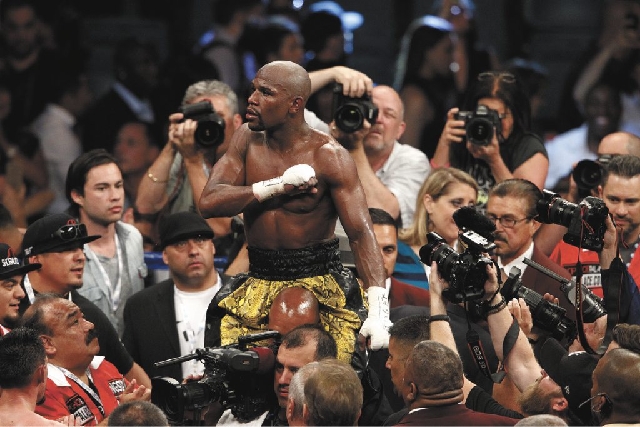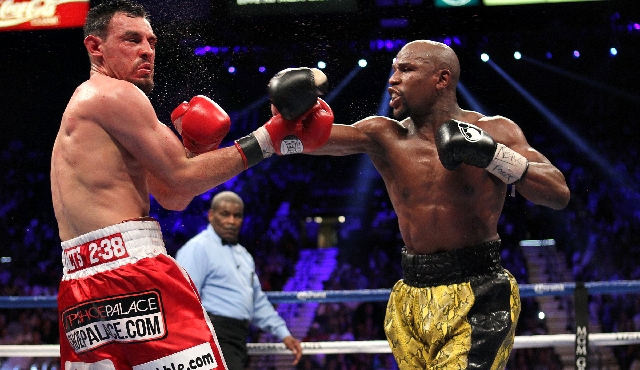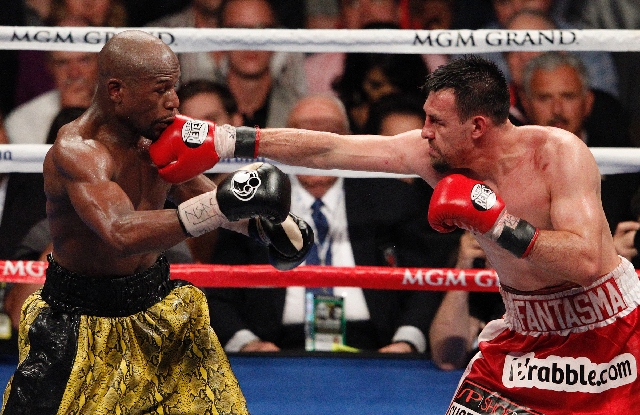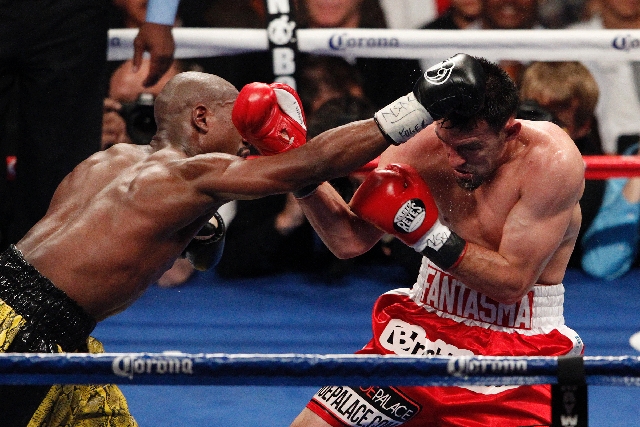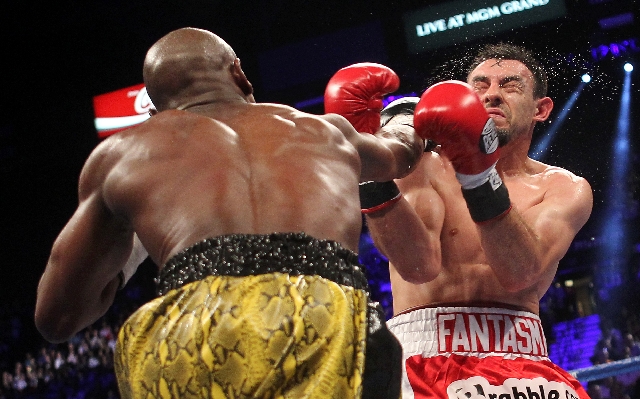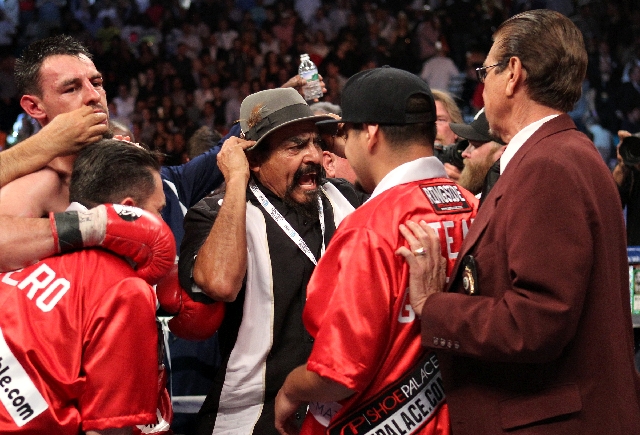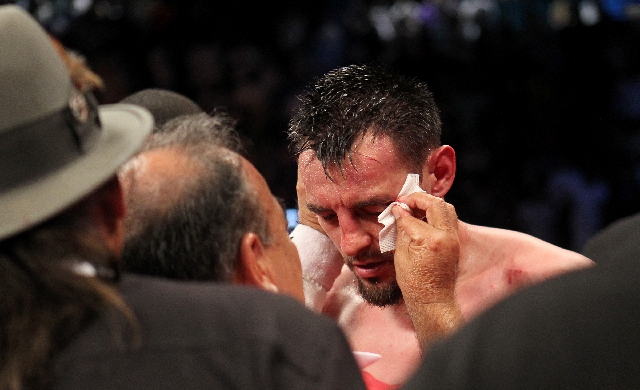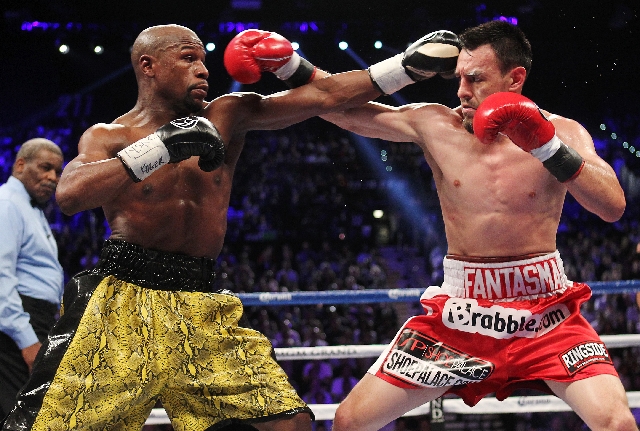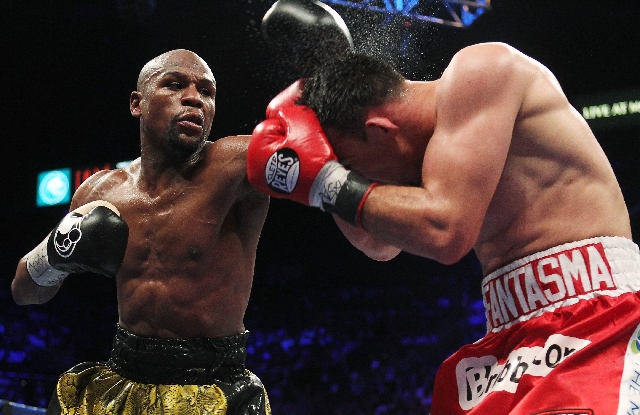 Floyd Mayweather Jr. was a one-punch fighter Saturday night. And it was all he needed to remain unbeaten.
The 36-year-old future Hall of Famer put on a boxing clinic, eluding the aggressive Robert Guerrero and countering all night with a lead right hand to win going away while retaining his WBC welterweight title at the MGM Grand Garden.
Mayweather (44-0) used his superior ring generalship and defense — combined with the counter right — to score a 12-round unanimous decision in front of 15,880. All three judges — Duane Ford, Jerry Roth and Julie Lederman — scored it identically, 117-111 for Mayweather.
"Robert Guerrero was a tough warrior," Mayweather said. "He tried to press the attack, but there wasn't much he could do. I felt comfortable in the ring. It was a good tough battle."
With his father, Floyd Sr., working his corner for the first time since 2000, Mayweather went back to his old-school ways while earning a $32 million payday. He deftly eluded Guerrero and never took any serious punishment.
"I was really happy to be back with my father," he said. "After the (Miguel) Cotto fight, I knew I was getting hit too much. And with my father back, my defense was on point."
The elder Mayweather said: "I thought Floyd did an excellent job tonight. I helped bring back the defense. I thought he was getting hit too much, too.
"But I think my son did a great job tonight and I'm happy to be back in his corner. There wasn't anything he couldn't do in the ring tonight. Honestly, Floyd could have danced all night. I told him to steal it with the right hand. It was the punch (Guerrero) couldn't see and he couldn't stop."
And had Mayweather not hurt his right hand, perhaps he would have knocked out Guerrero. He certainly tried in the 11th round as he threw some huge hooks to the body and head, but Guerrero was able to stay upright and finish.
"I was looking for the knockout, but I hurt my right hand, I don't know when," Mayweather said. "I think it was midway through the fight. But I just had to box smart."
And box smart he did. Mayweather frustrated the southpaw from Gilroy, Calif., virtually from the outset, not letting himself get hung up on the ropes where Guerrero could do damage. Whenever Guerrero managed to pin Mayweather, he couldn't keep him there for long. Mayweather spun his way out of trouble, then tagged Guerrero with the right hand.
Even when he claimed to be hurt, Mayweather still hit Guerrero with the right. But he did use his left hand more in the second half of the fight.
"Floyd was very tricky with his punches," Guerrero said. "He hit me with some great body shots, and that's why he's still undefeated."
The final punch stats showed Mayweather's domination. He connected on a higher percentage of total punches (41 percent to 19 percent), jabs (19 percent to 11 percent) and power punches (60 percent to 28 percent).
Guerrero simply wasn't able to be as busy as he had in his two previous fights as a welterweight. He had averaged 71 punches per round in wins over Selcuk Aydin and Andre Berto. Against Mayweather, Guerrero managed only 48 punches per round as Mayweather proved to be too elusive a target.
"He's slick, and he's quick, and he's better than I thought," Guerrero said. "He was definitely on his game tonight. I'm going to get back in the gym and reposition myself to fight him again before he retires."
And while Guerrero was rational in assessing his defeat, his father and trainer, Ruben, was anything but.
"Mayweather's a chicken; he ran all night," the elder Guerrero bellowed prior to the scores being read after the final bell.
But whether they will meet again is unlikely. Mayweather will get his right hand checked out and see how much damage there is before he decides whether he is available to fight Sept. 14 — and against whom.
"I'm just going to go home and get some rest," he said.
Contact reporter Steve Carp at scarp@reviewjournal.com or 702-387-2913. Follow him on Twitter: @stevecarprj.