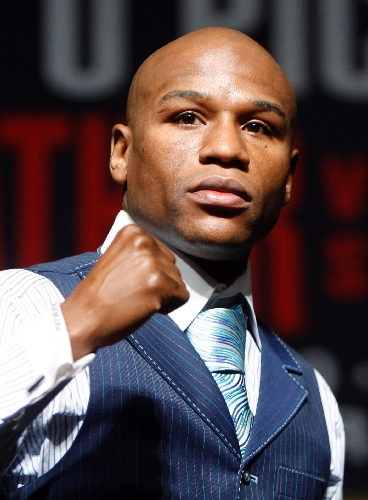 After compiling a spotty record in his time away from boxing, Floyd Mayweather Jr. is returning to the ring, where he's still perfect.
The Las Vegas-based welterweight (41-0, 25 knockouts) will end a 16-month layoff by fighting WBC champion Victor Ortiz on Sept. 17. The MGM Grand is likely to host the bout, but no contract had been signed as of Tuesday.
"I am ready to return to the ring and give my fans a fantastic night of boxing by the best out there, and for me, that is Victor Ortiz," Mayweather said in a statement. "At this stage of my career, these are the challenges I look for — a young, strong, rising star looking to make his mark in boxing by beating me.
"Like the rest of my opponents, he is going to try to prove that he can beat me. I commend him for accepting the fight. But on Sept. 17, Ortiz is just going to be another casualty, the 42nd one who tried and failed. Trust me. I'll be ready."
Mayweather's return might mean he's gearing up for a showdown with Manny Pacquiao in 2012.
WBO welterweight champion Pacquiao, considered boxing's pound-for-pound king, has said he wants to fight Mayweather, but attempts to make the fight over the past two years have failed.
Pacquiao will meet Juan Manuel Marquez for the third time Nov. 12 at the MGM Grand.
Golden Boy Promotions CEO Richard Schaefer said he can't speak to a possible Mayweather-Pacquiao showdown, but Mayweather's return can only help the megafight's prospects.
"I think I speak for everyone when I say I'm excited to see him back," Schaefer said. "Floyd is one of the most skillful fighters of our generation, and to have Floyd back is good for the sport."
Schaefer said negotiations between the Mayweather and Ortiz camps took about a month, and he commended Mayweather for taking on such a high-quality opponent.
"This isn't some tuneup," Schaefer said. "Floyd looks for the most difficult challenges, and Ortiz is big and strong and he'll be a real challenge for Floyd.
"Victor Ortiz has bounced back and he has shown he has the heart and the will to be a champion. He's a young guy, just 24, and he knows this is an opportunity of a lifetime. If he beats Mayweather, his life changes dramatically."
Ortiz (29-2, 22 KOs) has won six fights in a row, most recently defeating Andre Berto in April for the WBC title.
"I respect Mayweather because he has been a champion for many years, and I know he will be ready, but so will I," Ortiz said. "I'm a world champion for a reason, and I am not going to let go of my title anytime soon."
Mayweather's last fight was an impressive 12-round unanimous decision over Shane Mosley in May 2010. He weathered a huge shot to the chin in the second round, then dominated Mosley the rest of the way.
But Mayweather, 34, has fought just three times since defeating Oscar De La Hoya by split decision in May 2007.
Mayweather is also facing three legal fights, all involving assault allegations. One is a felony domestic violence case involving Mayweather and his ex-girlfriend. The two others stem from separate incidents with security at Southern Highlands, where Mayweather lives.
He is also reportedly having problems with the Internal Revenue Service again. The Detroit News reported in April that Mayweather owes the IRS $3.4 million from 2009.
Mayweather co-manager Leonard Ellerbe said his fighter will have no problems staying focused during his training for the Ortiz fight.
"Floyd's the best conditioned athlete in sports," Ellerbe said. "The time off has done wonders for him. He's fresh and ready to go.
"The lawyers will continue to do the excellent job they're doing, and Floyd will prepare like he always does and give a great performance inside the ring."
The fight will be televised on pay per view, but a distributor has not been signed. A nationwide media tour is set to begin June 20. Ticket and PPV information are expected to be released in conjunction with the start of the tour.
Contact reporter Steve Carp at scarp@reviewjournal.com or 702-387-2913. Follow him on Twitter: @stevecarprj.