Mayweathers are on the same page for Maidana rematch
September 2, 2014 - 7:03 pm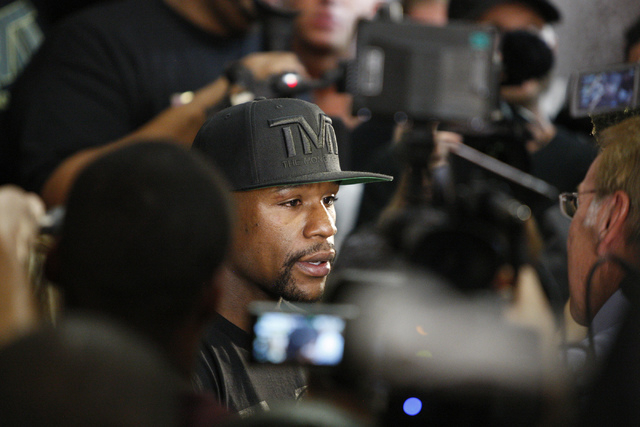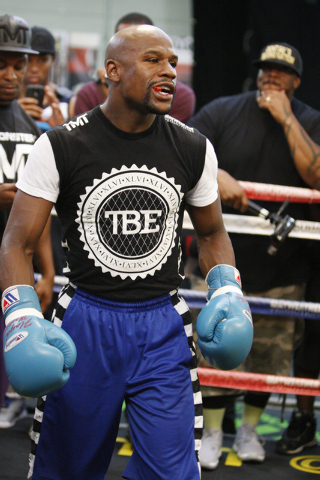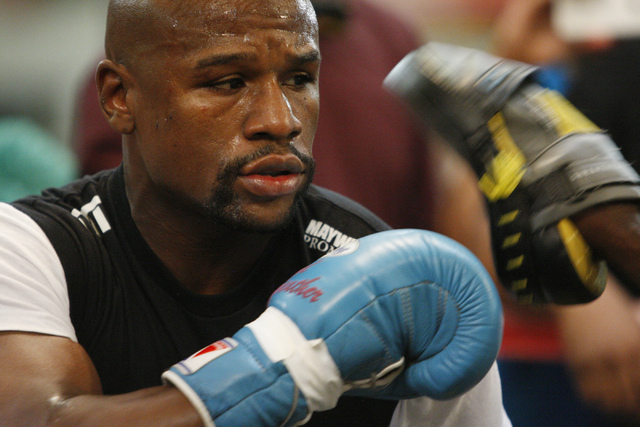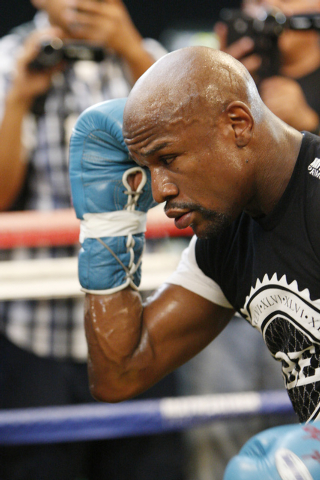 As he watched his son lay on the ropes of the ring at the MGM Grand Garden and absorb punishment at the fists of Marcos Maidana, Floyd Mayweather Sr. was thinking to himself, "Wait a minute; this ain't right."
The game plan he had crafted for his son to use against Maidana didn't include getting hit in the back of the head, hit below the belt, head butted and elbowed. But when the younger Mayweather opted to not keep the fight in the middle of the ring, those were some of the consequences
Still, when it was all said and done on May 3, Mayweather, the world welterweight champion, won a majority decision and remained undefeated, improving his perfect record to 46-0 (26 knockouts).
"I was concerned," Floyd Sr. said Tuesday at his son's media day workout at Mayweather Jr.'s gym off Spring Mountain Road to help promote the Sept. 13 rematch at the Grand Garden against Maidana (35-4, 31 KOs). "I'm watching Floyd get hit and that wasn't the game plan we worked on. For some reason, he thought he would do things different.
"It was frustrating to see. But he did what he did."
So what did Mayweather see that everyone else, including his father, couldn't see?
"It was making adjustments, that's all," he said. "We didn't change the game plan. I just had to adjust my space and distance from Maidana. That's what champions do. It's totally different on the inside from what you guys see on the outside. I'm hitting him with deadly shots to the body; I'm counter-punching him so his thought process becomes totally different."
"I did win nine of the 12 rounds. But I know the bar is set higher for me than other fighters, so some people may think I had a bad night."
True. The 37-year-old Mayweather has been dominant through his latest run of fights, usually giving away one or two rounds at most, depending on who's judging that particular night. On May 3, the scores were 117-111, 116-112 and 114-114, so two of the three judges thought Mayweather had a decided edge in the fight.
Still, that he took the blows that he did from Maidana in their first meeting — both legal and illegal — bothers his father, who serves as his head trainer.
"He didn't need to take those shots," the elder Mayweather said. "That head butt from Maidana? He didn't have to have that happen. If he ain't laying on the ropes, Maidana can't head butt him like he did."
Mayweather suffered a cut over his right eye in the fourth round from the head butt which added to his father's anxiety. But cornerman Rafael Garcia took care of the gash quickly to where it didn't become a major issue.
But both Mayweathers expect the same kind of fight from Maidana in the rematch, which will be televised on Showtime Pay Per View.
"I won. I don't have to adjust," Mayweather Jr. said. "But I expect the same dirty fighter I saw the first time. My job is to be cautious and be smart."
And will he match Maidana cheap shot for cheap shot?
"We'll see," he said. "I may have to win all 12 rounds or go for the knockout.
"I'm not just fighting the fighter. I'm fighting all the critics, all the biased fans. When you're at the top, people want to take shots at you."
However, his father may be prepared to fight fire with fire.
"Maidana's an MMA fighter. He ain't no boxer," Floyd Sr. said. "All that (expletive) he did in the ring the first fight, that ain't boxing. He knows he can't match Floyd's skills so he has to try to cheat to win.
"All I can tell you is this — if Maidana tries that same crazy (expletive) again, I may knock him out myself."
Both Mayweathers insist they're on the same page for the rematch and that the preparations have gone smoothly for next Saturday.
"We talked and we're together," Mayweather Jr. said. "We've had a tremendous (training) camp and I know what to expect so I'll be ready."
Mayweather Sr. said: "We've got a totally different game plan which is much better and all Floyd has to do is follow the game plan and everything will be fine. When you listen to your daddy, you'll be successful at all times."
Contact reporter Steve Carp at scarp@reviewjournal.com or 702-387-2913. Follow him on Twitter: @stevecarprj.