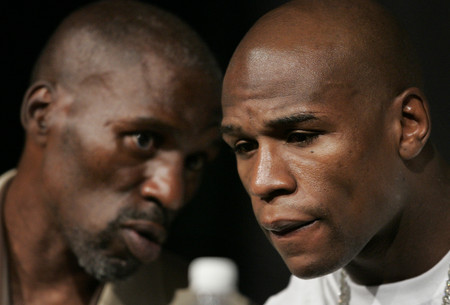 Roger Mayweather never will shy away from an argument.
The 48-year-old former world champion boxer and longtime trainer of nephew Floyd Mayweather Jr. says what's on his mind and doesn't care what anyone else thinks. His remarks usually are laced with a healthy dose of profanity.
"You ask me a question, I'll give you an answer," he said. "You don't like my answer — tough (expletive)."
On the topic of Saturday's 12-round welterweight fight against Juan Manuel Marquez at the MGM Grand Garden, his answer is that Floyd Mayweather Jr. (39-0 with 25 knockouts) will take care of business.
"Marquez is a good fighter, but he don't have the skills of my nephew," Roger Mayweather said. "My nephew is the most skilled fighter in the sport. Period."
He scoffs at the notion that Floyd Mayweather Jr.'s skills might be diminished in his return to the ring after a 21-month hiatus.
"Sugar Ray Robinson had a layoff. Muhammad Ali had a layoff. Sugar Ray Leonard retired and came back," Roger Mayweather said. "So it ain't like it hasn't been done before. My nephew is going to be fine."
He said the six-time world champion looks the same as he did before announcing his retirement in June 2008.
"Ain't no difference than before," Roger Mayweather said. "He'll be ready for anything Marquez does."
He has been with Floyd Jr. since the outset of his boxing career, and their relationship always has been solid.
"I've trained other fighters, but Floyd's easier because he's been around me and boxing his whole life," Roger Mayweather said. "He listens to what I have to say, and he does what I tell him."
His nephew also hears a lot of other things, things Roger Mayweather thinks he doesn't need to hear, from a large entourage that accompanies the fighter.
"He's got 100 (expletives) telling him how great he is, he's the pound-for-pound best and (expletive) like that," Mayweather said. "But the truth is, they don't know (expletive). They're just looking for something from him.
"(But) I don't worry about what people say to Floyd. I know what Floyd can do."
Floyd Jr. said: "We have a great chemistry. Roger's a little wild, but he's the best."
While Roger Mayweather prepares his nephew for his boxing comeback, he has issues of his own. He is facing criminal charges for an August battery incident with a Las Vegas woman, and diabetes has forced him to alter his lifestyle.
"At first, I didn't know what it was," Roger Mayweather said. "But I found out that my mother had diabetes, so I read up on it. I eat differently now. I watch what I eat, and I take my medicine every day. I have to stick around because I have a son and a daughter to support."
He hasn't lost his sense of humor. When Mayweather learned that Marquez was drinking his own urine as part of his preparations for the fight, he decided to bring Marquez a present — a "cowpie."
"Since Marquez says he drinks piss, I figured he should eat (expletive)," Roger Mayweather said. "I was going to give it to him at the news conference, but he's so nice, I can't get mad at him. But he's still going to get his ass whipped on Saturday."
• NOTES — Today's weigh-in at the MGM Grand Garden is free and open to the public. Doors will open at 1 p.m., with Mayweather and Marquez scheduled to be on the scales at 2:30. … Mayweather remains the heavy betting favorite at minus-420. Marquez is plus-340. … Tickets remain at $300, $600, $750 and $1,000, and the MGM will show the fight on closed circuit television at the hotel's Premiere Ballroom. Tickets cost $50.
Contact reporter Steve Carp at scarp@reviewjournal.com or 702-387-2913.