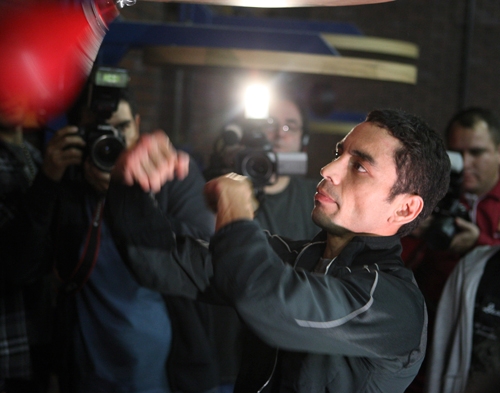 There's Julio Cesar Chavez, Erik Morales, Marco Antonio Barrera and Juan Manuel Marquez — the Mount Rushmore of Mexican boxing champions in this generation.
Then there's Fernando Montiel, who arguably belongs in any conversation about great Mexican fighters and might even merit consideration as the fifth face on the monument.
Montiel, the WBC and WBO bantamweight champion, has a 43-2-2 record with 33 knockouts and is 18-2 in title fights. Like Chavez, Morales, Barrera and Marquez, he has won world titles in three weight classes — bantamweight, super flyweight and flyweight.
A victory over favored Nonito Donaire on Saturday night at Mandalay Bay Events Center would cement Montiel's legacy as one of Mexico's all-time greats. The 12-round bout will be televised by HBO.
"I think this fight will put me at the level of all those guys," said Montiel, 31, from Los Mochis, Mexico. "No one is ever going to match Julio Cesar Chavez. But a win in this fight could put me in with the other guys.
"This is the kind of fight where people will remember my name."
Much like his fellow Mexican greats, Montiel has a classic warrior mentality in the ring. He can absorb a punch as well as deliver one and will gladly stand toe to toe with a brawling opponent. But he also has the savvy to dodge punches and, after 20 title fights, is not easily rattled.
Montiel said his plan is to pressure Donaire (25-1, 17 knockouts), make him fight and try to deliver the knockout blow he has been boldly predicting.
"I'll go after him, throw punches all night and, if I hit him, I'm going to knock him out," Montiel said. "He's beaten up smaller guys. He's used to easy fights. Let's see how he does when he's in a tough fight. How does he react when he gets hit?"
Montiel is unbeaten in his last 12 fights since losing to Jhonny Gonzalez in 2006 on a 12-round split decision. Five of his last six wins were stoppages, most recently a second-round knockout of Jovanny Soto on Dec. 10 in Saltillo, Mexico.
The most impressive of Montiel's four victories in 2010 was his fourth-round technical knockout of Hozumi Hasegawa for the WBC belt April 30 in Tokyo.
"I was able to put everything together in that fight," Montiel said. "It was one of my best performances."
He's confident of a similar outcome against Donaire, even though Montiel is the underdog at MGM Resorts International sports books. Donaire is minus-275 and Montiel plus-235.
"I love challenges, and this is certainly one of the biggest of my career," Montiel said. "This is the perfect time for me to display all my skills, show what I've learned."
While Donaire is fighting at 118 pounds for only the second time, Montiel is not convinced he has a big advantage having fought regularly as a bantamweight since 2008.
"I'm not counting on my experience (at 118)," Montiel said. "I prepared for a hard fight, though I do feel like I have assimilated myself well at the weight."
Montiel said this will probably be his last fight at 118. He'd like to move up to 122 (super bantamweight), though he said he had no problem making weight for Saturday's fight.
Montiel said he thought he was destined for boxing greatness from age 5 when he first laced up a pair of gloves in father Manuel's gym.
"I grew up in a boxing family, and my father told us if you get in the ring, you have to be the best," he said. "I've always tried to give my best every time I fought."
But even Montiel's two-fisted style has its limits. He has sworn off motorcycle riding after being injured in Los Mochis in October when he was thrown from a bike being driven by a friend.
"No more motorcycles," Montiel said with a laugh. Then he rolled up his right pants leg to reveal a 5-inch scar from the accident.
"I don't even go for rides anymore," he said.
■ NOTES — The weigh-in is at 3 p.m. today in the Mizuya Lounge, adjacent to the casino inside Mandalay Bay. The event is open to the public. … HBO's telecast begins at 6:45 p.m., and the first bell is at 4:15 p.m.
Contact sports reporter Steve Carp at scarp@reviewjournal.com or at 702-387-2913.