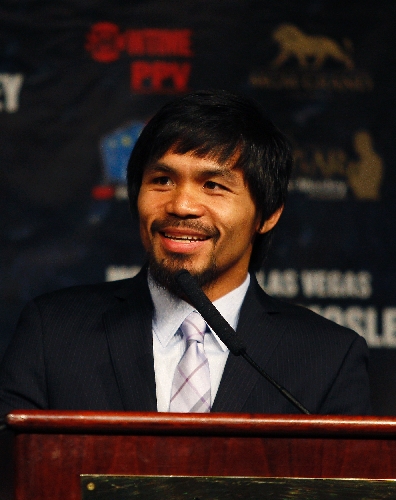 Shane Mosley doesn't care that Manny Pacquiao stands 3½ inches shorter than him. Mosley still views the WBO welterweight champion as a true 147-pounder.
"Pacquiao's not a small welterweight; he's a short welterweight," Mosley said. "But when you look at his legs, how thick and strong they are, that shows you Pacquiao's a legitimate welterweight.
"He reminds me of Mike Tyson in that regard. Tyson was a short heavyweight, but he was still a heavyweight, and he had great strength in his legs."
Pacquiao doesn't disagree on that point with Mosley, whom he will fight Saturday at the MGM Grand Garden.
"This is where I'm most comfortable," Pacquiao said. "I can fight heavier or I can fight lighter. But I think I'm most effective (at welterweight)."
Because Pacquiao has won world titles in so many lower weight classes, Mosley said, he's perceived as a little fighter.
"I think the perception is that Pacquiao is a small guy because he once fought at 106," Mosley said. "But I fought at that weight, too. I used to spar with Paul Gonzales when I was a teenager."
Mosley (46-6-1, 39 knockouts) has trained to deal with Pacquiao's speed, which is more like that of a lightweight. But he's also mindful of Pacquiao's two-handed punching power, saying he packs the wallop of a middleweight or perhaps an even bigger fighter.
"He's strong," Mosley said. "You have to respect his strength as well as his speed."
Pacquiao (52-3-2, 38 KOs) has trained to cope with the same attributes in Mosley.
"Mosley is very fast and very strong," said Pacquiao, 32. "He's one of the fastest fighters I've faced. He still has his strength and speed. He may be 39, but to me, he's like 31 or 32. That's why I don't underestimate Mosley. He knocked out (Antonio) Margarito, and I didn't."
Despite a loss and a draw in his last two fights, Mosley said he hasn't lost much of his ability.
"I think I can do all the things in the ring now that I did five years ago," he said. "I've listened to my body. I know when to take my foot off the gas pedal.
"Ten years ago? I don't know if I can remember back that far."
His trainer, Naazim Richardson, said Mosley doesn't have to turn the clock all the way back to beat Pacquiao, nor does he need to match him shot for shot.
"People tend to forget and tend to overlook the high boxing IQ Shane has," Richardson said. "He's seen everything there is to see in boxing, and he knows how to adjust during a fight.
"It's not about matching Pacquiao's speed. He doesn't have to be Manny Pacquiao to win. He has to be Sugar Shane Mosley, and if he's the best Sugar Shane Mosley, then Pacquiao's in trouble."
■ NOTES — Pacquiao's purse will be $6 million and Mosley's $3.95 million, according to the Nevada Athletic Commission. That does not count both fighters' cut of the pay-per-view revenue. … Pacquiao remains a heavy betting favorite. MGM Resorts sports books listed him at minus-850 Wednesday, with Mosley at plus-550. … Friday's 3 p.m. weigh-in at the MGM Grand Garden is open to the public. Doors open at 1 p.m., and admission is free. … Pacquiao will wear yellow gloves Saturday to promote unity in the fight against worldwide poverty and has asked those who attend to wear yellow as well. … Mayor Oscar Goodman presented both fighters with poker chips at Wednesday's final news conference.
Contact reporter Steve Carp at scarp@reviewjournal.com or 702-387-2913. Follow him on Twitter: @stevecarprj.