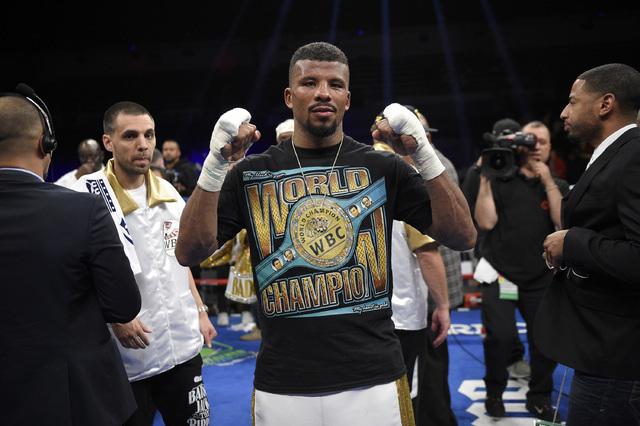 Badou Jack was caught off guard when he was named Nevada Fighter of the Year by the Nevada Boxing Hall of Fame this month.
Jack knew he had a big year, but he didn't have the prestigious award on his radar with superstar Floyd Mayweather Jr. residing in Las Vegas.
"Floyd has been winning it every year," Jack said of his promoter. "He won it three years in a row already. I definitely didn't expect it. But I'm very blessed and very honored."
Jack, the WBC super middleweight champion, is the first boxer not named Floyd Mayweather Jr. to win the award since it was created in 2013. Jack moved to Las Vegas after signing with Mayweather Promotions in 2011.
Rising Las Vegan Devin Haney was named the Nevada Prospect of the Year, and Ava Knight won the Nevada Female Fighter of the Year award. UNR fighter JJ Mariano was selected as the Nevada Amateur Fighter of the Year. All the winners will be honored Saturday during the Hall of Fame ceremony at Caesars Palace.
Mayweather has fought only once since winning the 2015 honor. The future Hall of Famer defeated Andre Berto by unanimous decision in September and has been retired since.
Jack started his memorable year by taking the WBC belt from Anthony Dirrell in an upset win in April 2015. The Swedish boxer added another signature victory after defeating George Groves for his first title defense in September. The boxer known as "The Ripper" had a hiccup against Lucian Bute in a controversial draw in April, but still retained his title.
"(Mayweather) said he's gonna have some tables (at the ceremony), and he's going to be proud of me," Jack said. "It's going to be a special night. Don't expect me to give a speech. Floyd was up there for like 45 minutes last year."
Jack is hoping to end this year with a bang. He's trying to work out a deal to fight James DeGale in a unification showdown in October. The bout is expected to be in England or Las Vegas.
"I think it will be best to fight here (Las Vegas), but if the money is right, why not fight over there," Jack said. "I got Floyd backing me, so we're the A-side."
Jack's career took off when Mayweather noticed him in a sparring session and decided to buy out his contract with promoter Lou DiBella. Jack started boxing at the late age of 18 in Sweden.
"I started boxing late, and when I met Floyd, things took off," Jack said. "I got better pursues than I would have with any other promoters. He's the best promoter."
Haney also has received guidance from one of the best in the ring. The 17-year-old prospect has spent the past few weeks training with Andre Ward, the former super middleweight kingpin.
"Watching Andre Ward train is something I've never seen before," Haney said. "He's very technical and very smart in the ring. I'm learning a lot of great things from him."
Haney became the youngest boxer to fight at the MGM Grand Garden in April, when he easily defeated Rafael Vasquez on the Manny Pacquiao-Timothy Bradley Jr. III undercard.
Haney is 7-0 since turning pro in December and plans on fighting next month in Pittsburgh.
"It's been a great year," Haney said. "It's crazy having people know me. I was surprised that I had fans in Louisiana."
Haney, who studies past boxers, said he's excited to meet Sugar Ray Leonard at the ceremony.
The Hall of Fame also plans on honoring WBC president Mauricio Sulaiman, the recipient of the Muhammad Ali Humanitarian Award. Herb Santos Sr., a former judge and Nevada Athletic Commission member, will receive the Presidents Award.
NOTE — The Hall of Fame will host a meet-and-greet event Friday with past and present boxing figures at Caesars Palace. The event is scheduled for 11 a.m. to 5 p.m.
Contact Gilbert Manzano at gmanzano@reviewjournal.com or 702-383-0492. Follow him on Twitter: @gmanzano24