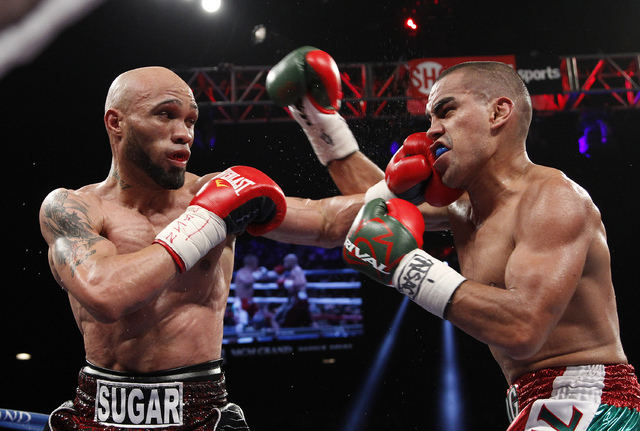 Ishe Smith had been hearing the rumors for a couple of weeks. So when Erislandy Lara on Monday pulled out of their May 2 World Boxing Association junior middleweight title fight at the Hard Rock Hotel for a more lucrative bout, Smith was ready to deal with the disappointment.
"It's all about the numbers," the 35-year-old Las Vegas native said. "If I had the same opportunity as Lara did, I probably would have done the same thing, so I'm all right with it."
That opportunity for Lara, the WBA champion, is a July 12 pay-per-view fight on Showtime against Canelo Alvarez, one of boxing's brightest stars, at the MGM Grand Garden
Smith (25-6, 11 knockouts), a former International Boxing Federation junior middleweight titleholder, lost the belt to Carlos Molina on Sept. 14. A fight with Lara (19-1-2, 12 KOs) was Smith's chance to win another world title. Instead, he will remain on the May 2 Hard Rock card against an opponent to be determined.
"I should know who I'm fighting in the next couple of days," Smith said. "All I can do is stay busy in the gym and be ready.
"The disappointing thing is we spent a lot of money and time preparing to fight a southpaw in Lara. Now, we have to go back to the drawing board and start over."
On March 8, Lara called out Alvarez to fight him after Alvarez had stopped Alfredo Angulo in the 10th round that night at the Grand Garden. But Alvarez wasn't interested, especially given Lara's disrespectful way of doing it at Alvarez's post-fight news conference.
But with Alvarez's desire to fight three times this year and with a mid-July date the best fit for his 2014 schedule, Alvarez ultimately accepted Lara's challenge.
Smith, who is promoted by Mayweather Promotions, said he expects to be paid an undisclosed sum from Golden Boy Promotions for stepping aside so Lara can fight Alvarez.
"I'm still fighting on May 2, and I'm making decent money, so I can't complain too much," Smith said.
In February 2013, Smith became the first native Las Vegan to win a world title when he defeated Cornelius Bundrage. But he then lost the title to Molina by split decision in his first defense.
Molina remains incarcerated by immigration officials in Henderson for returning to the United States illegally after being deported in 2007, but he is still the IBF champ and expected to fight Bundrage in June if he can resolve his legal issues. Smith said he would like to fight the winner.
"What I really want is a chance to get my title back," he said.
Contact reporter Steve Carp at scarp@reviewjournal.com or 702-387-2913. Follow him on Twitter: @stevecarprj.