Pacquiao on proving ground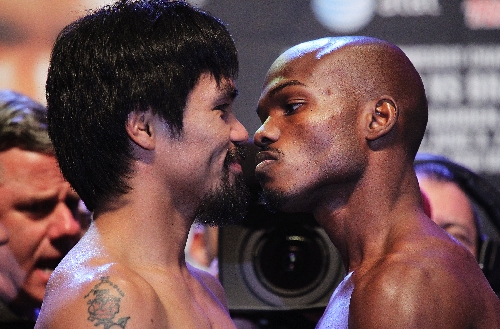 After his last two victories produced less-than-stellar performances, Manny Pacquiao is looking for a return to greatness tonight when he faces Timothy Bradley at the MGM Grand Garden.
Pacquiao, whose WBO welterweight belt is at stake, admits he needs a better performance than the one he gave on Nov. 12, when he won a 12-round majority decision over Juan Manuel Marquez at the Grand Garden.
"There's pressure" to look good, said Pacquiao (54-3-2, 38 knockouts). "I have to give a good show to the people."
The week of the Marquez fight, Pacquiao's personal life was in turmoil. He was having marital difficulties, and his wife, Jinkee, was contemplating divorce. Pacquiao was so upset that he arrived late to the Grand Garden, had to cut short his warmup routine and suffered leg cramps during the fight.
It was the second straight fight during which Pacquiao had cramping issues. When he beat Shane Mosley on May 7, 2011, Pacquiao had leg cramps that impacted his performance.
Pacquiao says his marriage and legs are fine now and that he will have no issues tonight.
"I underestimated Marquez," the 33-year-old said. "But I am much more focused for this fight."
How Pacquiao could underestimate Marquez, who had fought him to a draw in 2004 and lost a split decision to him in their 2008 rematch, seems almost incomprehensible. Marquez has given Pacquiao more trouble than any other opponent. Even Erik Morales, who beat Pacquiao in 2005, was stopped twice by Pacquiao in their rematches in 2006.
But Marquez isn't on Pacquiao's mind tonight. He will face a young, hungry fighter in the 28-year-old Bradley, the WBO junior welterweight champ who is 28-0 with 12 knockouts and one no contest.
"We did not overlook Bradley," Pacquiao said. "We had very good training, and I have no distractions this time."
Pacquiao and Bradley made the 147-pound limit at Friday's weigh-in, with Pacquiao at 147 and Bradley 146. At the MGM Resorts' sports books, Pacquiao remains a 4-1 betting favorite.
"Manny needs to dominate this guy, and I think he will," said his longtime trainer, Freddie Roach. "Bradley's a good fighter, but he's never been in with someone like Pacquiao. I think it's going to be an easy fight for Manny. I think Manny will win every round."
And if Pacquiao struggles in victory, or loses? Roach said if either were to happen, he would not be afraid to tell Pacquiao that he seriously should consider retirement. (If Bradley wins, a rematch clause in the fighters' contracts would be enacted.)
"We're going fight by fight," Roach said. "But if I see the signs that he's declining, I'll sit down with Manny and discuss it and make the correct decision."
Pacquiao has said he plans to fight three times after tonight before devoting his career full time to politics. He is serving as a congressman in the Philippines and is considering running for governor in his home province of Sarangani.
Tonight, he comes to fight with something to prove – to himself, to his fans and to the sport that has made him rich beyond his wildest dreams. The fact he is not going to perform a postfight concert at Mandalay Bay, as is usually the case when he fights in Las Vegas, is indicative of his concentration for the fight.
"I feel I am at my peak," Pacquiao said. "I'm very confident I will win."
■ NOTES – Top Rank chairman Bob Arum said Friday the Pacquiao-Bradley fight will not start until the conclusion of Game 7 of the NBA Eastern Conference finals between the Boston Celtics and Miami Heat. The game is scheduled to begin at 5:30 p.m. Pacquiao, coincidentally, is a Celtics fan. The HBO Pay Per View telecast will start at 6 p.m.
Contact reporter Steve Carp at scarp@reviewjournal.com or 702-387-2913. Follow him on Twitter: @stevecarprj.
FIGHT NIGHT
PACQUIAO VS. BRADLEY
• WHAT: WBO welterweight championship
• WHEN: Card begins at 3:15 p.m. today
• WHERE: MGM Grand Garden
• RECORDS: Pacquiao 54-3-2, 38 KOs; Bradley 28-0, one no contest, 12 KOs
• WEIGHTS: Pacquiao 147 pounds; Bradley 146 pounds
• OFFICIALS: Referee – Robert Byrd; judges – Duane Ford, Jerry Roth, CJ Ross
• TV: HBO Pay Per View (Channel 1000) $64.99, 6 p.m.
• LINE: Pacquiao minus-480; Bradley plus-360