Pacquiao retires … well, kinda, sorta
April 10, 2016 - 10:21 pm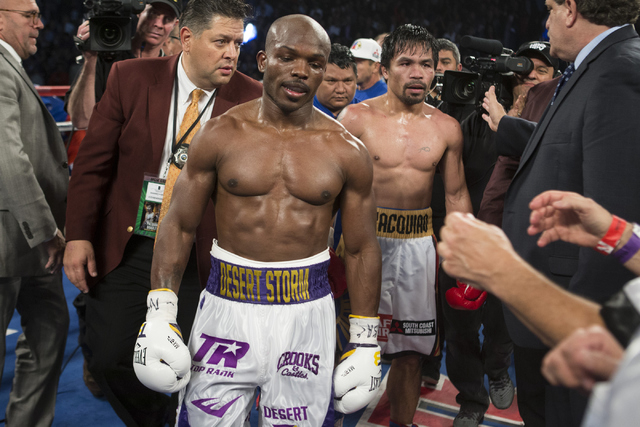 Those two terms in the Congress of the Philippines have served Manny Pacquiao well. At least when it comes to evading questions from reporters.
Pacquiao had delivered an excellent performance Saturday night at the MGM Grand Garden, handling Timothy Bradley Jr. with ease in their third meeting and winning a 12-round unanimous decision. No sooner had the scorecards been read — judges Dave Moretti, Burt Clements and Steve Weisfeld all had Pacquiao ahead 116-110 — than Pacquiao announced he was retiring from boxing to focus on his political career.
Pacquiao is running for one of 12 available seats in the Philippines Senate. If he wins next month, he may not have time to fight, even if he wants to. Then again, his constituents may want him to remain active in boxing, even though he is 37 years old and has had 66 professional fights in a 21-year career.
It took him less than an hour to begin to hedge on his statement, saying, "My heart is 50-50. I love my family. But boxing is a very difficult sport to leave."
And as the questions continued, he was as deft at not answering them directly as he was eluding Bradley's punches.
"I may enjoy retired life," Pacquiao said, sounding very much the politician. "But I won't know until I get there."
Moments later, he insisted he was retired, saying, "My family wants me to retire and I will spend more time with them and focus on serving the people."
For Pacquiao, it's understandable why he might flip-flop on retirement. He proved he could fight at a high level and dominate a quality opponent. He knocked Bradley down twice and his surgically repaired right shoulder held up in its first test since the operation last May after he lost to Floyd Mayweather Jr. If he weren't running for office, there's no question Pacquiao would still be active in boxing, looking at a return in the fall.
While Pacquiao mulls over what his future truly holds in boxing, his promoter, Top Rank chairman Bob Arum, and his longtime trainer, Freddie Roach, will be ready to go to work with him again if Pacquiao chooses to continue fighting.
Roach believes there's a terrific fight to be made with current World Boxing Organization junior welterweight champ Terence Crawford. Pacquiao hasn't fought at 140 pounds since 2009 when he stopped Ricky Hatton.
Arum could make that fight in five minutes since he promotes both fighters. He's trying to finalize a deal that would have Crawford face Viktor Postol, the reigning World Boxing Council champ in a unification bout on July 23 at the Grand Garden on HBO. Assuming Crawford wins, he could probably make a November or December date with Pacquiao, who will have taken office in July should he win the election next month.
A fight with WBC middleweight champion Canelo Alvarez has been talked about. But that might be a bit more problematic given Alvarez is bigger than Pacquiao. But there are fights out there if Pacquiao wants them.
"It's up to Manny," Roach said. "His legs are good. His work ethic is great. He hasn't really shown signs of wear and tear."
Pacquiao hears the words, knows his body is telling him he can continue and it's no wonder there's some second-guessing in his heart.
"We shall see," Pacquiao said. "As of this moment, I am retired."
But don't be surprised if he changes his mind in a few months.
Contact Steve Carp at scarp@reviewjournal.com or 702-387-2913. Follow on Twitter: @stevecarprj