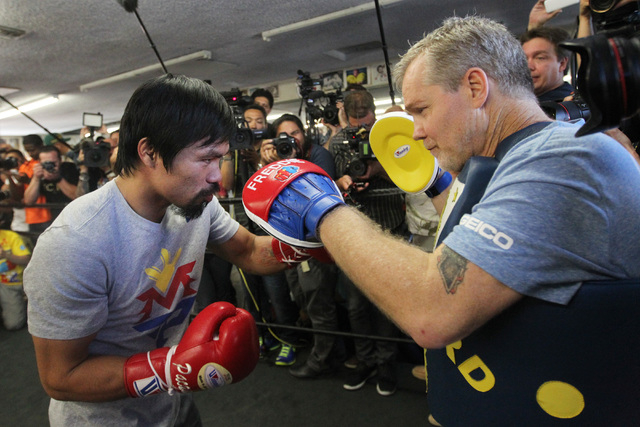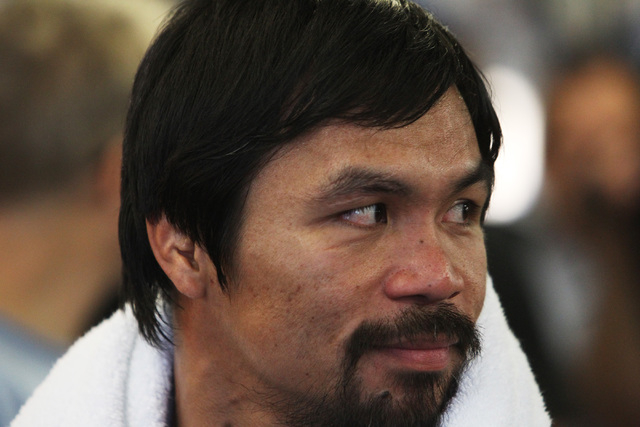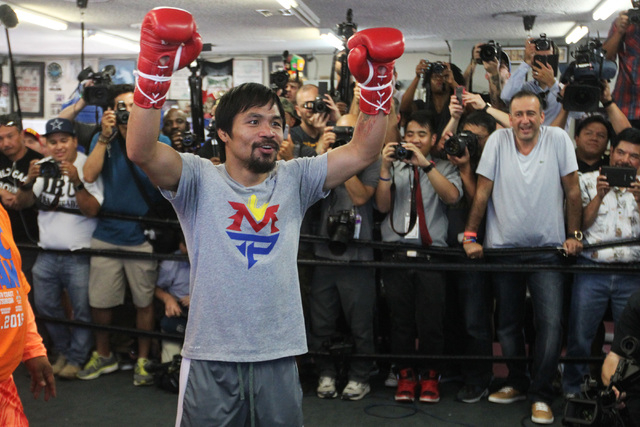 The May 2 welterweight unification title fight between Floyd Mayweather Jr. and Manny Pacquiao is projected to do unprecedented numbers.
Add the May 1 weigh-in to the list.
Yahoo! Sports first reported Thursday that fans will be charged a nominal fee, reportedly $10, to attend the weigh-in of the two fighters at the MGM Grand Garden. All the money generated from sales to the weigh-in are to be divided equally among two charities — the Susan G. Komen Foundation (Mayweather's choice) and the Lou Ruvo Center for Brain Health (Pacquiao's choice).
The promoters said that by having fans produce a ticket (all seats will be reserved and sold on a first come-first served basis) that it will help with security surrounding the weigh-in.
"Absolutely. You want to be able to have control over the crowd and by making sure every person has a ticket, you can maintain better control," said Top Rank chairman Bob Arum, who promotes Pacquiao.
"And all the money's going to charity. Every cent of it. If it were going in someone's pocket, I'd be concerned and I wouldn't support it."
A MGM spokesman said final details on how to obtain tickets to the weigh-in were being worked out and information would be released in the next couple of days. Same with what few tickets will be made available for public sale to the fight itself and what the closed circuit television ticket policy will be.
So how can people be charged admission to watch someone step on a scale?
According to the Nevada Athletic Commission's code for procedures regarding a weigh-in, each unarmed combatant must be weighed in the presence of the public, his or her opponent, a representative of the commission and an official representing the promoter. Nowhere does it say in the statute that the public can't be charged for the right to view the weigh-in.
According to the Attorney General's office, a weigh-in is not an official public meeting because there are no deliberations or any policy decisions being made. NAC chairman Francisco Aguilar made sure that was the case before allowing the promoters to proceed with their plans to charge admission to the weigh-in.
"They said as long as the public is allowed to attend, it's legal for a fee to be charged," Aguilar said. "But the main purpose for having tickets is for the safety and security of everyone. We don't want thousands of people outside the arena mad because they couldn't get into the building to watch. We would have a serious problem on our hands if that were to happen.
"By making everyone have a ticket, you eliminate a lot of potential problems. People don't have to wait on line all morning to make sure they get in. It makes things easier for the security and the staff at the MGM. Because you're charging a fee, you don't have to worry about people hoarding tickets and not using them, which denies someone else who wants to go see the weigh-in the right to do so."
This would be a first in Nevada. Former executive directors Keith Kizer and Marc Ratner both said they don't recall a fight where the public was charged admission to witness a weigh-in.
"I remember when Sonny Liston and Floyd Patterson fought each other in the '60s and Sonny was training at the old Thunderbird Hotel that they charged $2 to watch him train and I think it was the same with Patterson at his hotel," Ratner said. "I believe that money also went to charity."
The boxing weigh-ins in recent years have become shows unto themselves.
Mayweather's recent weigh-ins — in 2013 with Canelo Alvarez and both of last year's fights with Marcos Maidana — have been held with the entire Grand Garden available for seating.
But it was his weigh-in in 2007 before he fought Ricky Hatton that took the spectacle of the weigh-in to a different level. Many of Hatton's fans from the United Kingdom had lined up from 6 a.m. that day to get the best seats (it was free and general admission seating). By the time the two fighters stepped onto the scale, 6,000 people had crammed their way into the Grand Garden.
Aguilar doesn't believe a precedent has been set for future fight weigh-ins where admission is charged.
"I think the magnitude of this fight is different from other fights," Aguilar said. "And with the money going to charity, I don't have a real problem with it."
Contact reporter Steve Carp at scarp@reviewjournal.com or 702-387-2913. Follow him on Twitter: @stevecarprj
RELATED:
Pacquiao seeks last laugh against Mayweather
Mayweather: Pacquiao fight won't define legacy