PPV delay didn't affect Mayweather-McGregor bout, says Showtime
August 27, 2017 - 2:34 pm
Updated August 27, 2017 - 7:11 pm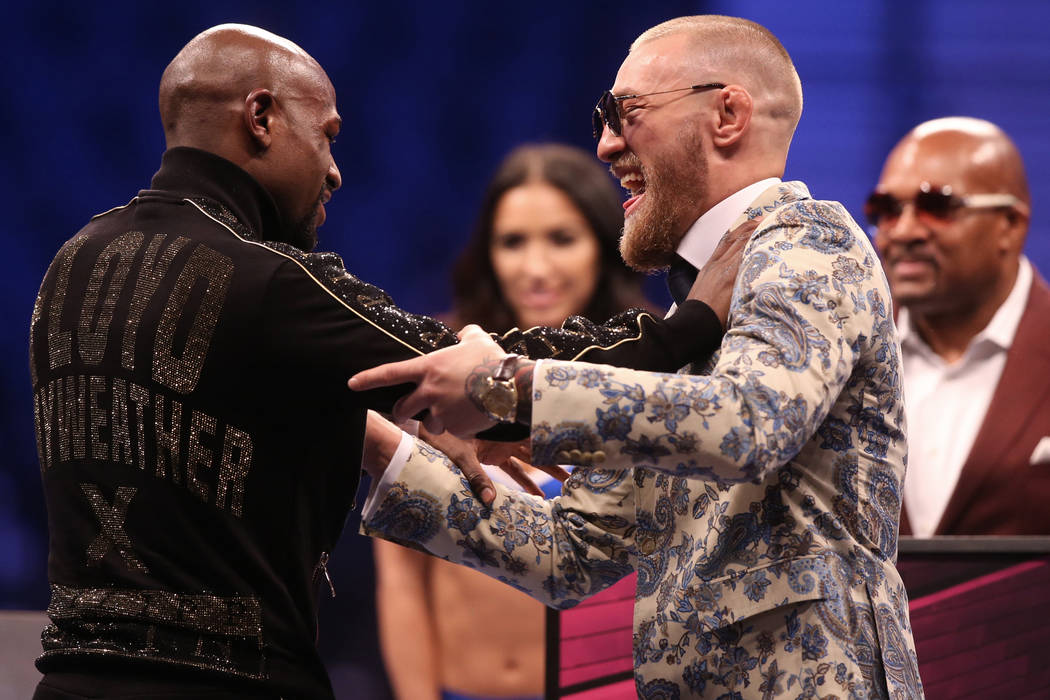 Fight fans were dismayed when the Showtime and UFC pay-per-view telecasts experienced power outages during the Floyd Mayweather-Conor McGregor undercard Saturday.
The main event, though, went on without a hitch — at least for Showtime users — according to Chris DeBlasio, the senior vice president of sports and communication for Showtime.
"We don't have any current reports of any outages during the main event," DeBlasio said. "I don't believe there was. All OK in the end."
The fans who paid $100 for the Showtime PPV event didn't miss Mayweather's 10th-round technical knockout against McGregor, who surprised many with his performance in his boxing debut.
The same can't be said for those watching via UFC's Fight Pass app. A majority of complaints about delays and even missing the first few rounds of the main event came across social media from people who purchased the fights from UFC.
A UFC official told the Review-Journal the company is still assessing the situation and more details are likely to be made available in the next couple days.
Showtime planned for a 30-minute delay to allow the servers to go back up after they crashed due to high demand. DeBlasio said it turned out to be a 10-minute delay as the main event fighters began to make their ring entrances at 9:10 p.m.
"That's why we were able to proceed with the national anthems from Demi Lovato and the Irish anthem," DeBlasio said. "The anthem triggered that we were moving to the ring walk for the main event fighters, and the indication was everything was OK at that point."
The co-main event between Gervonta Davis and Francisco Fonseca bought the premium cable company some extra time by going eight rounds. Many expected Davis, a heavy favorite, to roll through Fonseca early, but he settled for a lackluster technical knockout in the eighth round.
"When you put Gervonta Davis in the ring, you don't know if he has a flash knockout, and that fight could be over in a minute," DeBlasio said. "So you have to be ready for a contingency."
Showtime officials are optimistic that the Mayweather-McGregor bout broke the PPV buys record of 4.6 million set by Mayweather and Manny Pacquiao in 2015.
DeBlasio said he's not expecting Showtime to release the PPV numbers for at least another few days or a week.
"This one felt special and felt like a new audience," DeBlasio said. "People that haven't experienced this (a boxing match) in the past, and wanted to be part of it. I think that we're optimistic with a nice showing here. It was a great night."
Mayweather said after the fight that he was told the power outages were coming from California and Florida.
"We had tried to message to buy early," DeBlasio said. "It sometimes can fall on deaf ears, and it may sound off to say two weeks before to buy early. It was overwhelming demand, but it wasn't widespread."
Contact Gilbert Manzano at gmanzano@reviewjournal.com. Follow @GManzano24 on Twitter.