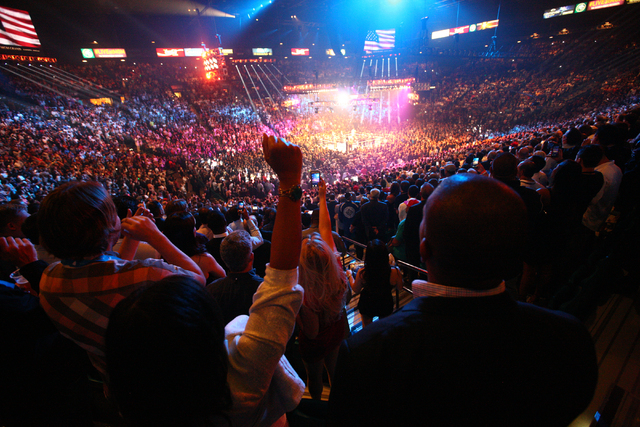 After months of rumors, AIBA, boxing's international governing body, made it official Wednesday — it is allowing professionals to compete in the Olympics, starting in August in Rio de Janeiro.
Twenty-six spots are being allotted for pros to compete after the vote was 84-0 with four abstentions, one of them by the United States.
The decision has been loudly ridiculed by many of the sport's biggest names. Promoter Bob Arum has called it "stupid," and trainer Freddie Roach said it was "ridiculous."
Mike Martino of Reno, executive director of USA Boxing, said there are no plans to employ pros at the Rio Games, though he didn't rule it out in future Olympics. This year's U.S. team is being finalized. Four men and two women have qualified, with two qualifying tournaments remaining.
"We can't (use pros) at this point," Martino said Wednesday. "Our marching orders come from the U.S. Olympic Committee, and we've been going through the process for the last two years under the rules that were previously established.
"We were restricted who we could work with and who we could talk to. We couldn't use the expertise of professional trainers or fighters before. We can't make changes at the last minute, so we won't be sending any professionals to Rio."
But some countries are planning to use pros. Russia might bring two world champions — Sergey Kovalev and Denis Lebedev — to Rio, which is a scary thought. Not many pros are eager to get in the ring with Kovalev, the unbeaten light heavyweight champion, so what chance would an amateur have against a man nicknamed "Krusher?"
Same for Lebedev, the cruiserweight champion, who probably would walk through the competition to the top of the medal podium.
"I want to withhold judgment until after AIBA meets to determine how it will integrate professionals in the (Olympic) tournament," Martino said. "We're going ahead with our plans to qualify this month (June 14 to 26) in Azerbaijan and next month in Venezuela."
Martino said there's also a concern over an amateur fighter's status should he fight against a professional in Rio.
"That has not been cleared up," he said.
AIBA's decision appears to be a money grab, hoping to cash in on the sport's biggest names to pack the boxing venue in Rio. But few are taking the bait. Manny Pacquiao, who was thinking of representing the Philippines in the Olympics, decided not to do it.
Martino said the AIBA decision essentially came from pressure by the International Olympic Committee.
"The IOC wants to bring the best individual athletes to the Olympics," Martino said. "AIBA has been challenged by the IOC to do that. But changing the rules two months before the opening ceremonies is like the NCAA changing the rules in January that says a kid doesn't have to go to class but is still eligible to play basketball."
Contact Steve Carp at scarp@reviewjournal.com or 702-387-2913. Follow on Twitter: @stevecarprj