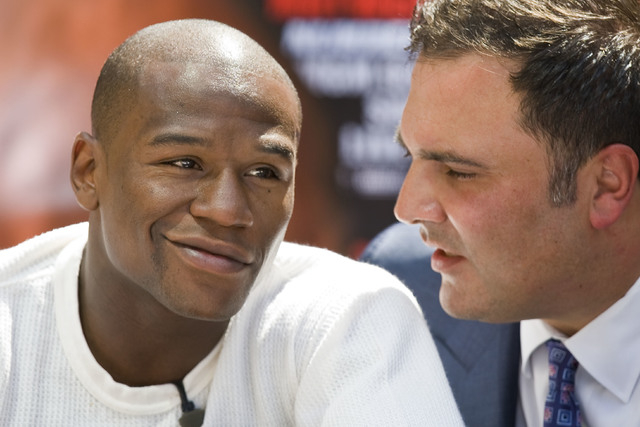 The expected divorce within Golden Boy Promotions between Richard Schaefer and Oscar De La Hoya took place Monday as Schaefer, the company's chief executive officer, announced he was leaving effective immediately.
"We tried to work out our differences but we couldn't, so I made the decision to leave," Schaefer, 52, said. "Not all marriages last forever. I wish Oscar the best but I'm moving on."
De La Hoya, Golden Boy's founder and current president who last month said he was hoping to keep the partnership intact, did not comment Monday on Schaefer's departure.
Schaefer and De La Hoya had been together since 2000 as Schaefer left the banking business to manage De La Hoya's career. In 2002, they formed Golden Boy as De La Hoya left Top Rank to strike out on his own and promote himself.
During their time together, they helped producing boxing's biggest gate and pay per view fights. De La Hoya's 2007 fight with Floyd Mayweather Jr. had a record 2.5 million PPV buys. The 2013 Mayweather-Canelo Alvarez fight set a record for gross PPV sales at $150 million. The $20 million live gate from Mayweather-Alvarez is also a boxing record.
In addition, Schaefer helped build a strong relationship with the MGM Grand in Las Vegas and forged exclusive deals for Golden Boy with the Staples Center in Los Angeles and the Barclays Center in Brooklyn. Schaefer also helped build an alliance with Showtime, which has been the network of choice for Golden Boy's biggest names as well as its young rising stars.
However, Schaefer and De La Hoya have had issues in the last year or so. While De La Hoya sorted through personal problems with substance abuse, Schaefer handled the day-to-day operations of Golden Boy, making deals and putting together high-profile fights. He has a strong relationship with Mayweather, boxing's pound-for-pound king, and has been personally involved in promoting all of Mayweather's fights since he beat De La Hoya in May 2007.
During that time, Schaefer has developed a close business and personal relationship with Al Haymon, Mayweather's co-manager and manager of dozens of other quality fighters. It was a point of contention between Schaefer and De La Hoya and contributed to their breakup.
There has been widespread speculation that Schaefer plans to partner with Haymon in Mayweather Promotions or a new company, even though he still has a financial stake in Golden Boy. Schaefer said he is a significant shareholder in Golden Boy, although he wouldn't say how significant and wouldn't speculate on whether that would create a conflict of interest if he pursues other boxing business relationships.
"I'm not going to get into that right now," he said.
Leonard Ellerbe, who co-manages Mayweather with Haymon, said Schaefer deserves the bulk of the credit for Golden Boy's success.
"Richard is a tremendous promoter and he is the sole reason why Golden Boy has had the success it has had in recent years," Ellerbe said. "He was the one who directed, guided and made Golden Boy one of the most impactful companies in boxing. Richard is going to continue to have an impact on the sport no matter what he decides to do going forward."
Schaefer's main rival, Top Rank chairman Bob Arum, saw the split as welcome news.
"It clears the way for Golden Boy and Top Rank to do business again, which is good for the sport," Arum said. "I have no animosity toward Oscar. But I always believed Schaefer was a mean-spirited guy who saw boxing as an opportunity to play Monopoly. He tried to kill the competition and it caused a lot of problems."
Schaefer said he's still determining what his long-term future will be.
"I think it's safe to say I'll still be involved (with boxing)," he said. "I just handed in my resignation an hour ago. But I'm going to take a little break and then see what I'm going to do."
Contact reporter Steve Carp at scarp@reviewjournal.com or 702-387-2913. Follow him on Twitter: @stevecarprj.