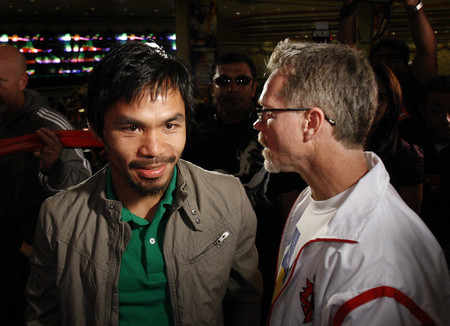 In Freddie Roach's perfect world, Manny Pacquiao would train full time in Los Angeles, Roach's Wild Card Gym would be closed to everyone but him and Pacquiao, and those intrusive HBO "24/7" reality show cameras would be turned off.
With the biggest fight of Pacquiao's career just four days away, Roach can only hope he did enough to prepare his fighter amid a circuslike training camp to face WBO welterweight champion Miguel Cotto on Saturday at the MGM Grand Garden.
"We got through it," Roach said Tuesday at the IBA Gym off East Flamingo Road. "We always have some kind of drama and chaos with Manny."
Roach predictably was back at the gym Tuesday when Pacquiao greeted several hundred admirers in the MGM Grand hotel lobby during the fighter's "official" arrival.
"It's too much," Roach said of Pacquiao's grand entrance. "I don't need to be there for that."
Roach did ride the bus with Pacquiao to the MGM Grand, then quickly left to train WBA super lightweight champion Amir Khan for his Dec. 5 title defense against Dmitry Salita in Newcastle, England.
Pacquiao normally begins training in the Philippines, then spends most of his time in Los Angeles. Because of potential tax liability issues, though, Pacquiao could not enter the United States until mid-October to train for the Cotto fight.
That meant an extended stay in the Philippines.
This camp started in the mountains, where Pacquiao got his conditioning base while working out at 12,000 feet.
The camp then shifted to Manila, the nation's capital, and Roach said that's where things got a little crazy.
They had been safe from a series of typhoons that swept through the Philippines last month, causing tremendous devastation and killing more than 900 people. But Pacquiao's sense of commitment to his fans led them to Manila, where Pacquiao assisted in relief efforts.
"The four days we spent in Manila were rough," Roach said. "It was hard for Manny to focus because he was being pulled in so many different directions. I told him he needed to get refocused, and he agreed that things had become a distraction."
Roach, who has been training Pacquiao since 2000, is accustomed to dealing with Pacquiao's large Filipino entourage.
But the typhoons made things especially difficult this time around. Nerves were frayed, and tempers flared as Roach tried to maintain control of the camp.
"It's always a problem," he said. "When I throw everyone out of the gym, they get upset with me. They have him for 22 hours. I just want him for two. But Manny respects my decisions. He just laughs at all the drama."
Former heavyweight champion Michael Moorer, whom Roach brought in to help train Pacquiao for his May fight against Ricky Hatton, was not part of this training camp.
"They didn't connect," Roach said. "Nothing against Michael, but Manny just wants to hear one voice in the gym and it didn't work out."
Despite the distractions, Roach said, Pacquiao is ready.
"The last three weeks have been great," Roach said. "He's hitting harder than I've ever seen him.
"We had great sparring — Shawn Porter, Jose Louis Castillo, Ray Beltran, they did a great job getting Manny ready. We're right where we want to be."
Even if they had to take the long way to get there.
Contact reporter Steve Carp at scarp@reviewjournal.com or 702-387-2913.
Slideshow