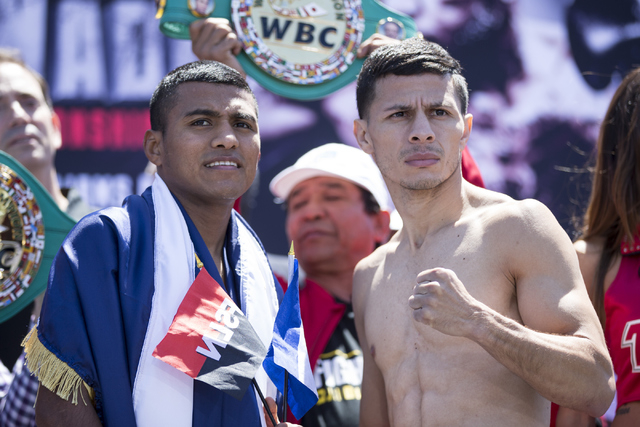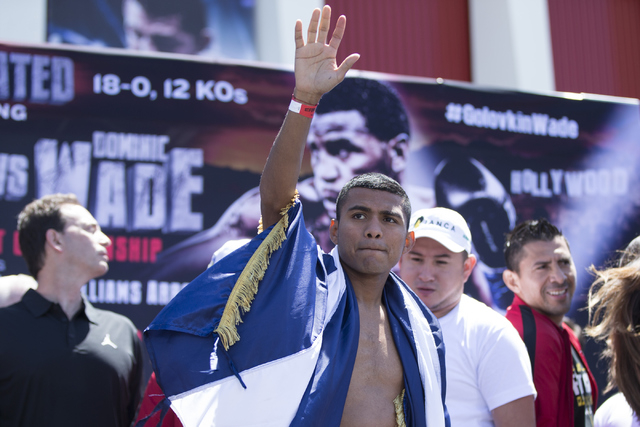 INGLEWOOD, Calif. — Roman Gonzalez was unknown the first time he competed at the Forum.
Gonzalez was just the little boxer with the perfect record and a hard nickname to pronounce.
Fast forward a year later, Gonzalez returns to Inglewood still undefeated and the moniker "Chocolatito" rolls off fight fans' tongues.
Chocolatito Gonzalez also picked up a new name — boxing's pound-for-pound king.
Gonzalez (44-0, 38 KOs) won't enter the ring unknown when he faces McWilliams Arroyo for his World Boxing Council flyweight belt Saturday night at the Forum in the undercard main event to Gennady Golovkin versus Dominic Wade.
"I feel very happy about this fight," said Gonzalez during a phone press conference earlier this week. "(Arroyo) is a great boxer and I believe that I am in great condition."
Gonzalez and Arroyo made the 112-pound weight requirement on Friday during the outdoor weigh-in in front of the Forum. Chocolatito stepped onto the scale at 111.4 pounds and Arroyo at 111.6 pounds. Gonzalez is a -7,000 favorite against the Puerto Rican fighter, according to William Hill.
The 5-foot 3-inch power puncher from Nicaragua has quickly shot up the boxing rankings since pairing up with fellow knockout artist, Golovkin.
Gonzalez's last three fights have been scheduled as the set-up bout to Golovkin's headline matches. Gonzalez and Golovkin fought at the Forum last May and teamed up again in October at Madison Square Garden in New York.
The exposure in the United States led to Gonzalez being dubbed the new pound-for-pound king by numerous media outlets once Floyd Mayweather Jr. retired in September. And if he's not first on some lists, he's usually second to Golovkin.
The pairing has benefited the foreign fighters, but Gonzalez is ready to headline his own events after Saturday night.
"I believe that both fighters, Golovkin and myself, are both main events and I hope that after this fight they give me an opportunity to be my own main event," Gonzalez said.
The flyweight division or any weight class under 122 pounds have been an afterthought to boxing fans. Chocolatitio's new fame could soon change that.
Gonzalez is a giant celebrity in Nicaragua and prefers training in Costa Rica to avoid the horde of media that follows.
He's hoping to generate that kind of buzz in the U.S. and land a pay-per-view fight. There a rumblings that Gonzalez could fight No. 1 contender Juan Francisco Estrada in the fall. Gonzalez defeated Estrada in 2012, but Estrada has won his last seven fights.
Another option for Gonzalez is to move up to 115 pounds and fight Japan's Naoya Inoue.
"I know that after that fight (against Arroyo) there will be a lot higher purses and bigger fights and that motivates me," Gonzalez said.
Gonzalez will make $300,000 for Saturday's fight while Golovkin's purse will be $2 million. Chocolatito could close the money gap on Golovkin with another spectacular performance at the Forum.
Contact Gilbert Manzano at gmanzano@reviewjournal.com or 702-383-0492. Follow him on Twitter:@gmanzano24