Self-funding working for Nevada Athletic Commission
January 15, 2016 - 3:00 pm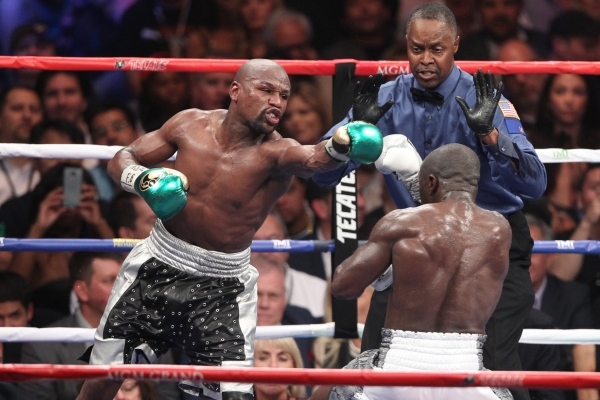 When the Nevada Athletic Commission became self-funding in July, nobody gave it a second thought.
Frankly, it wasn't a sexy story. But the commission, which had been given its operating budget from the state since its inception in 1941 and is overseen by the Department of Business and Industry, was taking a bit of a risk.
What if the revenue projections didn't match the budget? Would the state have to make up the difference? Would services have to be cut?
As the NAC moves into the second half of fiscal year 2016, those fears have not come to pass. The commission, which has an annual budget of $550,000, generated $488,010 in income from boxing alone in the first half of the fiscal year.
That includes the Sept. 12 Floyd Mayweather Jr.-Andre Berto fight at the MGM Grand Garden, the Timothy Bradley-Brandon Rios fight on Nov. 7 at the Thomas & Mack Center and the Nov. 21 fight between Canelo Alvarez and Miguel Cotto at Mandalay Bay.
Mixed martial arts, the bulk of which were Ultimate Fighting Championship events, provided an additional $276,899 in revenue for the first half of fiscal year 2016 for a total of $764,909. So not only did the NAC meet its budget to operate for the second half of the year, it also has plenty of money in reserve to upgrade its operation in the future.
"We've seen positive results," executive director Bob Bennett said of not being totally reliant on the state, which gets 8 percent of all tickets sold and kicks back 2 percent to the NAC. "We're moving toward upgrading our system and bringing in some additional personnel, which we've needed for some time."
With Manny Pacquiao and Bradley scheduled to fight a third time on April 9 and Alvarez set to fight May 7 in Las Vegas, along with UFC 196 on Feb. 6 and UFC 197 on March 5, the NAC should add to its coffers and put it in good position to grow the 2017 budget, which will go into effect July 1.
The biggest payday in boxing history, the May 2 Mayweather-Pacquiao fight, was not part of the 2016 fiscal year. The record $72.2 million gate saw its 8 percent cut go directly to the state's general fund. The 2 percent to the commission didn't go into effect until two months later.
NAC chairman Anthony Marnell III is hopeful the process will continue to evolve and the commission will be totally self-sufficient. He has been working with state officials to amend NRS 467, which outlines the commission's rules and operating procedures.
The NAC is still working to upgrade its anti-doping policy and penalties.
"We're still in uncharted waters," Marnell said. "But we're on our way, and we seem to be headed in the right direction."
WBC title fight
Former junior welterweight champion Danny Garcia is excited about his move to 147 pounds and attempt to win a second world title when he faces Robert Guerrero for the vacant World Boxing Council welterweight title Jan. 23 at the Staples Center in Los Angeles.
The WBC announced Wednesday that Garcia and Guerrero will fight for the title, which Mayweather vacated after announcing his retirement after he beat Berto in September. Originally, the 12-round bout did not have title implications.
But the WBC opted to address the vacancy by awarding the belt to the Garcia-Guerrero winner, even though Amir Khan is the No. 1-ranked challenger in the division. Garcia (31-0, 18 knockouts) is ranked No. 2 by the WBC, and Guerrero (33-3-1, 18 KOs) is No. 6.
"We have a lot of respect for Guerrero," Garcia said. "He's a veteran and a former world champion. We expect him to be at his best, and we're ready to get another world title."
Guerrero said he thinks he enjoys several advantages.
"There's always that southpaw stance, being a volume puncher, a guy that throws a lot of punches," he said. "Plus, being at 147 a little bit longer than him, it's all an advantage.
"The key is using those advantages and capitalizing on them and taking advantage of them. We got to go out there and execute the game plan and make it happen."
The fight will headline the Premier Boxing Champions card and will be televised by Fox Sports and Fox Deportes.
Free TV
The WBC heavyweight title fight tonight between champion Deontay Wilder and Artur Szplika from the Barclays Center in Brooklyn, New York, will be televised on Showtime during the network's free preview window.
It is part of the 30th anniversary of Showtime Championship Boxing. The telecast begins at 7 p.m.
Golden girls
Czarina McCoy and Yarisel Ramirez of Las Vegas won gold medals at last week's USA Boxing National Junior and Youth Championships in Reno.
McCoy won the Junior female 110-pound title, defeating Destiny Diaz of North Las Vegas in the final. Ramirez, a former Junior Open champ, defeated Mariana Gonzalez of Sunnyvale, California, to win the Youth female 119-pound gold medal.
— Contact reporter Steve Carp at scarp@reviewjournal.com or 702-387-2913. Follow him on Twitter: @stevecarprj.