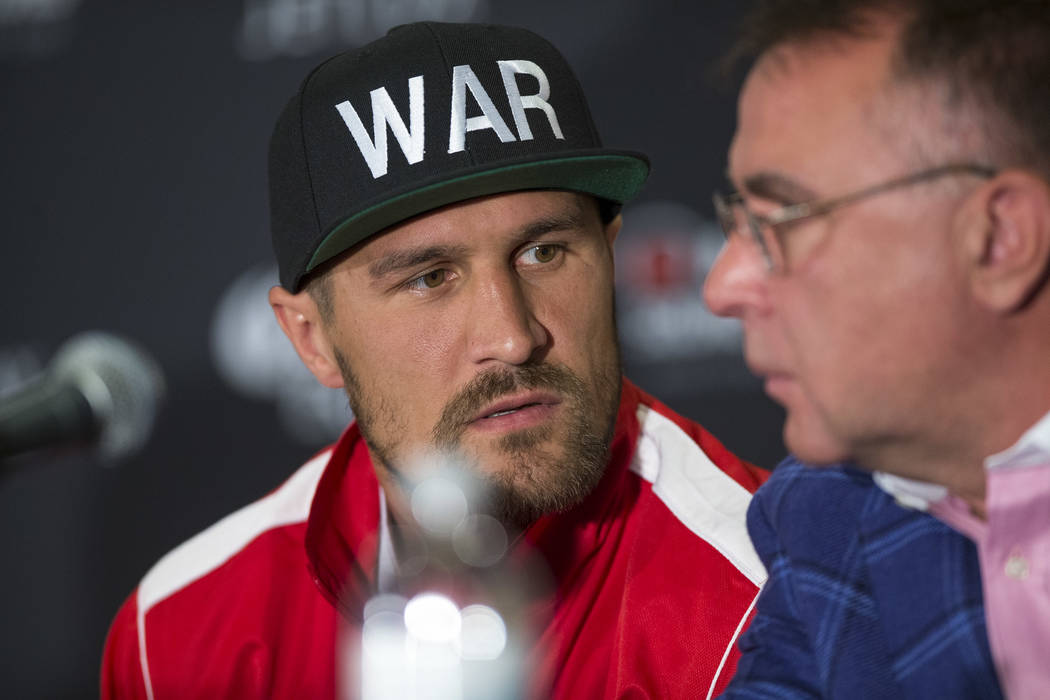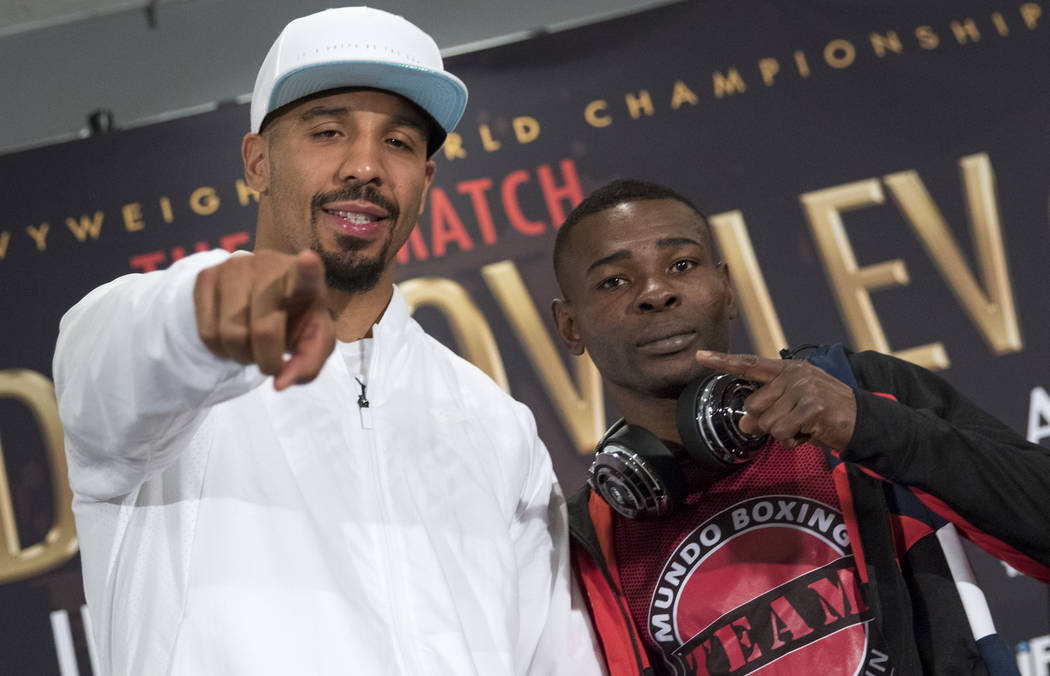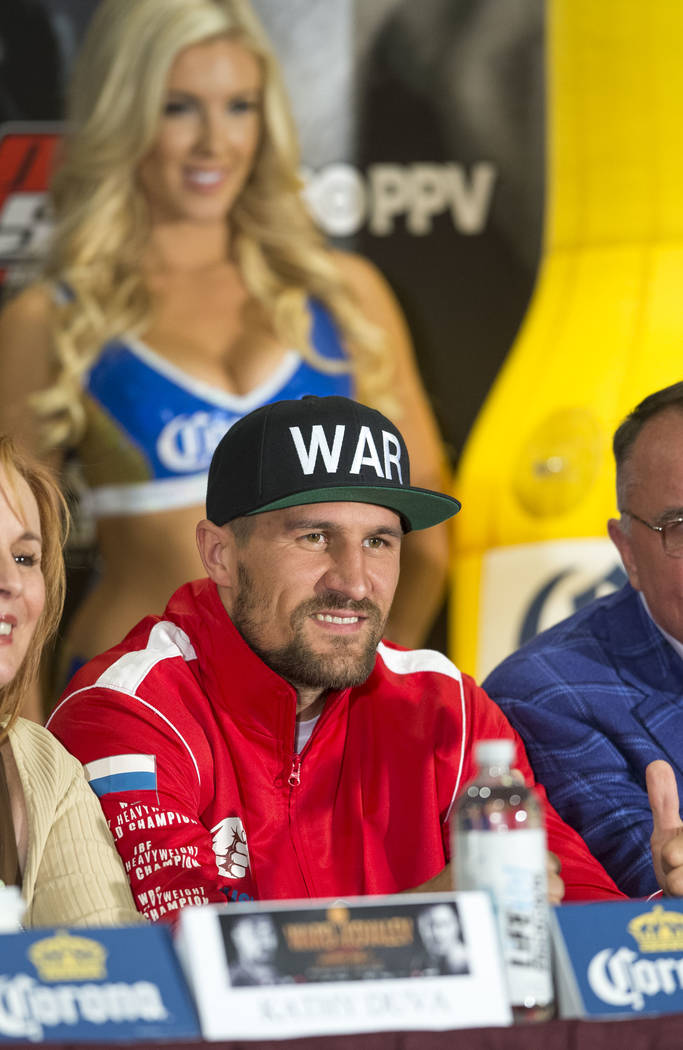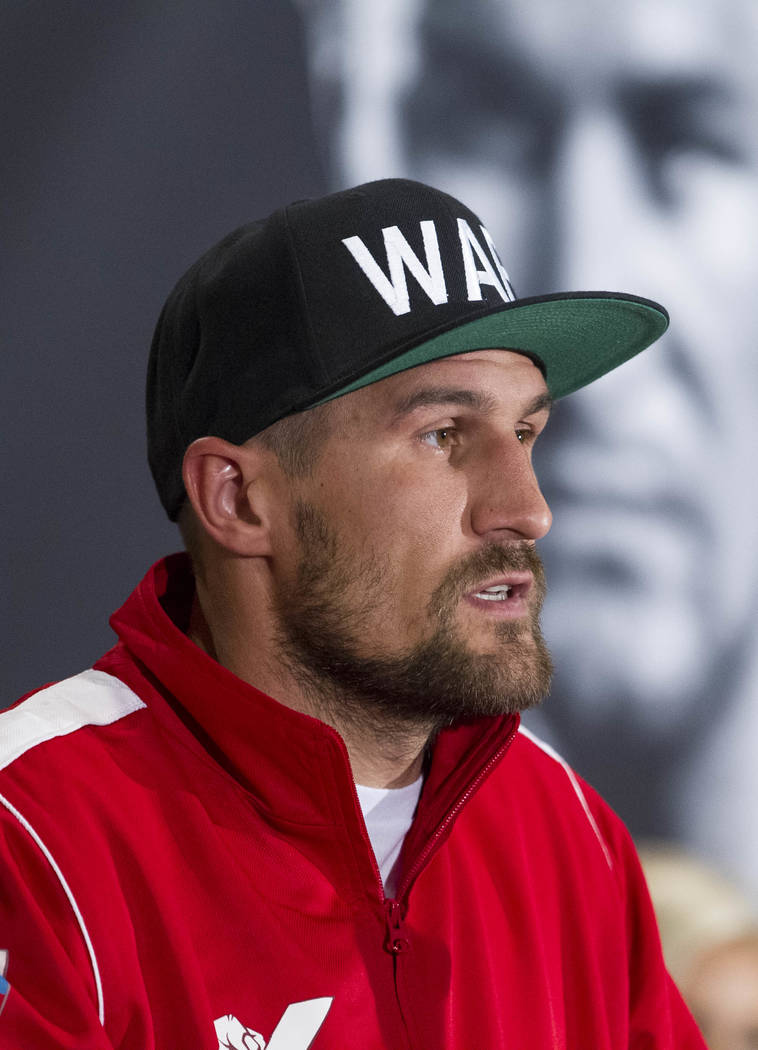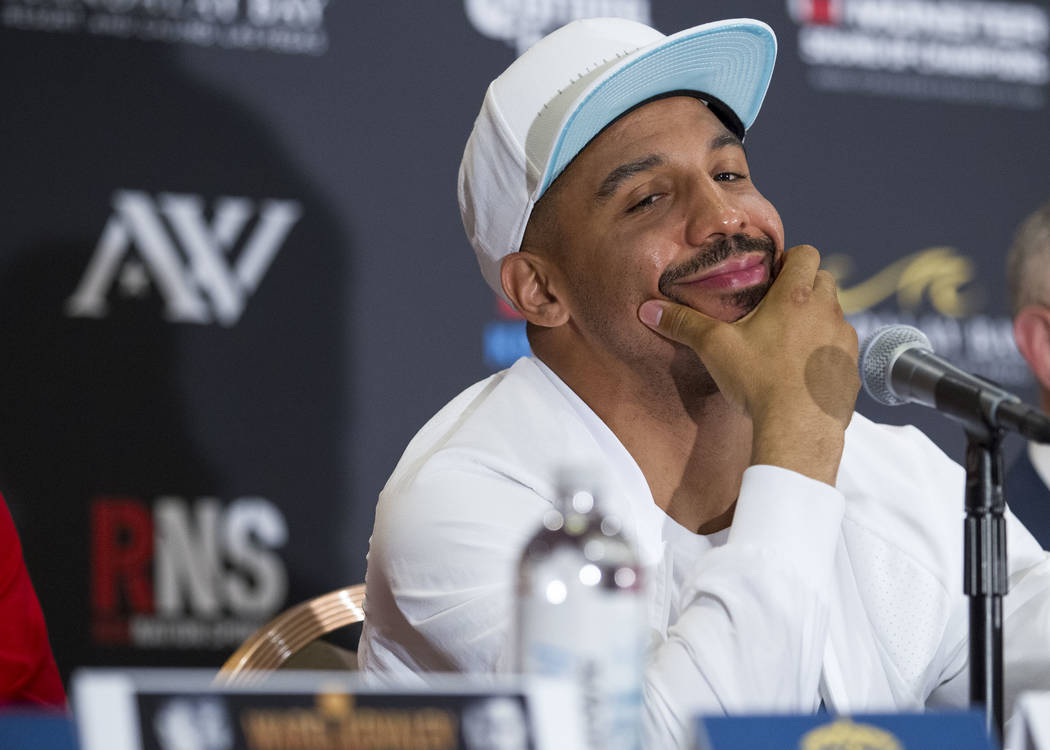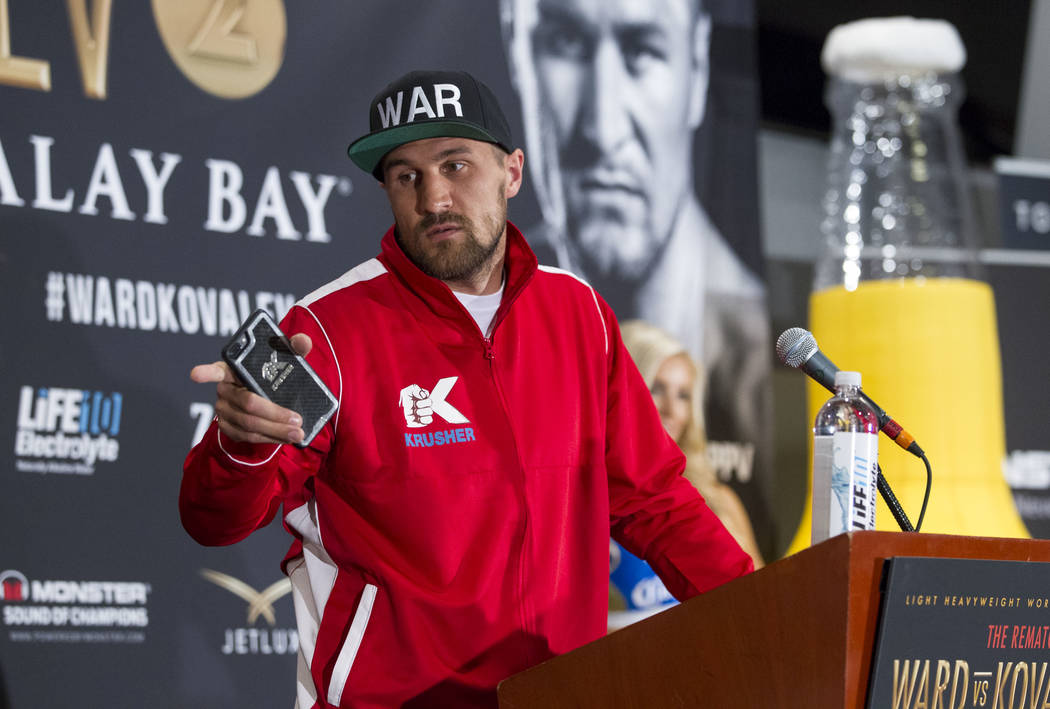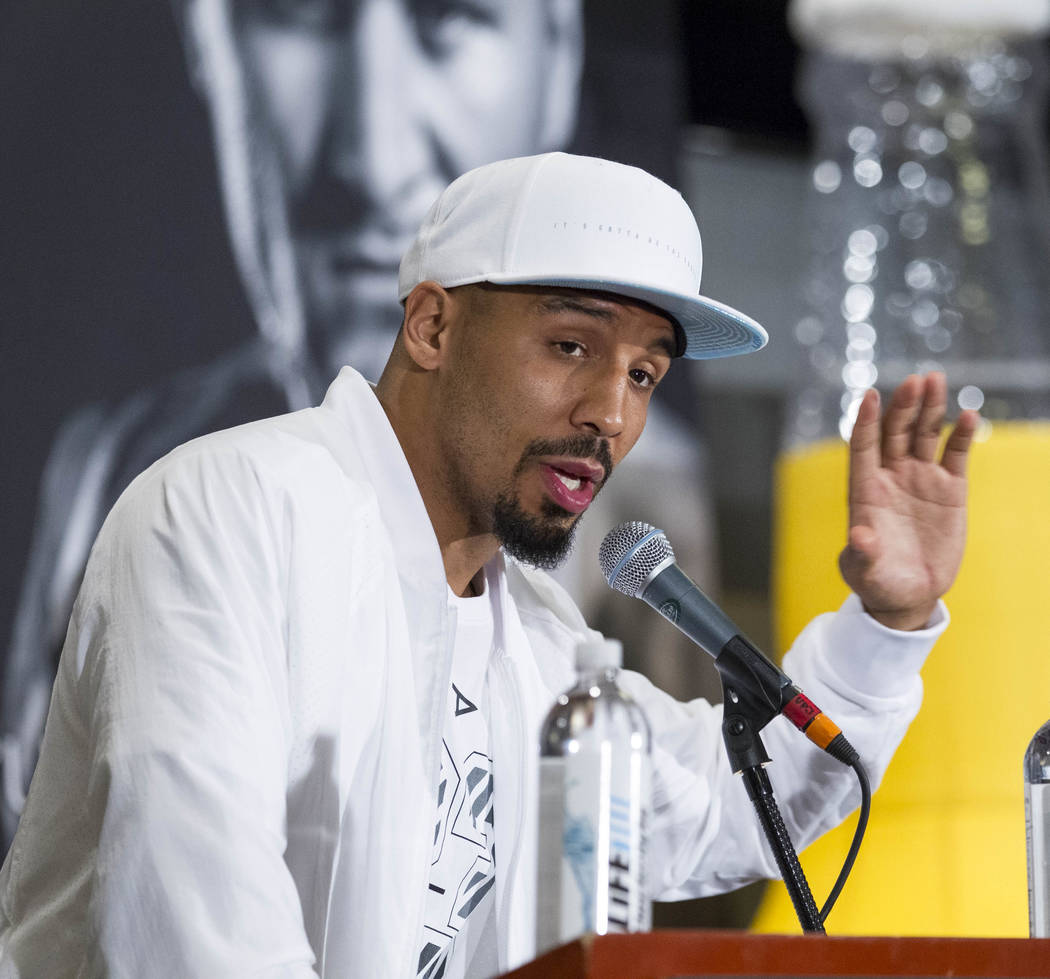 Sergey Kovalev stepped to the podium Thursday sporting a black hat that read "WAR" and said a few words in an irritated tone.
The Russian only spoke for about 30 seconds, but he got his point across — literally.
"I already said enough and I will prove it June 17 in the ring and you get prepared," Kovalev said while pointing at Andre Ward as he stormed off the stage and headed for the exit.
Kovalev and Ward will clash in a light heavyweight world championship rematch Saturday at the Mandalay Bay Events Center on HBO pay per view. Ward defeated Kovalev during a controversial unanimous decision at T-Mobile Arena in November to take his three belts.
"Turn my mic on. He ain't gonna do nothing. Don't point your finger at me," Ward responded to Kovalev.
Kovalev is done talking and playing mind games with his bitter foe. He's gone full "Krusher" mode.
Before the news conference, Kovalev skipped his interview with reporters. He also became angry last time he met with the press on Tuesday.
"We like when he's angry," said Kathy Duva, Kovalev's promoter. "Sergey has done his best work when he's angry. He's always mad when he goes into the ring, but this time he got mad a lot earlier in the week."
Kovalev is a plus-130 underdog and Ward is a minus-150 favorite, according to William Hill sportsbooks.
For the last seven months, Kovalev has heard Ward and his team brag about their comeback victory over him.
The Russian knockout artist believes Ward was gifted a victory by the three American judges. Burt Clements, John McKaie and Glenn Trowbridge all scored it 114-113 in favor of Ward.
Kovalev began calling Ward "Son of Judges" on social media. The Oakland native's actual nickname is "Son of God."
Many fight fans who watched the first bout criticized referee Robert Byrd for allowing the boxers to hold and wrestle for long periods of time.
Kovalev is back in Las Vegas with three American judges scheduled to score the rematch. Glenn Feldman, Dave Moretti and Steve Weisfeld will be the judges with Tony Weeks as the referee.
Despite feeling like he was robbed, Kovalev had no complaints about Byrd's officiating and is comfortable with having three American judges again.
"I didn't get attention from Robert Byrd that Andre Ward punched me with low blows a lot," Kovalev said. "It wasn't his fault, but because I'm a man and not a girl, I didn't say, 'Hey, he's punching me low, give me attention.'
"But I didn't know that there will be plans to rob me, so if I knew this … I would have gotten his attention."
Nevada Athletic Commission executive director Bob Bennett said he doesn't understand the controversy and praised his crew from the first fight.
"I really didn't think there was a controversy," Bennett said. "I was pleased with the job our officials did. I think it's unfortunate that some folks have made statements that there were three American judges and the American fighter won. I found that statement totally unprofessional.
"Now again, we have some of the best judges in the world for the rematch. Tony Weeks will do an outstanding job, and I felt Robert Byrd also did a great job last time."
Kovalev isn't worried about the judges, referee or the possible pro-Ward crowd at the Mandalay Bay. He's only thinking about delivering a knockout.
Kovalev is tired of hearing that he let Ward off the hook after he dropped him in the second round. He's tired of hearing that his trainer John David Jackson considered joining Ward's training camp. He's tired of being accused of saying racist remarks.
The "Krusher" is fed up with Team Ward.
"I don't respect this team at all because they're rude (explicit)," Kovalev said. "They say a lot of stupid things. I want to punish (Ward)."
Contact Gilbert Manzano at gmanzano@reviewjournal.com. Follow @gmanzano24 on Twitter.
The Kovalev file
Record: 30-1-1, 26 KOs
Country: Russia
Age: 34
Nickname: "Krusher"
Former titles: Light heavyweight WBA/IBF/WBO
Notable wins: Bernard Hopkins, Jean Pascal twice, Nathan Cleverly
Upcoming fight: Saturday vs. Andre Ward