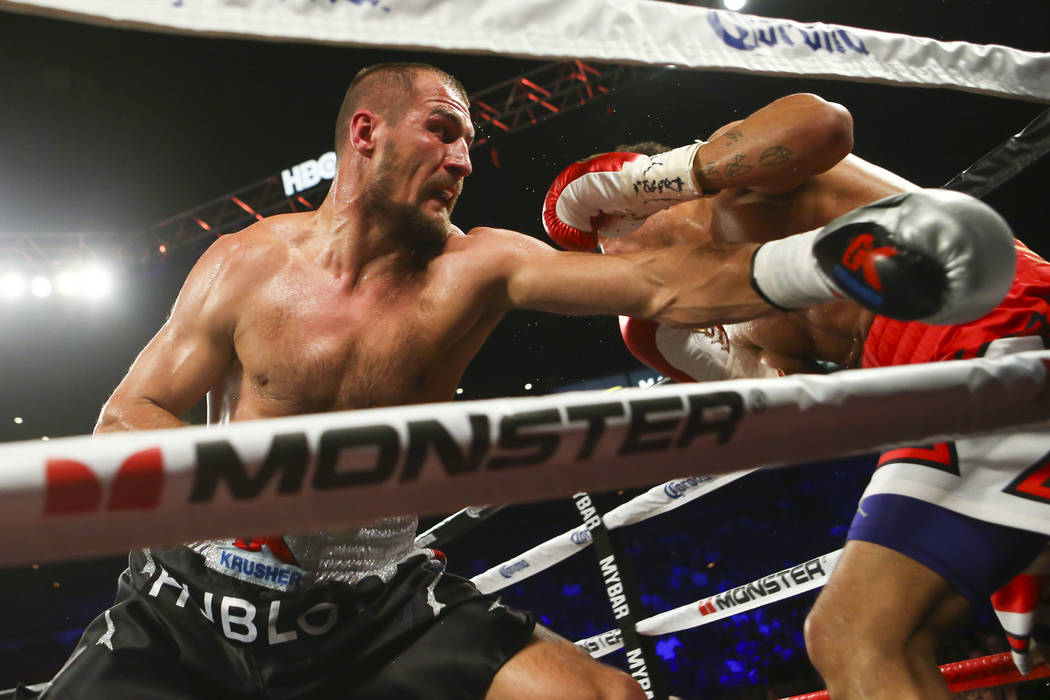 Former light heavyweight champion Sergey Kovalev filed a protest letter to the Nevada Athletic Commission and requested to have his technical knockout loss to Andre Ward on June 17 at the Mandalay Bay reversed to a no contest.
Kovalev's lawyers argued that the low blows from Ward were intentional and referee Tony Weeks rendered an incorrect decision, according to the letter dated July 11 and obtained by the Review-Journal on Monday. It was also argued that Main Events' request for a replay of the low blows during the eighth and final round was wrongfully denied.
Kovalev, who is promoted by Main Events, crouched against the ropes after a series of questionable low shots from Ward, forcing Weeks to stop the bout. It was the second time Kovalev lost to Ward.
"It is very important that the Commission understand that a protest is not an attack upon the competence of the referee, any more than a video replay in the NFL, or MLB is an attack on the competence of the officials in those leagues," the letter read. "It is an opportunity to 'get it right' where error may have been made.
"Mr Weeks is in our list of highly competent officials and nothing herein should be constructed as an attack on his overall competence."
Kovalev's lawyers said the mistakes started before the bout when Weeks gave inaccurate instructions that shots below the belt line were allowed.
"From that misinterpretation of the rules, seemingly every time Mr. Ward got into trouble, he hit Sergey low," the letter read. "We are submitting video showing a large number of low blows."
Kovalev's lawyers said one of the problems with Weeks' ruling might have been because he couldn't see the final punches in the eighth round due to a poor view.
Main Events officials requested that NAC executive director Bob Bennett do a video review of the low blows during fight night. Bennett denied it because the request didn't come from referee Weeks.
"The rule does not state the referee must request the review," according to the letter, "and the request by Main Events/Kovalev Team was not conveyed to him … it is very possible that if the position of Main Events/Kovalev Team had been conveyed, Mr. Weeks would have exercised discretion to conduct a video review, and, as the video showed, determined the blows were low."
Bennett declined to comment about the report because the protest is a pending matter.
It's the second time a Ward-Kovalev bout ended in controversy. Many pundits didn't agree with the unanimous decision given to Ward after the first bout in 2016 at T-Mobile Arena.
More Boxing: Follow all of our boxing coverage online at reviewjournal.com/boxing and @RJ_Sports on Twitter.
Gilbert Manzano can be contacted at gmanzano@reviewjournal. Follow @gmanzano24 on Twitter.