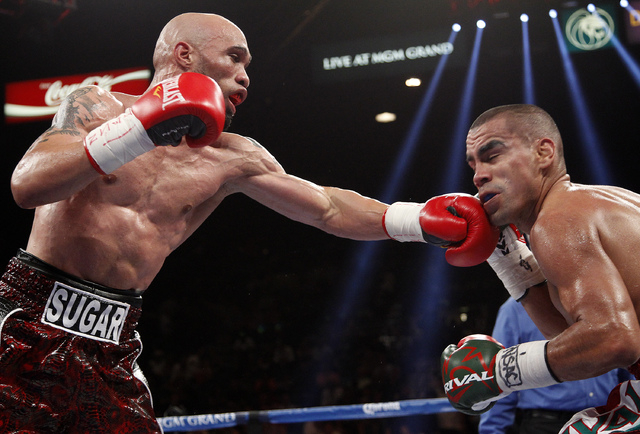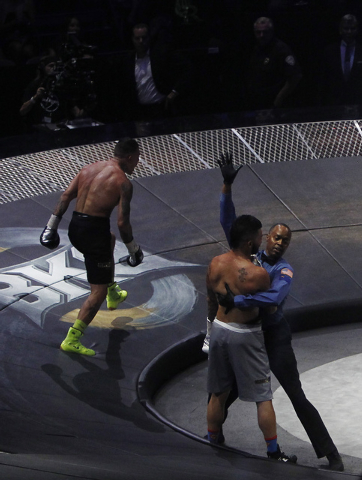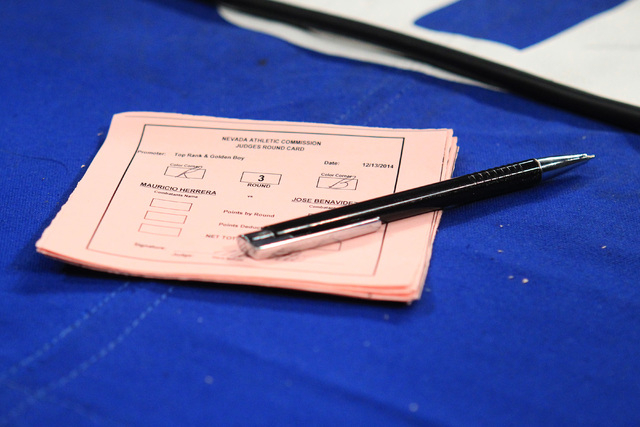 If you're a boxing judge in Nevada, you may not need to bring a pen with you to work anymore.
For decades, judges who worked fights in the Silver State used paper and pen to record their round-by-round scores. On Tuesday, the Nevada Athletic Commission approved the use of tablet computers to electronically record and tabulate each judge's scores round by round and provide an instant tally at the end of a fight.
It means referees won't be walking around the ring after every round collecting sheets of paper and giving them to an NAC staffer to tabulate the scores by hand. It also will give the refs more time to check on both fighters between rounds.
"We're not trying to change how you score a fight; it changes how you record the scores," said Chuck Scharnagle, chief information officer for Mohegan Tribe Information Systems of Connecticut, which devised the program and will give the equipment to the NAC at no charge for three years. "We believe it will make everyone's job easier."
The commissioners were concerned about whether someone could hack into the tablets during a fight and alter the scores. Scharnagle said the system has been tested in Connecticut, New York, Rhode Island and Arkansas as well as Mexico and Japan, with no security vulnerabilities found.
"I think it's important that we embrace change," NAC commissioner Skip Avansino said. "But I want to make sure it's properly implemented and that it's secure."
The NAC's plan is to phase in the system at smaller fight cards, letting all parties gain a level of comfort and proficiency before eventually using it in the major cards on the Strip.
"I'm comfortable with the concept," commissioner Pat Lundvall said. "But I think it's smart that we proceed slowly and make sure this works in everyone's best interest."
■ THURMAN-GUERRERO OFFICIALS — Kenny Bayless of Las Vegas was named referee for the World Boxing Association welterweight title fight between champion Keith Thurman and Robert Guerrero on March 7 at the MGM Grand Garden. The judges, all from Las Vegas, will be Jerry Roth, Adalaide Byrd and Dave Moretti.
■ ISHE HELPS — Las Vegas junior middleweight Ishe Smith will join with Babystacks Cafe to aid the homeless Monday in an event at the Salvation Army, 35 W. Owens Ave.
Smith, a Durango High graduate who on Monday is having a day named in his honor by North Las Vegas, will help serve brunch to approximately 300 people in the dining hall starting at 1:30 p.m.
"I try to do as much as I can throughout the community because this city means so much to me," said Smith, the former International Boxing Federation champion at 154 pounds.
■ CBS-PBC DEAL — First it was NBC, then Spike TV. Now, CBS has joined forces with Al Haymon's Premier Boxing Champions to televise eight events in 2015, beginning April 4 in Quebec City.
In the 12-round main event, World Boxing Council light heavyweight champion Adonis Stevenson (25-1, 21 knockouts) defends his title against Sakio Bika (32-6-3, 21 KOs). In the 10-round co-feature, light heavyweight Artur Beterbiev (7-0, seven KOs) will meet former champion Gabriel Campillo (25-6-1, 12 KOs).
CBS reaches 110 million households in the U.S. The April 4 card begins at noon local time and will be televised on KLAS-TV (Channel 8).
■ BKB 2 SET — Big Knockout Boxing, a hybrid of traditional boxing run by DirecTV, returns to Mandalay Bay on April 4 with middleweight Gabe Rosado defending his title against Curtis Stevens in a seven-round main event.
Big Knockout Boxing conducts five- and seven-round bouts in a circular 17-foot "pit" that has no ropes but has ramps for a safety zone for fighters. Rounds last two minutes instead of the traditional three.
Rosado won the BKB title at the inaugural Nevada event on Aug. 15 by knocking out Bryan Vera in front of a crowd of 4,572 at Mandalay Bay. BKB officials said they deliberately waited to hold their second card because they wanted to make sure they had quality matchups.
"It would've been easy to squeeze another card in last year," executive director Bruce Binkow said. "But I think BKB wisely waited to build a card worthy of the fans' support."
The card includes two junior middleweight bouts, with Jesus Soto-Karass facing Ed Paredes and David Estrada fighting Khurshid Abdullaev.
Seven bouts are on the card, and all fighters will box with a sensor inside their gloves to measure punching power and velocity. Those stats will be shown to the television audience.
The sensor was approved by the NAC on Tuesday as a one-time trial.
Ticket information is not yet available.
■ FLOYD'S FUN RUN — The Floyd Mayweather Jr. Foundation will sponsor a 5K run/2K walk at 8 a.m. April 19 at Sunset Park.
The event, called "Fight 4 Fitness" is part of a health initiative to get people to exercise and change their daily routine and habits. The event will include a kids' half-mile Fun Run, as well as music, food, games, raffle prizes and health and fitness exhibitors.
"Staying fit and active is so important," Mayweather said in a statement. "We hope this event encourages people of all ages to work towards getting in shape and living a healthy lifestyle."
Registration can be completed online at www.runsignup/Fight4Fitness.
Contact reporter Steve Carp at scarp@reviewjournal.com or 702-387-2913. Follow him on Twitter: @stevecarprj.