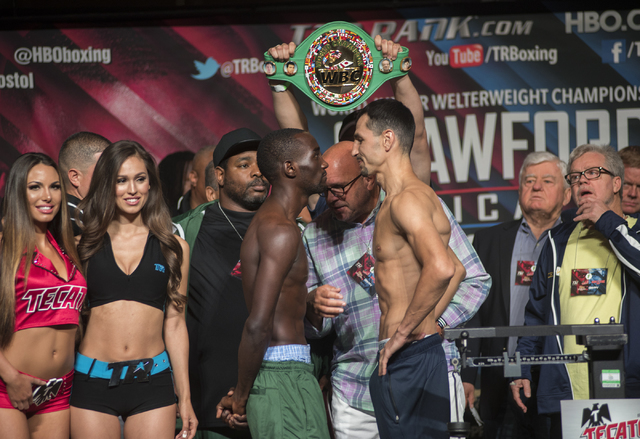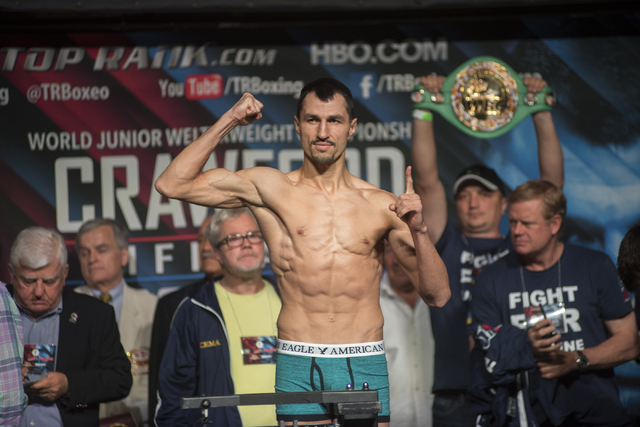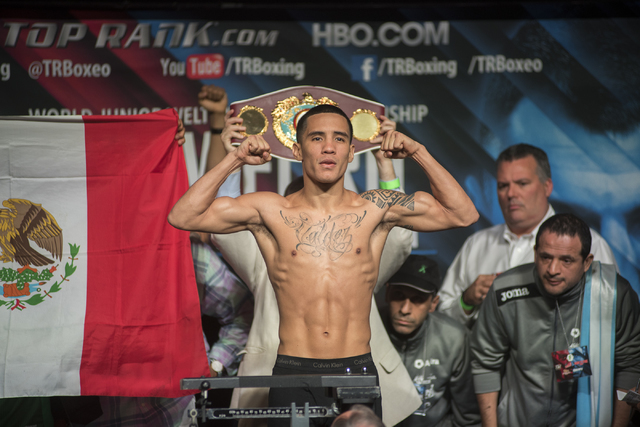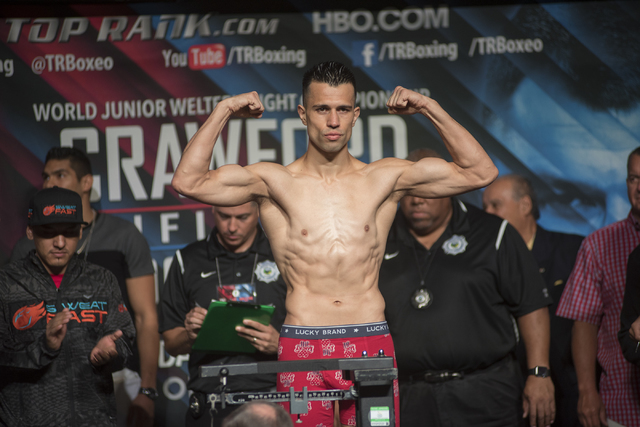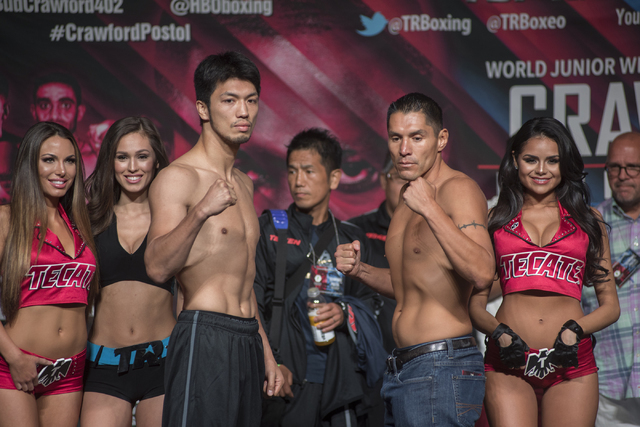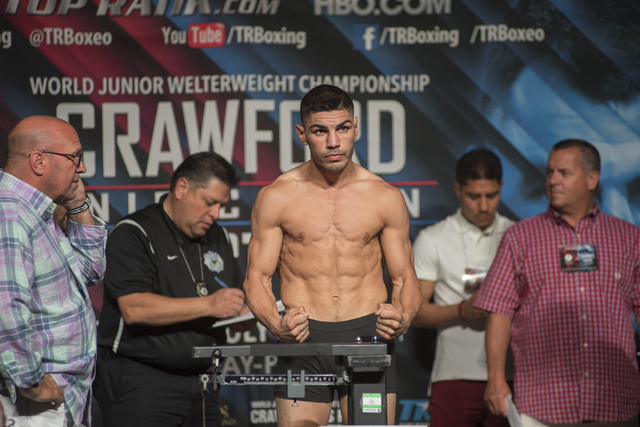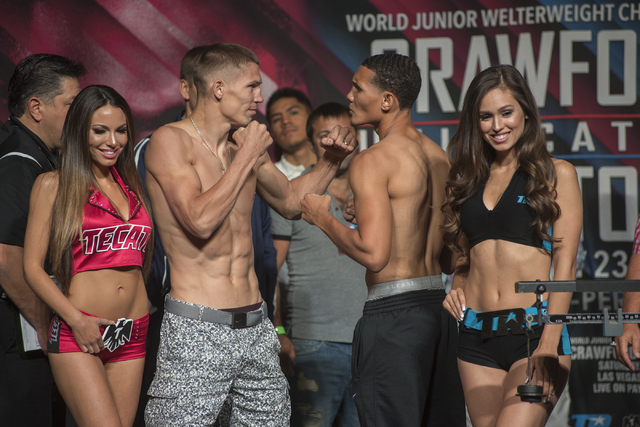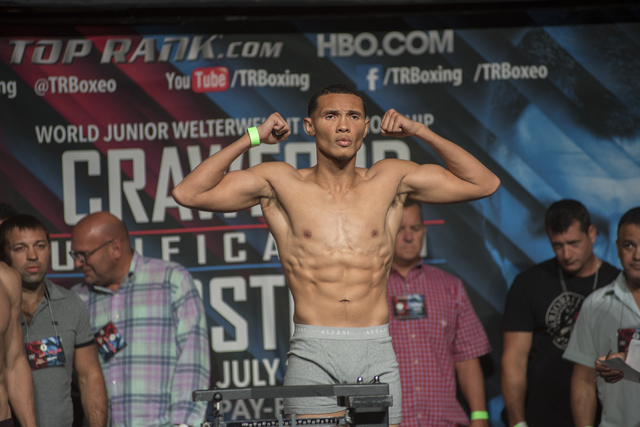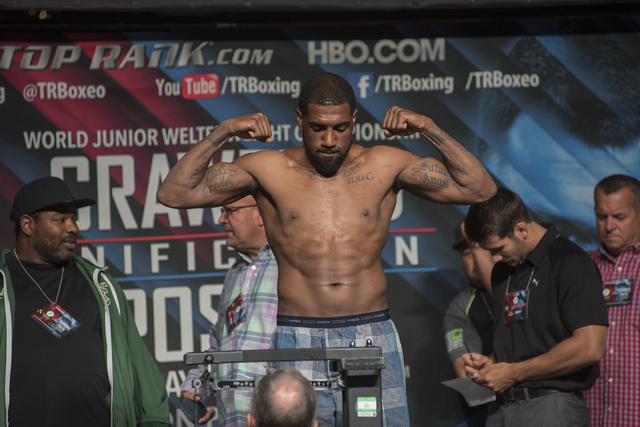 Not many believe Floyd Mayweather Jr. is retired for good. Chances are high that boxing's biggest superstar of the last decade will eventually come back once more to reach the illustrious 50-0 mark.
But Mayweather's 10-month hiatus has given the boxing world a taste of life after "Money May."
Boxing, though a little quieter, is in good shape with stars such as Gennady "GGG" Golovkin, Roman "Chocolatito" Gonzalez, Saul "Canelo" Alvarez and Sergey "Krusher" Kovalev ruling the mythical pound-for-pound list.
But none of the aforementioned fighters is an American, and most importantly, none owns that standout superstar flair.
That's where Terence Crawford, from Omaha, Nebraska, comes in. Many boxing pundits expect the WBO junior welterweight champion to eventually become the face of the sport, the next pay-per-view superstar and the best pound-for-pound fighter on the planet.
Crawford (28-0, 20 knockouts) will headline his first pay-per-view event when he faces WBC champ Viktor Postol (28-0, 12 KOs) on Saturday at the MGM Grand Garden in a title unification showdown. Crawford's purse for the fight is $1.3 million, with Postol taking $675,000.
Crawford stepped on the scale at 140 pounds and Postol came in at 139.5 on Friday to make the bout official.
"Terence is a star," said Brian McIntyre, Crawford's longtime trainer. "He's excited and ready to show the world he's the best 140-pounder in the world."
It's clear Crawford and Postol are the best fighters in the division, and if Crawford is able to come out victorious, he'll be launched into bigger fights — the kind that casual boxing fans care about.
A possible fight with Manny Pacquiao looms. The future Hall of Famer has scheduled a bout at the Thomas & Mack Center on Nov. 5, with Las Vegan Jessie Vargas and the winner of Crawford-Postol being the final candidates to face Pacquiao.
It's a possible passing-of-the-torch match that would do wonders for Crawford's career, but the Nebraskan isn't focused on landing that fight. Crawford is aware of the expectations put on his shoulders. Just don't expect him to become a superstar by doing it the traditional way or via the Mayweather method.
"My dreams and my goals were to become a world champion and to make enough money to support my family," Crawford said. "I don't got be the $200 million man or the boxer that won 60-0 and all that. That wasn't my goal and dreams."
Crawford has admitted he's not a fan of media interviews, but understands it's part of the game. He can be reserved at times during discussions. But that's not the case when the topic is his family or his beloved hometown.
Crawford grew up on the north side of Omaha, the rough part of town. Surrounded by gangs and violence, Crawford was the angry kid known as "Bud." He was a terror for his mom, Debra, and grandmother, Velma Jones, to handle.
Crawford used boxing to unleash his rage and won countless youth competitions, but he still found himself hanging with the wrong crowd.
It took a bullet to the head to force Crawford to make positive changes. Fortunately for Crawford, the bullet bounced off his scalp after shots were fired during a street dice game in North Omaha eight years ago.
Crawford took boxing seriously when he made McIntyre his full-time trainer right before turning pro in 2008.
"Terence has come a long way," McIntyre said. "He has grown up in every way. He took his opportunity and ran with it."
Timothy Bradley Jr. can attest to Crawford's dedication to the sport. The two became close friends when Bradley asked Crawford to spar with him during a training camp in 2011.
Crawford is a minus-750 favorite, according to VegasInsider.com, and has an advantage in every category besides the jab. Postol has received plenty of praise for his devastating left jab, something that upsets the competitive Crawford.
"It's funny how all of the people are giving Postol all of the credit for his jab, but nobody is talking about how good my jab is," Crawford said. "So I'm loving it."
Crawford gave back to his community by opening a gym in North Omaha. He recalled having to ride his bike all the way to downtown to train.
"A lot of kids don't have the transportation to go elsewhere," he said. "So why not put one in North Omaha, where it's convenient?"
Crawford's good work can also be found in Africa. He's gone to Uganda and Rwanda for missionary work and plans on going back later this year.
It's safe to say Crawford won't be going Hollywood anytime soon. He prefers fishing by the lake with his five children.
He's still on the way to stardom. It's just not the path many have taken before him.
"I don't want to be Floyd Mayweather or Muhammad Ali," Crawford said. "I want to be Terence Crawford."
Contact Gilbert Manzano at gmanzano@reviewjournal.com or 702-383-0492. Follow him on Twitter: @gmanzano24
What: Terence Crawford vs. Viktor Postol, 12 rounds, WBO-WBC junior welterweight unification title fight
Co-main event: Oscar Valdez vs. Matias Rueda, 12 rounds, vacant WBO featherweight title
Where: MGM Grand Garden Arena, first bell at 3 p.m.
Channel: HBO PPV for $50, $60 for HD starting at 6 p.m.
Tickets: MGM Grand box office or AXS.com