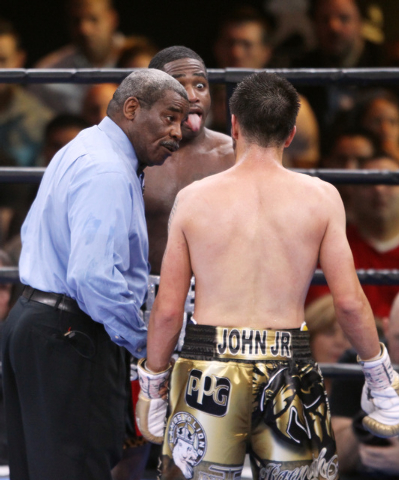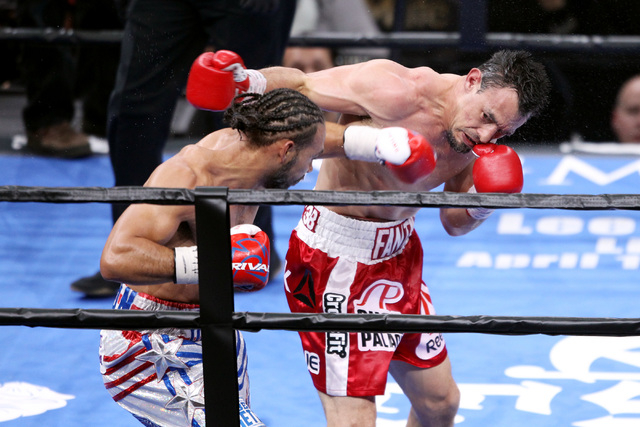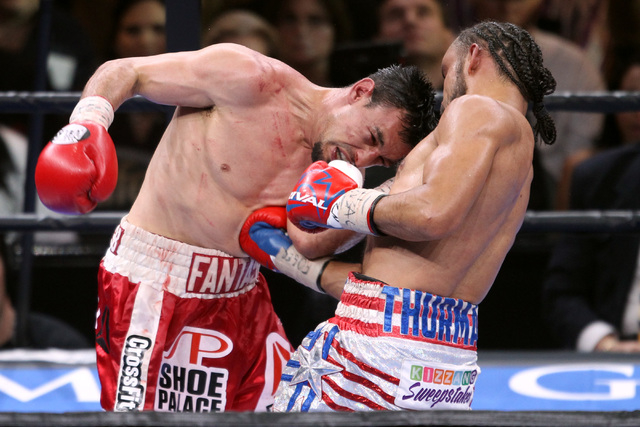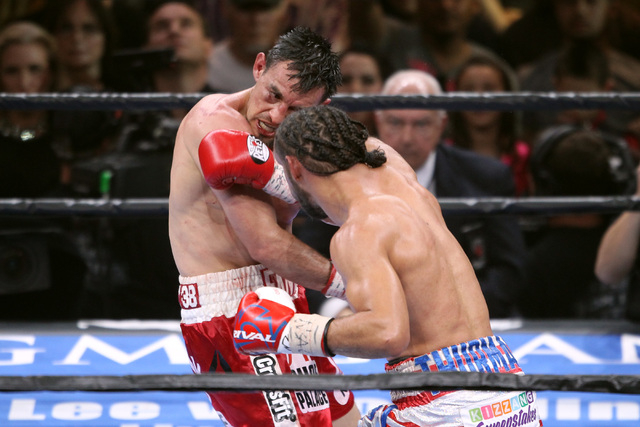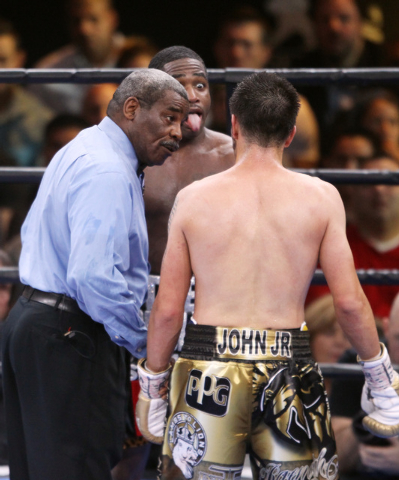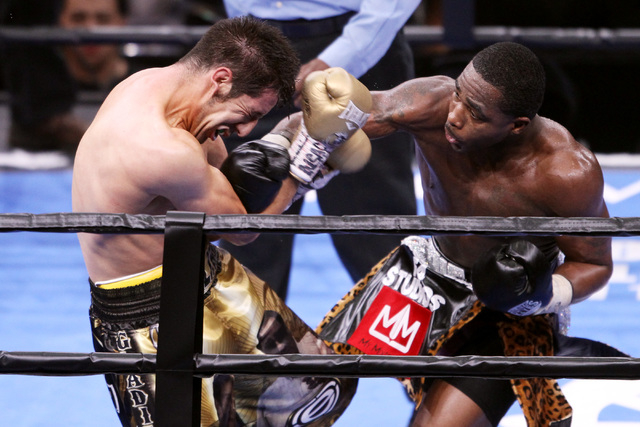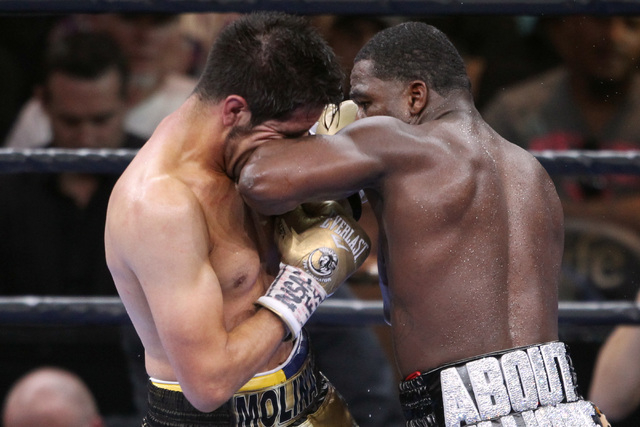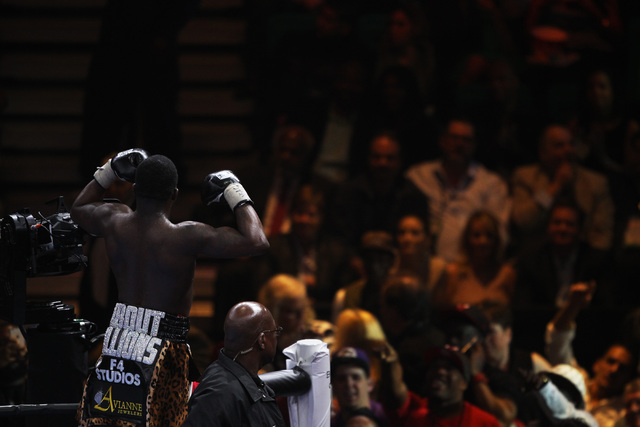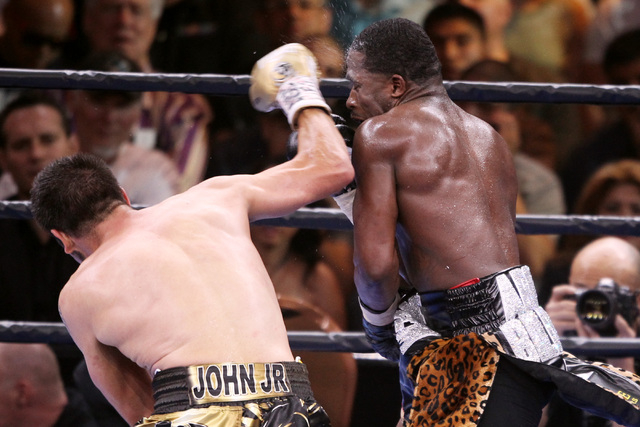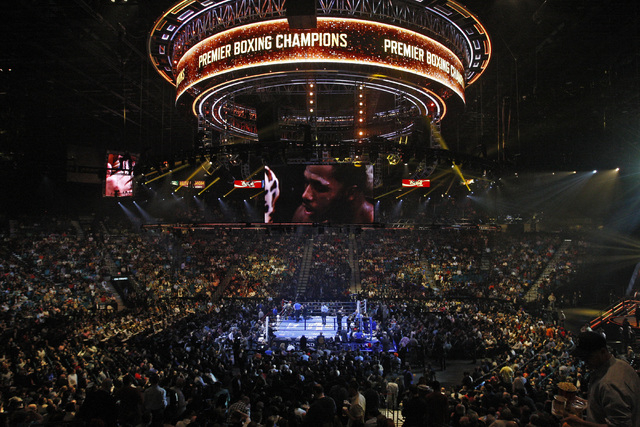 Keith Thurman has skills and smarts. He used both to stay perfect and remain world champion.
The 26-year-old World Boxing Association welterweight champ took a little punishment while administering a lot of pain in return to Robert Guerrero on Saturday night before 10,106 at the MGM Grand Garden and a national TV audience that tuned in to NBC for the debut of the Premier Boxing Champions series.
Thurman improved to 25-0 with a 12-round unanimous decision that was well-deserved.
"I know I was hurting him each and every round," Thurman said. "I heard him breathing. But he's a veteran and knew how to pace himself. He knew how to stay a little bit out of my range."
Judge Adalaide Byrd had Thurman ahead 120-107, Dave Moretti saw it 118-109, and Jerry Roth scored it 118-108.
With network TV controlling things, it was a different atmosphere than usual for a big fight card at the MGM. There were no entourages accompanying the fighters to the ring. There was no walk-out music. And there were no ring card girls between rounds.
But there was plenty of action, particularly in the main event.
For Thurman, who went off a minus-800 betting favorite at the MGM Resorts sports books, it was about not getting careless while still being able to dominate. He used a vicious overhand right to the head late in the ninth round to send Guerrero to the canvas, and when Guerrero got up, blood was pouring out of the corner of his left eye. He managed to survive the round, but it was the first time in his career that he had been knocked down.
"When I went down, he got me pretty good," said Guerrero (32-3-1), who received three stitches at the MGM to close the wound and did not need hospitalization. "But I got back up and did what I had to do."
Thurman was not going to let Guerrero work inside against him and dictated the terms of the fight, constantly beating Guerrero to the punch and getting in and out before Guerrero could mount a counterattack. Even a head butt in the third round that caused a knot on Thurman's forehead couldn't slow him.
"Robert Guerrero is a tremendous warrior," Thurman said before leaving for University Medical Center Trauma Center, where he had the hematoma on his forehead tended to. "He was a little calmer. I thought he was going to press harder in the beginning rounds. But I was able to knock him down late. This was a tremendous fight, and this was a great learning experience for Keith 'One Time' Thurman."
Guerrero acknowledged it was going to be hard to beat someone as skilled and intelligent as Thurman.
"He comes to fight," Guerrero said. "Now I know why they call him 'One Time' because he definitely has some punching power. But I fought my heart out, and that's what boxing's all about. That is the type of performance that wins the hearts of fans, even when you don't win the fight."
In the co-feature, former world champion Adrien Broner had little problem handling John Molina Jr., scoring a 12-round unanimous decision in their junior welterweight bout. Broner essentially won his fight with one hand — a left — which he used to effectively jab his way to victory. He never let Molina find an offensive rhythm in improving to 30-1.
Patricia Morse-Jarman and Burt Clements each scored the fight 120-108, and John McKaie had it 118-110.
"I know I lived up to the hype," Broner said. "He was swinging for the fences, and I stayed dangerous."
Molina (27-6) was too defensive-minded. He never pressured Broner, never tried to cut off the ring, never got Broner on the ropes to work the body and essentially gave away the fight with his passive posture.
Molina's best round was the third, when he landed two lefts to Broner's face, got him off-balance and backed him up.
"He's very slick and very elusive, more than I anticipated," Molina said. "He did what he had to do to win. But he should have kept his word and sit there and fight me."
Otherwise, Broner did whatever he pleased. He never seriously tried to knock out Molina, choosing to simply outbox his opponent and dominate.
The CompuBox stats back Broner's domination, as he landed twice the percentage of punches (44 percent) than Molina (22 percent) and had a huge edge in jabs landed — 141 to 22.
"I feel like I beat all the odds tonight," Broner said. "I knew walking into the arena 85 percent of the fans were against me. But I know I made some new fans around the world."
Contact reporter Steve Carp at scarp@reviewjournal.com or 702-387-2913. Follow him on Twitter: @stevecarprj.