Timothy Bradley laughs at Jessie Vargas' call for a rematch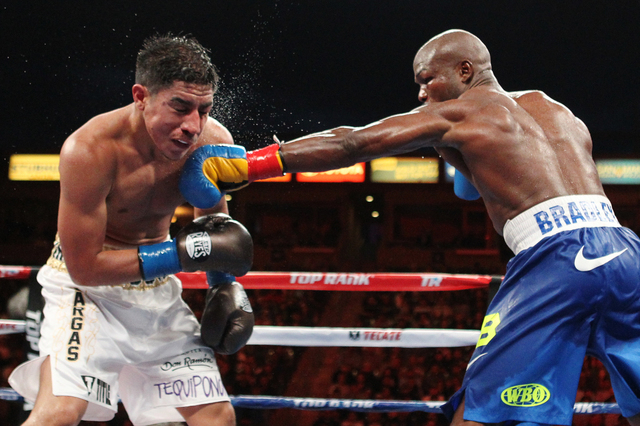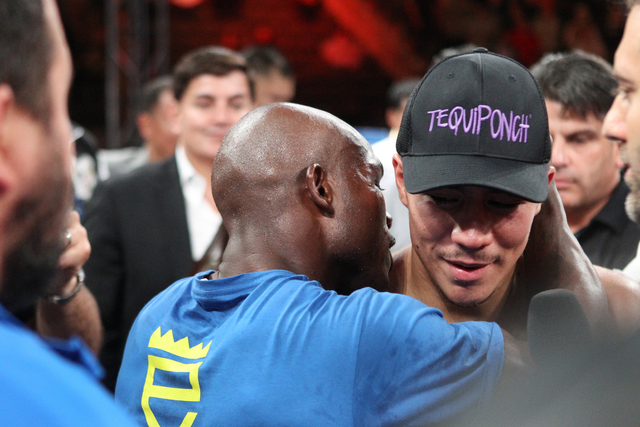 After Jessie Vargas won the vacant World Boxing Organization welterweight title March 5 over Sadam Ali, he called out Timothy Bradley Jr., who previously owned the belt.
Bradley had handed Vargas his only loss in June when they fought for the WBO title. Bradley, who gave up the belt to become the WBO's super champion, fights Manny Pacquiao on April 9 at the MGM Grand Garden.
When Bradley heard Vargas was calling him out for a rematch, he laughed.
"Jessie Vargas should be glad I'm letting him have that belt," Bradley said before a recent workout at his gym in Indio, California. "That's my belt. I'm the super champion. I can go back anytime and get it back."
It's unlikely there will be rematch. Top Rank has plans for Bradley and Vargas, and they don't include a rematch.
"Jessie Vargas just needs to be happy that he's a world champion," Bradley said. "Go defend your title. Go make some money. Because if you come this way again, that belt is coming back to me.
"And I didn't even have Teddy Atlas in my corner when I fought him. I'm a totally different fighter now, and I whupped him the first time. So he better be careful what he wishes for."
Maybe Vargas heard what Bradley was saying. He has since called out Miguel Cotto and Juan Manuel Marquez to fight him.
PACQUIAO-BRADLEY OFFICIALS — Robert Byrd of Las Vegas was selected by the Nevada Athletic Commission to referee the Pacquiao-Bradley fight. The judges will be Dave Moretti of Las Vegas, Burt Clements of Reno and Steve Weisfeld of New York.
Tony Weeks of Las Vegas will referee the WBO super middleweight title fight between Gilberto Ramirez and Arthur Abraham on the Pacquiao-Bradley undercard. The judges will be Adalaide Byrd and Glenn Trowbridge of Las Vegas and Glenn Feldman of Connecticut.
DECISION CHANGED — Freudis Rojas of Las Vegas had lost a split decision to Nino Delgado of Washington in their 141-pound championship bout Sunday at the Golden Gloves West Regionals. But after reviewing the judges' scorecards, Golden Gloves officials reversed the decision and awarded the victory to Rojas on Monday.
The 17-year-old was the fifth Southern Nevada fighter to advance to the national championships from May 16 to 21 in Salt Lake City. Also advancing were Saul Gomez (108), Kevin Arnold (165), Kye Brooks (178) and Mushin Cason (201).
MORENO WINS DEBUT — Randy Moreno of Las Vegas had a successful professional debut Sunday, defeating Benny Rodriguez by technical knockout in the third round of their four-round super featherweight bout in Rahway, N.J.
Moreno knocked down Rodriguez (0-1) about a minute into the third round. He got up, but Moreno swarmed all over him and was ready to drop him again when the referee stopped the bout at 2:16.
Moreno's trainer, Gil Martinez, said the plan is to fight next in April, possibly in Phoenix.
"We want to keep him active," Martinez said. "He had a great debut, and we want to build on the momentum of Sunday's win."
HANEY GETS LICENSE — Las Vegas boxer Devin Haney was granted his pro license Wednesday by the Nevada commission. The 17-year-old featherweight is 3-0 as a pro, with all three bouts in Mexico He had to receive special permission from the commission to get a license before he turns 18 in November.
Contact reporter Steve Carp at scarp@reviewjournal.com or 702-387-2913. Follow him on Twitter: @stevecarprj.