Tyson earns spot in Southern Nevada Sports Hall of Fame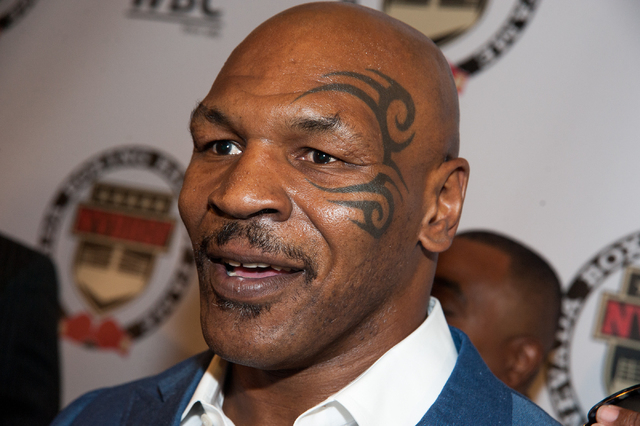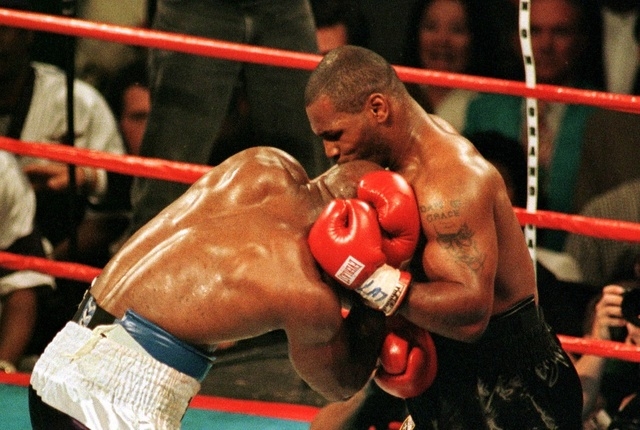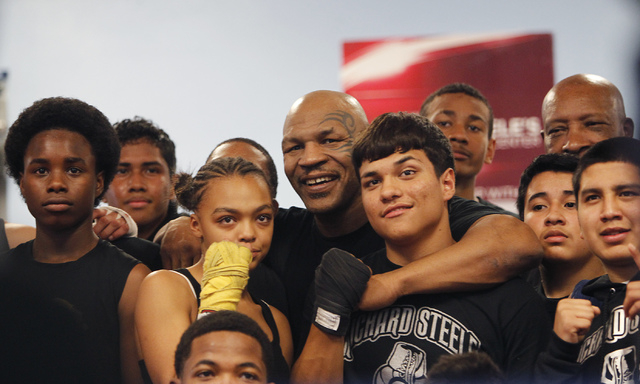 As he gets older, Mike Tyson seems to find himself more beloved by the public.
Whether it's baring his soul in a one-man play or being a superhero in a cartoon or acting in movies, the former world heavyweight champion has expanded his appeal beyond his boxing days, when he compiled a record of 50-6 with 44 knockouts and two no contests.
Tyson, 48, has been a Las Vegas resident for more than 20 years. Tonight at Orleans Arena, he'll be inducted into the Southern Nevada Sports Hall of Fame alongside NASCAR driver Kurt Busch, former UNLV and NFL quarterback Glenn Carano, golf pro Joe Kelly and rodeo coach Ric Griffith.
The sold-out event begins at 6 p.m., with ceremonies scheduled for 7.
It's yet another honor for Tyson, who was born in Brooklyn, N.Y., spent his teen years in upstate New York refining his boxing skills under Hall of Fame trainer Cus D'Amato and became the youngest boxer to win the heavyweight title at 20 years, 4 months.
The fact that Tyson is around to receive the award is a testament to his ability to turn his life around. Many boxing people thought Tyson wouldn't live to see 40, that his destructive, addictive lifestyle would eventually catch up with him.
He served three years in an Indiana prison after being convicted of raping a beauty pageant contestant. And there was the infamous "Bite Fight," when he twice bit Evander Holyfield's ear during their rematch on June 28, 1997, at the MGM Grand Garden, leading to a record fine of $3 million and revocation of his boxing license.
But eventually Tyson cleaned up his act. He found true love and strength in his wife, Kiki, and with age came wisdom.
He has been active in community charity work. And as he turned his life around, kicked drugs and drinking and became a nicer person, people reciprocated with kindness toward him.
Tyson has been in China filming a movie and could not be reached for comment. But some of his contemporaries in the SNSHOF had high praise for him.
"When I think of him, he was a front-page fighter, not a sports-page fighter," said Marc Ratner, a former executive director of the Nevada Athletic Commission and a 2005 inductee. "He fought all his big fights in Las Vegas, and his fights did big business for the city. So to me, he definitely is worthy of being in the Hall of Fame."
Royce Feour, a former Review-Journal boxing writer who covered Tyson, echoed those thoughts.
"He's lived here for a long time," said Feour, a 2006 inductee. "I remember we'd watch him train at Hal Miller's Golden Gloves Gym, and he felt very much at home there.
"But the bottom line is he was one of the greatest heavyweight champions in the history of boxing, and in his prime, he was one of the most ferocious and fearsome fighters around. There's no doubt he belongs in the Hall of Fame."
Dan Dolby, the Hall's executive director, said Tyson always has been good for Las Vegas.
"He brought so much excitement and revenue to the city," Dolby said. "Plus, the fact that he's lived here for so long, we felt he needed to be recognized."
Tyson also is a member of the International Boxing Hall of Fame and the Nevada Boxing Hall of Fame. He will be introduced tonight by Dana White, the Ultimate Fighting Championship president and 2014 SNSHOF inductee.
"If you're going to talk about important sports figures in Las Vegas, and certainly boxing in Las Vegas, Tyson is right up there among the biggest," Ratner said.
Contact reporter Steve Carp at scarp@reviewjournal.com or 702-387-2913. Follow him on Twitter: @stevecarprj.